As China goes cashless, it's the elderly who pay the price
Virtual wallets and online shopping have become so commonplace in China that few consumers bother to carry cash or credit cards any more Older people have struggled to adapt to this new reality, however, with the government intervening to ensure they can still access essential services
When it comes to becoming a smartphone-driven cashless society, China is really ahead of the pack – providing a blueprint for other countries to follow.You can do pretty much anything online in the country these days, from paying utility bills to buying plane tickets, and the coronavirus pandemic has only accelerated this trend.Businesses now use live-streaming to sell everything from fresh produce to cars. Evergrande, China's largest property developer, has even developed an app to sell homes, which showcases flats using the latest virtual-reality technology and offers prospective buyers the option to sign contracts.When heading out to eat, diners in China can scan a QR code to order and have their food delivered to their table by a robot, before settling the bill using a virtual wallet such as those provided by Alipay or WeChat – avoiding the need to touch a physical menu or interact with a waiter.
It is so common for mainlanders to use these virtual wallets that many no longer carry cash or credit cards on them, leading to an increasing number of shops that refuse to accept cash – much to the annoyance of China's central bank.
Even tech-savvy beggars are embracing cashless payments, with some reportedly using QR codes attached to their chests instead of holding the more usual tin cup in their hands.
The Chinese government is making great efforts to build a cashless society by moving a wide range of community and social functions online, enabling people to enjoy fast and efficient services. It has also expanded its pilot of the digital yuan – a virtual form of the Chinese currency – to more cities this year, in a sign of things to come.
But as the nation goes cashless, tens of millions of older people are being left behind, with state media repeatedly reporting on the nightmarish experiences they face because of their difficulties navigating a smartphone.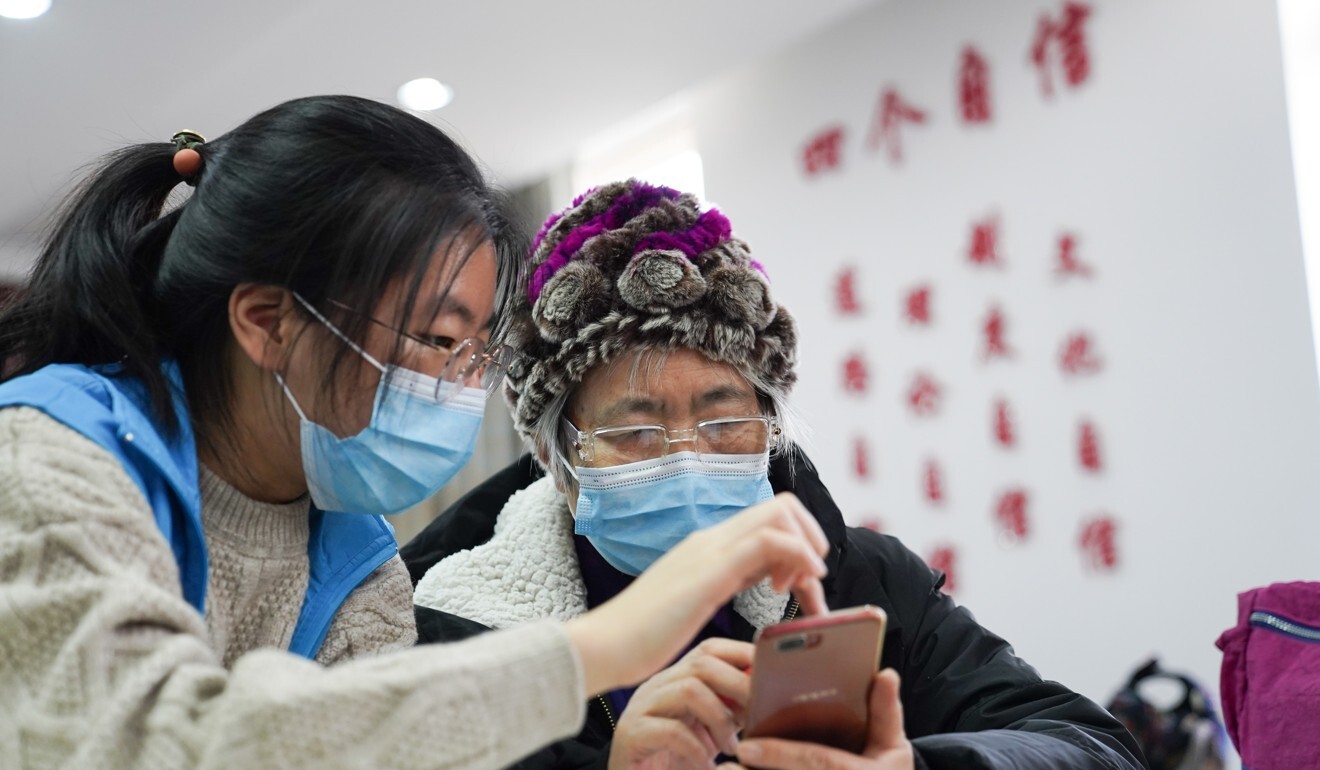 A volunteer from Beijing Foreign Studies University teaches an older woman how to use a health-tracking app on her smartphone. Photo: Xinhua
The digital divide is so dire that last month the government released a three-year plan which aims to encourage China's public and private sectors to help older people embrace smart technologies, while also providing them with traditional face-to-face services, Xinhua reported.
It's about time. China is already an ageing society. By 2025, its population of over-65s is expected to reach 300 million and the government has high hopes for tapping into this "silver hair" market.
But to get them to spend their money on nutritional drinks, diapers and care homes, the digital barriers to access need to come down first.
Numerous example of older people being shut out of essential services have been reported by state media over the past few weeks. One of the most prominent problems involves seeing a specialist doctor at a public hospital – something that has long been an ordeal in China, as demand is so high.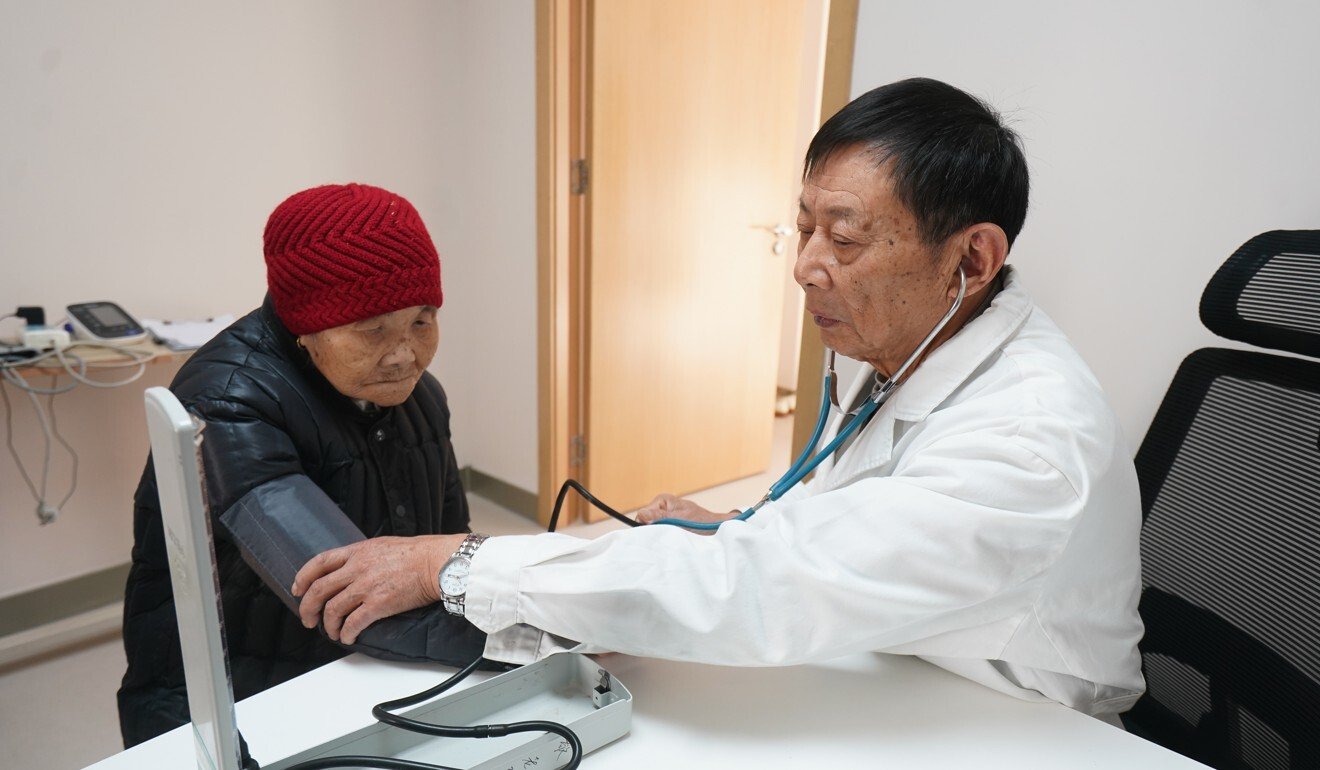 A health worker checks a woman's blood pressure at a care centre in Jiangsu province. Getting an appointment to see a specialist at a public hospital has long been an ordeal in China. Photo: Xinhua
Previously, it was possible to queue outside the hospital overnight to secure an appointment, but with digitalisation this option no longer exists in many places, as all appointments must be made online.
Last month, two videos showing the elderly being badly treated sparked national outrage after going viral on social media.
One showed a 94-year-old being carried to a local bank in Hubei province by her family members, who lifted her face to a camera for a facial recognition scan to activate her social security card.
The other showed an elderly woman being turned away by a local government office in Hubei after she tried to pay for her medical insurance using cash. She was told to use her smartphone to pay or ask her relatives for help, leaving the poor woman frustrated and nonplussed.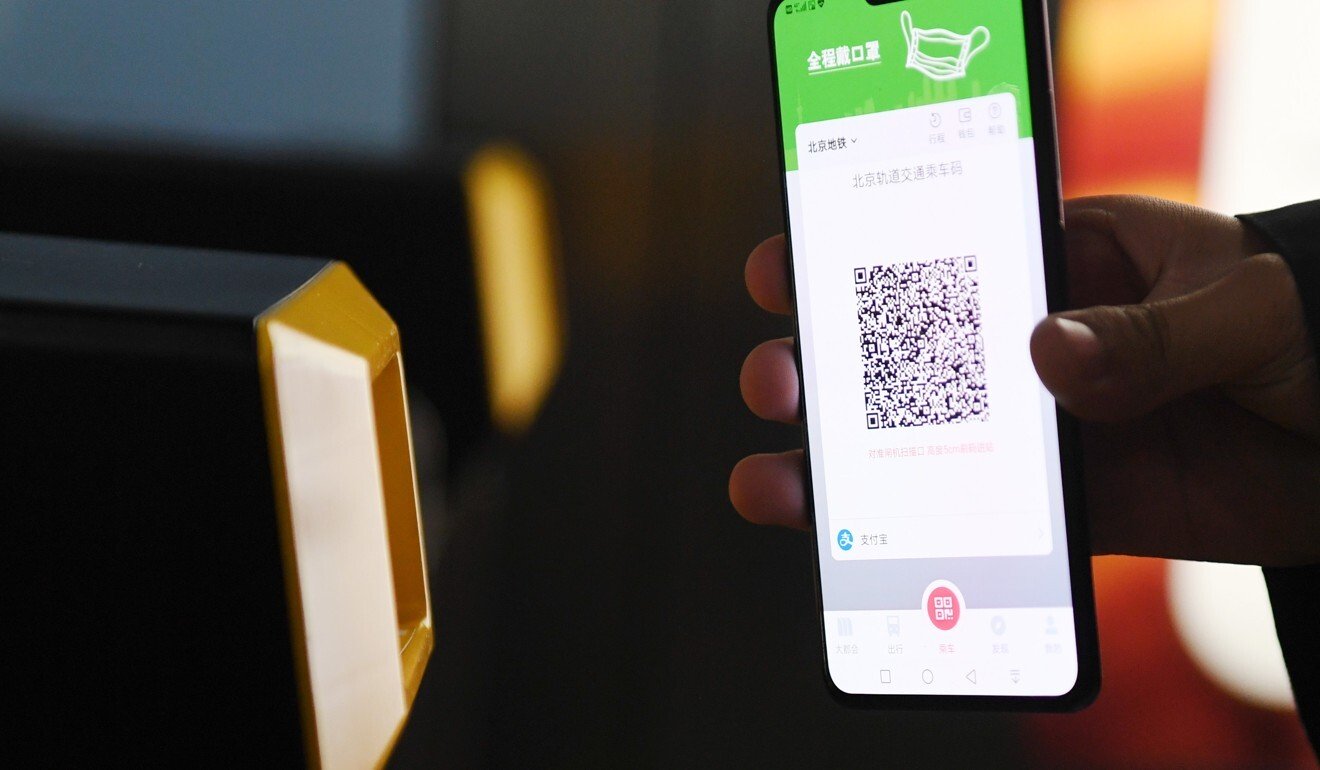 A passenger uses a QR code to pay their subway fare in Beijing earlier this month. Photo: Xinhua
Her case is no exception. An increasing number of shops and other outlets in China have stopped taking cash, prompting the central bank to warn them that they could face being put on a blacklist if they do not change course.
Even more frustrating for the elderly has been the mandatory requirement amid the pandemic to produce a QR code on their smartphones containing their health status and location history before being allowed into certain buildings or on public transport. The measure, while helping authorities guard against the spread of coronavirus, has forced many older people to restrict their movements.
But under the government's three-year plan, authorities now allow the elderly to produce a paper version of the health code alongside their ID cards to get on public transport. It further mandates that public hospitals keep some appointments for specialist doctors in reserve, to be given out to those who attend in person.
The plan is aimed at making life easier for the elderly with a focus on improving seven categories of services, including medical treatments, transport, financial services, recreational sports and cultural activities.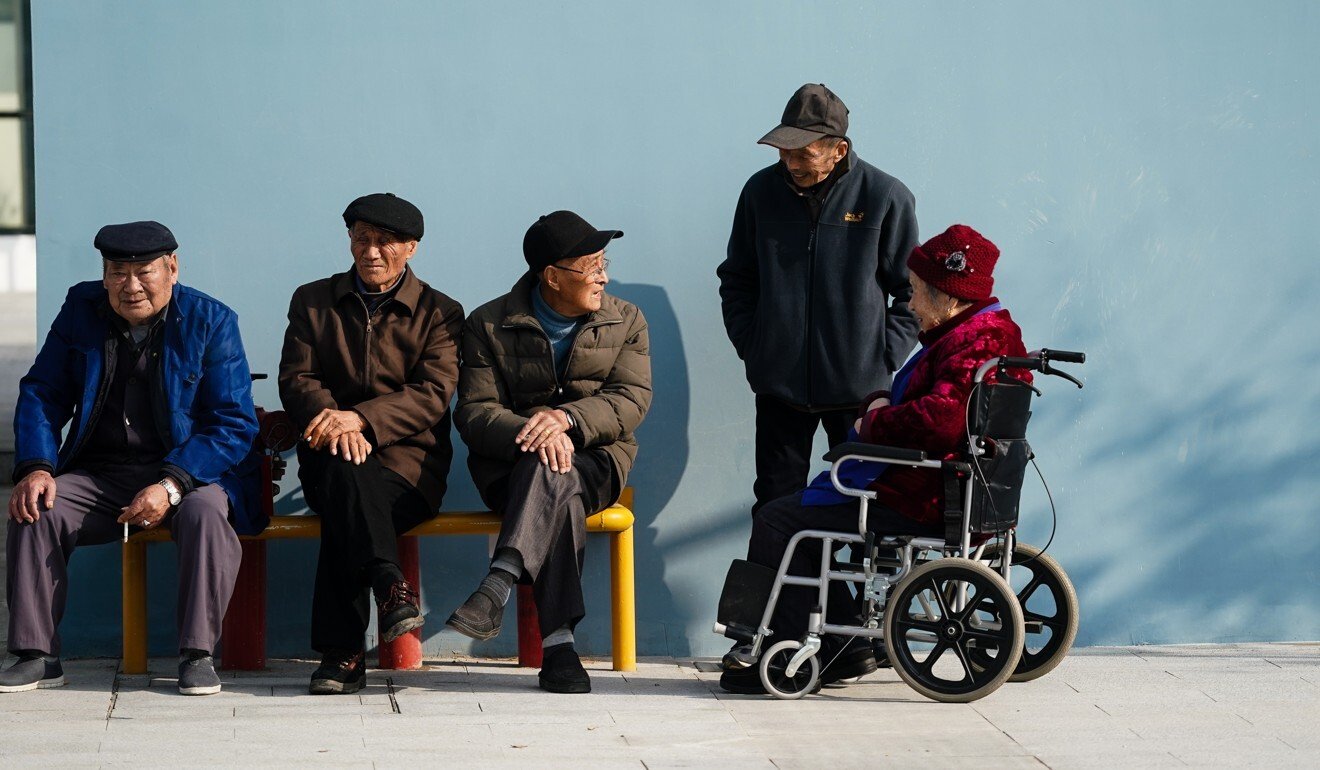 Elderly residents chat outside a community care centre in Suzhou, Jiangsu province, earlier this month. Photo: Xinhua
The government has said it will work with ride-hailing firms to simplify their apps for older people, and with banks to make accessing online banking easier.Some businesses have already taken the initiative to help their older customers. A number of Chinese mobile phone makers offer a "senior mode" on their newer devices, and e-commerce giant Alibaba, which owns the South China Morning Post , has launched a well-received function on its shopping platform Taobao that enables young people to help pay for their parent's items.
Moreover, under the government's three-year plan, local neighbourhood committees are being called upon to provide smartphone training sessions for the elderly so as to help them better integrate into the society.
Which all sounds good on paper, but training the elderly to be tech savvy will be an uphill task thanks to the deteriorating eyesight, dexterity and memory.
China may have great ambitions to build a cashless society, but it must also retain traditional face-to-face services and make them as convenient and easy to use as possible.
Wang Xiangwei is a former editor-in-chief of the South China Morning Post. He is now based in Beijing as editorial adviser to the paper