Folks, I am in no way to verify IF this "David Golberg" was true. When I first heard of it and read it at State of the Nation, VToday.com and henrymakow.com with conflicting views on the "message" of the "last words and within the "message" is the killing of 15 millions of yanks! For me at that time, it smelt full of white Yank nationalism and Jewish Sayanim and Hasbarat mixed of Yankee politic. So I just set it aside.
However, given the context of this current Covid-fraud and the murder of millions elderly around the world under the covering of non-existent Covid, the the message between the line does come to reality.
Thus, I decide to re-post this issue here for you to have a second look. Please listen to it, read these articles, and connect all the dots you could find.. and come to your own conclusion.
As always, It's all up to your skill and your own diligence folks.
PROJECT POGO & PROJECT ZYPHR: It doesn't get more serious than these two black ops!
Posted on September 4, 2019 by State of the Nation
Ultra-Secret Zionist Scheme for World Takeover Revealed by Deep Insider…
…Who Already Exposed Trump's Aborted War Plan Against Iran
"Every patriot needs to know about
Project Pogo and Project Zyphr.
Their lives literally depend upon it"
— Intelligence Analyst & Former U.S Military Officer
---
Let's be very clear, the Zionist cabal and their covert plans for total world domination have been laid bare like never before. People everywhere are now aware of the true purposes of apartheid state of Israel.
The Internet has been used by truth seekers to completely unveil their malevolent strategies to collapse the American Republic and form a One World Government headquartered in Jerusalem.
The specific timeline for establishing a Zionist dictatorship has been clearly delineated for well over a century. World War I, the Great Depression and World War II were each engineered by the Zionists in an effort to advance their New World Order agenda. Likewise, the false flag 9/11 attacks, War on Terror and Greater Israel project are integral pieces of their fastidiously formulated blueprint for wars of naked aggression and state-sponsored terrorism.
Now comes along one "David Goldberg". Goldberg has already eminently distinguished himself by outing a clandestine Trump administration war plan against Iran. There's no question that he possessed highly classified insider information which he widely disseminated to avert the invasion. As follows:
---
---
Project Pogo & Project Zyphr
Truly, it doesn't get more serious than Project Pogo and Project Zyphr!
---
---
Once again, David Goldberg is exposing a crucial piece of the global Zionist scheme toward world conquest. Only this time he discloses the nuts and bolts of a worldwide black operation that will effectively take out every major truth speaker and writer who threatens their treasonous enterprise.
SOTN was quite reluctant to publish the article posted below in its entirety in light of its incorrect premise. Unlike Dr. Henry Makow, we fully believe that the "David Goldberg" identity is being used to expose very real plans to subjugate nations large and small in the interest of forming an overarching Zionist totalitarian superstate.
In reality, it makes no difference if "David Goldberg" is dead or alive, real or unreal; for the true messenger has divulged the most radioactive truth there is today for the Patriot Movement to comprehend. Simply put, the ultra-classified data dump posted below is as important as any ever posted by this Alt Media platform.
Again, even if it is the Zionist themselves who are stealthily putting out this extremely critical info in order to tag whoever picks it up and runs with it so they can eventually be incarcerated or exterminated, being privy to their odious scheme is much better than not knowing at all.
Lastly, we do not feel the video below in any way discredits the truth. It never really matters who the messenger is. All that does matter is that the raw unvarnished truth is disclosed so that truth seekers can make informed decisions and respond accordingly.
Please, everyone, help us disseminate this pivotal post far and wide!
State of the Nation
September 4, 2019
N.B. Ever since Trump played his trump cards and totally exposed his hand, SOTN undertook a series of exposés on his secret agenda. The 5 links that follow contain some of the most authoritative information on the Internet today about Trump's carefully hidden back story. The content of each of them is remarkably consistent with the "David Goldberg" article posted below them. The key phrase here is "false opposition". Donald J. Trump was installed by Israel in 2016 as both false and perfectly controlled opposition.
Truth About Trump Will Bring Down the Whole System
A VERY SPECIAL MESSAGE TO THE PATRIOT MOVEMENT: Donald Trump is NOT who we thought he was
TRUMP: The Most Dangerous Economic Hitman & Financial Terrorist Of All Time
MAGAgate: The Hidden Agenda Behind Donald Trump
Team Trump Meets Bush Dynasty Half Way to End Epic Feud
---
KEY POINT: It ought to be obvious to everyone that the success of a plot of this enormity and gravity relies heavily on stealth and secrecy. (After all, that's the primary MO of the throughly Zionist Khazarian Mafia.) And, that anyone who successfully penetrates the conspiracy is basically a dead man walking. Well, then, why wouldn't the real code breakers create an identity such as "David Goldberg" to make public the diabolical Zionist plan?
---
David Goldman Psyop: Phoney Messenger Discredits the Truth
HenryMakow.com
August 31, 2019
https://www.youtube.com/embed/449V3VPyaqM(Posted Aug 31 by "friends of David Goldberg")This story evolved when it was revealed thatDavid Elias Goldman didn't existIt began as David Goldberg -"Anti Semites" Are Being Tagged for Extermination You reveal the truth. Then you discredit it by having a phoney messenger. August 26, I posted this article about David Goldberg: "Dead Jewish Whistleblower Confirmed Occult WW3 Scenario." Goldberg, 59, was supposedly murdered on June 9. His "deadman's switch" was supposedly activated in the form of this recording where he reveals that the White House has a project to "tag, track and identify" ("T, T & Id") opponents of Zionist world government. They plan to eliminate these people: The "high-value people" through extermination; the "low value" people through viruses. Goldberg estimates the total at 15 million. This information is consistent with the fanaticism of Cabalists throughout history. Goldberg says Trump is an intrinsic part of this demented Zionist scheme. His first loyalty is to Israel. He is a con man first and foremost. This is all true. Except…
RED FLAG!!!! David Elias Goldberg was supposedly a journalist but google him. There is NOTHING. No other pictures. His image appears nowhere else on the Internet. No obituary. No funeral. There is no evidence this man actually existed. He is a "Fellow at the Jewish Center for Antisemitic Studies" which doesn't exist. We are meant to discover all this. Yet everything he says rings true. Think about it. Put out the truth and then discredit it. This may explain why the recording and this article are still up. Nothing to see here folks. Go back to sleep. (Dannielle Blumenthal was the first to raise this red flag.) Goldberg is a Jewish psyop, probably ADL, but I still take his message seriously. There is a mountain of corroborating evidence, i.e. Trump's subservience to Israel and Chabad, the Epstein connection and his recent remarks about being the "King of Israel" and "destroying" antisemites. We cannot be naive about the grave danger we face.
Listen to the recording which I summarize below.
---
by Henry Makow PhDDavid Goldberg supposedly was murdered on June 8. His "dead man's switch" has been activated by this recording. A White House "insider", who he refers to as a male yet interviewed a female, supposedly gave Goldberg a trove of documents and memos which indicate that the Cabalists (the Chabad cult) fear the increasing awareness about Zionist plans for a tyrannical world government based in Israel. Here are his main points: 1. The growing awareness of the Cabalist agenda for world government is a problem for Zionists. They have been shutting down some websites like The Ugly Truth. But, Goldberg says, they have initiated other web sites which actually tell the truth in order to identify people who subscribe. He speculates that Adam Green's Know More News is one of these but he does not know for sure. [Discrediting Green makes sense for Goldman, a Jewish psyop.] Goldberg calls these "gatekeeper" sites. He says Alex Jones is an obvious example. This "T, T & ID" program is called "Project Pogo." Ironically, his own recordings actually may be fulfilling this function.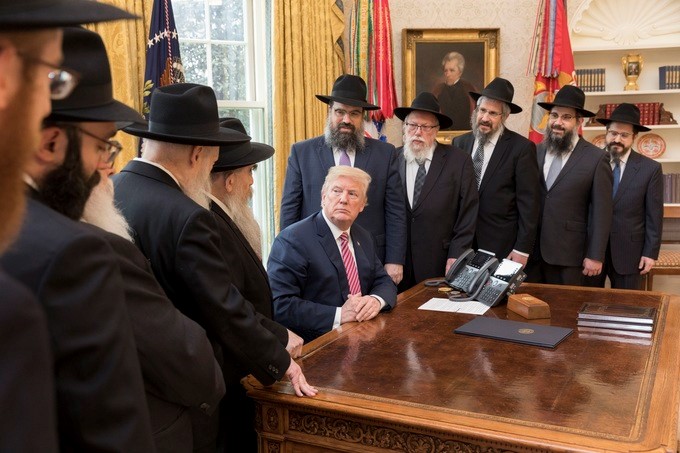 2. The second program is called "Project Zyphr." This involves exterminating American opposition to Zionist world tyranny. He predicts power blackouts and/or a world financial crash will be used as a cover to round up opposition. A flu-like virus may be used. He speculates that it will go down in the winter of 2020-2021 after Trump's reelection which is guaranteed. It makes sense. This is why the Demonrats are behaving so badly. To elect Trump. This is why they are pushing gun control and the motive behind all the mass shootings. The latest shooting was on Saturday. They often hire the same people to stage these shootings. ( See my Twitter feed for @Zyntrax.) Left-Right (globalist-nationalist, fascist-communist) collaboration is part of a coordinated attack on humanity just like World War Two, and all wars. (Hitler vs Stalin yada yada) Americans are being led down a garden path. Trump is the "Chosen One." All nation-states will be collapsed, Goldberg says. A world government and world currency will be presented as the only alternative to chaos. Trump is totally on board. He has been promised the title "King of Israel" and his family will have the highest status. Trump recently referred to himself, in the trade context, as "the Chosen One,"…the "King of Israel." Trump has called for the death penalty for all antisemites. The Noahide Laws say that people who worship Christ and refuse to serve the Jews should be guillotined. 3. Trump has been a conscious agent of this conspiracy for years. The script — "Make America Great," Build the Wall, etc. — was all drafted five years ago. The election indeed may have been hacked …by Israel. The Russian collusion is all diversion. "Trump loved the script," Goldberg said. "He'll be President. He'll be able to do a lot of things he was already predisposed to do." See also Insider: Is Trump Family Cult Behind Coming Armageddon?JUDAS GOAT If Goldberg is correct, Trump is false opposition, a Judas Goat, or Pied Piper leading Americans to destruction, like Hitler did to Germans, while pretending to defend their interests. (Consider also Steve Bannon's connection to the Zionist mouthpiece, Breitbart.)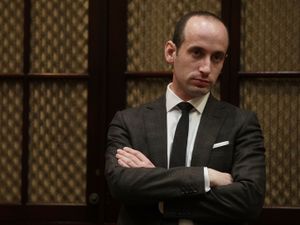 4. Goldberg says Trump's speechwriter Stephen Miller, left, a Jew like Trump, is an ardent Zionist and plays a "big role" in the agenda. 5. Goldberg said he feared for his life. He sees black SUVs outside his residence which drive away when he approaches them. He has given friends copies of all the documents. He doesn't care if he dies because "this is getting serious"…it is reaching a "terrifying new level." He estimates 15 million will die but "it could be more." But everyone will be caught up in the blackouts and "financial meltdown." There will be food shortages and other mayhem which will be used to justify the new world government. LITTLE PUSHBACK I cannot vouch for this information but it would explain why I have received so little pushback. Yes, I am being partly shadowbanned on Google. But I suspect my Twitter followers and other readers are being identified. I am not a witting part of "Project Pogo." I am inspired by a belief in God and God's purpose for humanity. Our lives are trivial if we are not doing God's work in some fashion. This is our common purpose, our common meeting place. Humanity should be led by the very finest people instead of the dregs.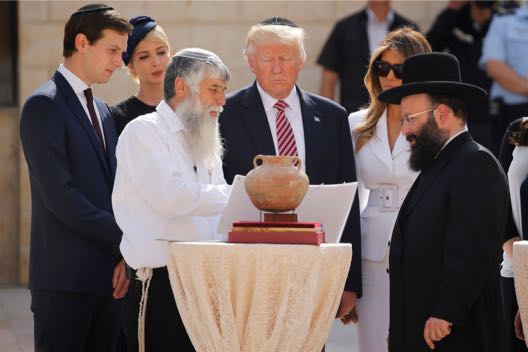 In conclusion, I believe Goldberg's information is true but that he is a Cabalist Jewish psyop designed to discredit this very information. They always telegraph their intentions. His Jewish accent is a little too thick to be believable. He doesn't exist. We will probably find his picture among "victims" of some mass shooting. His recording probably functioned to do the job he was "warning" about, track "antisemites." He said these "gatekeeper" sites get credibility by telling the truth, the very thing I believe he did. I wanted to believe Goldberg was a Jewish martyr prepared to sacrifice his life to expose the madness of the Jewish leadership. This was not to be. It was another Jewish psyop. But it did reveal a lot of truth 1. Trump is first an agent of Israel and the NWO 2. Left and Right collaborate to advance the cabalist agenda 3. The period after Trump's 2020 election is an ominous time. Goldberg's "information" will not deter me and I hope it won't deter you. We must use our freedom to oppose this evil plot. We must hope for the best but prepare for the worst.
___
https://www.henrymakow.com/2019/08/antisemites-are-being-tagged-for-extermination.html
KHAZARIAN MAFIA RULES: While it's true that Israel installed Trump in the White House, it was the Jewish Mafia that made sure he was elected.
Trump's Russia ties are really Jewish ties
The Judeo-Russian Mafia: From the Gulag to Brooklyn to World Dominion
By M. Raphael Johnson, PH.D.
July 11, 2017 Anno Domini
(Barnes Review May/June 2006)
On April 28, 2002, a military helicopter went down in the southern part of the Krasnoyarsk region of Siberia. On board was a major Russian dignitary, Gen. Alexander Lebed, governor of the region. Lebed was pronounced dead at the scene.
Almost immediately, the international press blamed "heavy fog" for the incident. However, at the time, every member of the Russian military was convinced the death of Lebed was no accident, but rather another hit by the international Jewish mafia, an organization that had long since taken control over much of Russia's economy. Lebed, likely the most popular man in Russia at the time, was going to build a national socialist empire—possibly with Chinese assistance—based on the massive oil and mineral wealth of the region.
Had he succeeded, world history could have changed, and the 21st century would look very different. Prior to that, dozens of anti-Zionists in Russia had been murdered by car bombs or other devices, while none of the cases was ever solved. Only a handful was even investigated.
The very fact that the Jewish mafia (often misnamed the "Russian" mafia) was capable of completely covering its tracks, being completely left out of all news reports surrounding the incident, while the common people (in Russia) were utterly convinced of their complicity, proves the immense strength of this rather new movement of organized crime. The Jewish mafia is nothing like their Irish or Italian predecessors in its American or European operations. They are richer, more international in scope and far more violent and ruthless. They kill children. They kill policemen and their families. They kill whomever they like. There has been nothing like it before in the history of the globe. And they are just getting started.
The major figure in uncovering the web of secrecy that surrounds the Jewish mafia was a journalist named Robert I. Friedman, who died at an early age from a "tropical disease." He has interviewed the major figures in this underground and has uncovered their hiding spots and plans. After his book on the subject was published, major mafia leaders put a bounty on his head. The "Russian" mafia knows that it can kill with impunity, and, given their cozy relationship with European and American intelligence agencies, their immunity from real prosecution will only get more pronounced.
Friedman's work is breathtaking in scope, and this essay will cite him extensively, especially his book Red Mafiya: How the Russian Mob Has Invaded America. Friedman is not afraid to state the obvious, namely, that the entire "Russian" mafia is Jewish, without exception, and that they have used this as a shield to deflect criticism. This shield has permitted them to grow and prosper. Further, Friedman is also not afraid to admit that Jewish organizations throughout the world, led by the Anti-Defamation League, are the beneficiaries of largesse coming from organized crime, and that the organizations in question are aware of it. In other words, Jewish organized crime is considered an acceptable part of Jewish life, and that Jewish organizations have actually lobbied law enforcement to stop investigations into this phenomenon, almost always with success. The confirmation of Zionist Michael Chertoff to the post as chief of Homeland Security guarantees that Jewish organized crime in America will not be at the receiving end of the many stings that have targeted the Italian Mafia.
The roots of Jewish organized crime, it is said, go far back into tsarist times. Organized crime syndicates assisted Lenin's gangs in bank robberies and the creation of general mayhem. During the so-called revolution, it was difficult, sometimes impossible, to distinguish between Bolshevik ideologues and Jewish organized crime syndicates. They acted in nearly an identical manner.
However, in more modern times, they seem to have had their roots in the waning days of the stagnant USSR under Leonid Brezhnev. By the late 1970s, the Russian economy was driven by the black market, and the early stages of the Jewish mafia were involved in this black underground. In fact, the Russian socialist economy would have collapsed much sooner if it had not been propped up by the extensive black economy. Soon, the rulers of the black market became so powerful they were able to form their own "people's courts," which dispensed "justice" completely apart from the Soviet state, and away from its control. Many of these black marketeers had been recently released from the gulag system of prison camps in an earlier era for their black market activities, and the toughness that was required to survive these dungeons served this new criminal elite very well (Friedman, 9).
The black market acted as a safety valve for the Soviet state for decades, making all estimations of the strength of the Soviet economy subject to speculation. The black market provided many goods and services the overextended Soviet system could not provide. In the gulag, they had formed brotherhoods, much like blacks and Hispanics currently do today in prison. They formed Jewish bunds that, upon release, served to create deep bonds that exist today, maintaining a highly secretive organization almost impossible to deal with or penetrate.
Sen. Henry "Scoop" Jackson's famous bill, the Jackson-Vanick law, linked Soviet trade privileges to the treatment of Soviet Jews. It was a bill lobbied heavily for by American Jewish organizations. And while non-Jews could not emigrate from Russia, Jews could. Quickly, the KGB took this opportunity to dump its hardcore criminals into the United States, many who were Jewish, as conservatives cheered, believing, naively as usual, to have scored a major victory against the USSR. Much of the Jewish mafia's penetration into the United States came as a result of these Soviet "boatlifts," which were partially financed by groups such as the ADL or the Hebrew Aid Society. Given the substantial nature of the black market and the Soviet criminal underground, and its exclusively Jewish character, it is difficult to believe that the Jewish groups who were financing the immigration of Russian Jews to America were unaware of the connections of many of the new arrivals. Regardless, much of the money earmarked for immigration to Israel was pocketed by the mafia and redirected to settling Jews in New York—the New Promised Land.
Marat Balagula was one of these. A major Jewish crime figure, he bought a restaurant in Brighton Beach, Brooklyn, named it the Odessa (a major port city in Ukraine), and quickly converted it into a central recruiting base for mobsters. It was also closely linked with Zionist agencies in the area, including the women's group Hadassah, who used the establishment for meetings and fund raising dinners (Friedman, 17). This restaurant also became the seat of real political power in Brooklyn, for in the upstairs part of the establishment, Balagula and other Jewish mobsters would convene the "People's Courts," and their word was (and is) law. Ordinary courts in the area could not hope to compete with the mobsters, well protected by powerful Jewish groups within the city and the municipal government itself.
These courts, controlled by the Jewish mob, were more powerful and acted more quickly than the regular municipal courts of New York City. Balagula had created a state within a state. The Italian gangs in New York didn't know what hit them. Public executions and torturings were common in Brooklyn, and in broad daylight. Often, public murders would happen for the tiniest offenses, or to prove one's toughness. While the Italians were very cautious and deliberate, the Jewish mob was flamboyant and gratuitously violent.
Yuri Brokhin, another Jewish mobster who had already made a name for himself in America, and Balagula were heavily into stealing diamonds from jewelry stores and replacing them with cheap fakes. At one incident, narrated by Friedman, the pair pulled such a scam in Chicago, and was caught at the airport with $175,000. As it turns out, the duo was seen by a Jewish security guard in Chicago's O'Hare Airport wearing their phony Hassidic garb on the eve of Yom Kippur, when Jews are strictly forbidden to travel. This sloppiness got them caught. The duo was convicted, but as proof of the power of the Jewish mafia, they both got off without a jail sentence, having committed major grand larceny, among other crimes. Of course, Friedman does not speculate as to why this would be, since a major felony such as this often carried sentences over 20 years. Both Brokhin and Balagula were criminals in the USSR, and were able to transfer their wealth to America via Zionist and "charitable" organizations of Jewry.
A major connection between the halls of American political power and the Jewish mafia is the rabbi Ronald Greenwald. He knowingly did business with con artists and mafia figures, and used his major political connections to shield them. Greenwald was a major player in CREEP, the re-election campaign for Richard Nixon in 1972. Greenwald was used heavily by Nixon and other Republicans to gain the Jewish vote, which he doubled for Nixon during that election (Friedman, 31) in the state of New York. Soon, the rabbi was given a post as an "advisor" to Nixon on "Jewish poverty programs," a post which certainly made some snicker at the time, though it was clear that Nixon owed Greenwald, and the rabbi made quick use of his new-found powers. He used his power to protect the mafia's bilking of Medicaid programs and other crimes that were never investigated by the authorities.
His post as head of the "Jewish poverty" initiative permitted him to shield those involved with such financial scams, as well as call off any and all FBI investigations of his friends. Part of the rise of Jewish mafia groups was the protection afforded it by Greenwald's political connections.
Greenwald was also instrumental in protecting Marc Rich, a billionaire Jewish investor with mob ties. Rich, a major player in the Clinton administration, swindled investors out of billions. Nothing was done, again, though negative media treatment against Rich was permitted largely because he did do business with Iran, and thus was considered a traitor by his fellow Jews. Eventually, Clinton pardoned Rich in a much-publicized case, and Rich is now free.
Jewish mafia investors all but took over Las Vegas, also with the political protection and patronage of Greenwald. Some years back, a movie was released called Casino, starring Robert DeNiro and Joe Pesci. Concerning itself with the takeover of Las Vegas, the film depicted Mr. Rothstein (played by the Jewish DeNiro) as the suave and successful entrepreneur, and Pesci as the typical Italian wiseguy, brash and insolent. Of course, the purpose of the movie was to absolve Jewish organized crime and transfer all blame to Italian mobsters. The opposite was true.
Balagula, before taking over Jewish mafia interests in the United States, acted as a mob functionary for the KGB. In his very own words, Balagula said that the "KGB gave him visas, no problem" (Friedman, 44) and was instrumental in sending him stolen art and jewels, which he sold to foreign tourists. The KGB also set him up as head of the largest food co-op in Ukraine, a position he quickly turned into a major black market operation with the blessings of the KGB. Near the end of the Cold War, members of the KGB viewed the Jewish crime syndicate as a source of possible new jobs for them after the old system was destroyed. So, not only did they have the patronage of the American political establishment under Greenwald, but also the decaying intelligence apparatus of the USSR as well.
BOOTLEGGING
What needs to be kept in mind about the bootlegging operation is that it was never small time. Nothing the Jewish mob did was ever small. This operation was multinational in scope. They had a fleet of massive oil tankers, tanker trucks and hundreds of gasoline stations and distributorships, all owned by Jews loyal to the mob. Balagula had created a massive mafia empire leading from North Africa to Saudi Arabia to Venezuela to Brooklyn. The Jewish mobsters developed an infrastructure within the oil trade that made them invincible. Mafia influence is substantial in the price of oil, as well as acting as the occasional go-between between the Mossad and Arab oil-producing sheikdoms. No one of substance was ever brought to justice.
With all the power that the Jewish mob has amassed, they are merely a pimple on the back of the master of them all, and a man who truly controls much of the globe. There is no one on Earth more powerful than he, and, as per usual, he remains unknown, left out of all press and television reports on the subject. The CIA considers him a "grave threat" to global security and the "world's most dangerous man" (Friedman). The fact that he remains almost unknown shows the power of the Zionist-controlled media and their relentless drive to suppress all investigation into Jewish crime. He has created a massive, global communications network and employs hundreds of Ph.D.s in computer science, physics and economics to run his massive financial empire. He has penetrated every stock exchange in the world and controls much of the trading therein.
He was also the mastermind of the largest money-laundering scheme in U.S. history, "washing" $7 billion through the Bank of New York, which is a major branch of the Federal Reserve and his bank of choice. His name is Semion Mogilevich, born in 1946.
Basing his first operations in Israel, where he fleeced Jewish refugees from Russia, Mogilevich acquired Hungarian citizenship after making the comment that the biggest problem with Israel is that there are "too many Jews there." However, he single-handedly controls the brothels in Israel, where Ukrainian and Russian girls are forced into sexual slavery. This is legal in Israel if the girls are non-Jews. The name of Mogilevich has been left out of every report on the phenomenon in Israel, Ukraine or the United States. Mogilevich also controls the vodka trade in Russia and Central Europe.
Most ominously, Mogilevich has bought Hungary's armaments industry. In other words, he controls the military equipment being manufactured in Hungary. He has his own army, artillery, mechanized infantry, antiaircraft guns and missiles of all types. NATO has said that he is a "threat to the stability of Europe," though his name remains little known. This mobster is militarily more powerful than many European countries. He has nuclear weapons from the former Warsaw Pact countries and is presently trading with various governments and providing them with nuclear technology. He has agents in the intelligence agencies of all European countries, which means that he may never be prosecuted, for he is made aware of any pending investigation into his activities, which quickly gets quashed.
German television reported that the German intelligence service, the BND, had entered into secret negotiations with Mogilevich whereby the latter would supply information on his rivals in Russia. He has a similar arrangement with French intelligence. He has close connections to the Mossad, which destroyed his criminal file (Friedman, 245-247). Therefore he is immune to prosecution and travels freely. He controls the black market from Central Europe to Russia. He has a Rockefeller connection as well, as his main economics advisor, Igor Fisherman was a consultant to Chase Manhattan Bank. Friedman writes, concerning the Fed and its relations to Mogilevich: "While the bank has not been charged with any wrongdoing, some investigators believe that the money laundering could not have taken place unless senior bank officials were bought off or otherwise involved" (259). When the Justice Department began a criminal investigation into Mogilevich (which went nowhere), he accused the Department of an "anti-Semitic conspiracy."
George W. Bush's professed mentor, Natan Sharansky, has long and deep ties to organized crime. The Congress, State Department and the CIA all have lengthy dossiers on Sharansky, who acted as a bridge between the Republican Party and Jewish thugs in a similar manner to Rabbi Greenwald. Sharansky, knowing his power, simply refused to sever his ties with organized crime, infusing the Jewish mafia into the highest echelons of the Bush administration. A pattern emerges in relation to the Republican Party: Russian Jews usually pose as "anti-Communists." They did this partially because they had been arrested by security services for their black market activities, but also because this posture would make them valuable to Republican operatives and the Beltway "conservative movement." Their reputations as "dissidents" protected them almost as much as their religion.
Because of this, George W.'s father also refused to cooperate with several investigations into Russian mob activities in Switzerland. The CIA has commented that there is no "major Russian mob figure that does not carry an Israeli passport," but the Israeli state refuses to take any action against the gangsters. Yitzhak Rabin was the one exception, and met with Mossad figures, as well as Shin Bet and Israel's FBI, to combat organized crime, believing that it could destabilize Israel. Within a few days, he was murdered. His successor, Shimon Peres, shelved the recommendations formulated under Rabin, where they collect dust to this day.
CAUSES
It might be worthwhile to delve into some of the causes of this phenomenon. Why the Jews? It is true that many culture groups have engaged in ethnic based organized crime, but it seems only the Italians get frequently mentioned. Today, Chechen, Hispanic and Albanian gangs are growing in power, but none has come close to being even a footnote to the Jewish clans. Few people in the FBI, CIA or DEA speak Hebrew or Yiddish. Some Jewish mobsters go back and forth between languages, including Russian, so as to make themselves more indecipherable.
The power of the Jewish gangs is wielded more ruthlessly than any other criminal gang. Jewish mobsters enjoy inflicting pain, they murder children as well as unarmed men and women. The old code of honor among Irish and Italian gangsters is nonexistent. These old-time mobsters would only kill another mobster. The Jewish gangs have no regard for these rules, and thus are more feared. The sheer arrogance of the Jewish gangsters and their outrageous self-assurance have allowed their "competition" among the Italian gangs to take a very cautious stance toward their Jewish counterparts.
The state of Israel is a major factor in the rise and power of the Jewish mafia. Jewish drug dealers, child porn pushers, and slave traders are free from prosecution in Israel. Israel does not consider these to be crimes, again, so long as the victims are non-Jews. The mafia proved its power in the murder of Yitzhak Rabin. The Israeli state will not extradite its citizens to non-Jewish countries, and, therefore, Jewish murderers can quite easily escape punishment in Israel.
The unique situation in the former USSR, and the fact that Jews predominated in the Soviet bureaucracy, provides another link in the rise of the mafia. Jews predominated in the earlier and more primitive black market in Russia, and thus these groups were physically more ready to take advantage of the crisis in Russia beginning in the mid-1980s.
Jewish organized crime, connected to both the KGB and Mossad, automatically had the skids greased to remain off the radar screen for allied intelligence agencies.
Likely the most important factor is the complete control of the media by Jewish families and the power of the ADL in American culture. The power of the Jews in America is so great that any serious investigation into Jewish crime will see shrill attacks from every major media outlet in America. In terms of public relations, it is just not worth it. Therefore, one will see a television program like The Sopranos about Italian mobsters, but one will never see the same program featuring Jewish mobsters.
WHAT CAN BE DONE?
There is very little that can be done at this time. There is every reason to believe that soon, nationalists and Revisionists will be targeted by Jewish criminals with strong ties to the Mossad. The fate of the West is being decided in Moscow, not in Washington, D.C. or New York. Russian President Vladimir Putin needs to continue to centralize power in his own person. His elimination of provincial governors was meant primarily as a crime fighting campaign, as local governors were making peace with the crime bosses. Putin also needs to continue to reform the military and security services, making them more and more loyal to the new Russian order. Putin should begin publicly drawing attention to the global power of the bosses and the connivance of western powers in their rise and present prosperity.
The ruble should be made non-convertible (so as to prevent its manipulation by crime bosses in the currency markets), and a strong Sino-Slavic trading bloc needs to be solidified. Police work in Russia is now a rough business. Poorly paid policemen need to be supplemented by local militias to begin direct and militant confrontations with organized crime and corruption wherever it might arise. Putin has the popularity and the power to create a major security bloc against organized crime, as well as capitalist imperialism. Russian banks need to come under state control, and be purged of all criminal elements. Furthermore, the church, currently the second most popular institution in Russia after Putin, needs to place its powerful seal on the development of a mob-free Russia, and call on all Russians to repent and begin building a nationalist and communitarian system. Agriculture and the village commune should receive government support to repopulate the countryside, making Russia self-sufficient in food.
And, of course, Russia's extremely important and strategic oil and natural gas reserves need to be protected by interior ministry troops and placed under government control if need be. Putin, the nationalists and the church have tremendous popularity and influence. This capital should be spent on developing a nationalist system dedicated to purging Russia of Jewish-inspired crime, imperialism, depopulation, and liberalism. He is already moving in this direction, and Russian economic growth and a low inflation and unemployment rate are its fruits.
❖
ENDNOTE:
This article is based chiefly on: Robert I. Friedman, Red Mafiya: How the Russian Mob Has Invaded America, 288 pages, hardcover, Little, Brown; May 1, 2000; mass market paperback publisher: Berkley Publishing Group (2002). Other books of similar interest: Russian Mafia in America: Immigration, Culture, and Crime by James O. Finckenauer; Comrade Criminal: Russia's New Mafiya, by Stephen Handelman; Godfather of the Kremlin: The Decline of Russia in the Age of Gangster Capitalism by Paul Klebnikov; Darkness at Dawn: The Rise of the Russian Criminal State, by David Satter.
Murdered for speaking out: Last words of David Goldberg warning of mass murder of Americans
Exposing the "gatekeepers" who constitute most of the alternative media….like InfoWars but also most of the seemingly "highly credible" news channels on YouTube…part of Israel's "tag, track and ID" program
By
–
September 1, 2019
Introduction by the Senior Editor
If Goldberg had a real White House source, and we believe he did, then the horrific things he warns of in his tedious but excusable monotone, things VT has confirmations of, explains what really began at 9/11 and why Israel has trained so many of our police, why they control all social media and press, why they control the DHS and why our own military is now an occupation army that, we learned yesterday, just created 200,000 fake people to gather the data Goldberg warns of.
Goldberg says that his White House sources say that Trump is working with Zionists to round up millions of Americans after a staged power blackout. All rounded up by DHS/ICE, all typically white and suburban, will be murdered.
Goldberg says that new alternative media organizations, particularly the ones exposing Israel and Zionism, those with the best work, highest standards, are run by Israel to tag activists for assassination.
We know they don't run VT though we can't promise we aren't tracked. Goldberg, before he was murdered, says Israel plans to murder 15 million Americans using disease, accidents and eventually, as America becomes more "Trumpish," simply outright murder.
Stage one is a new strain of influenza being developed at the Lugar Lab in Tbilisi.
David E. Goldberg was found dead in his New York apartment on June 8th. The death is being investigated, but at this time, authorities have given no indication as to the cause of death.
He was 59.
Friends of Mr. Goldberg believe he was murdered and did not pass away of natural causes. His friends were also given access to his accounts before his passing. They will be maintaining them, and posting new information as it comes in.
At this time, they are reviewing many documents in Mr. Goldberg's possession, some of which appear to be top-secret government documents and White House memos. The documents and much of what Mr. Goldberg posted on his YouTube account relates to the upcoming planned Iran War, which will be precipitated by a series of False Flags conducted by the United States and Israel.
Mr. Goldberg's Iran War false flag video was posted first on April 14th, 2019, titled, WHITE HOUSE INSIDER: "Tactical nukes and ground invasion planned for Iran," as well as many subsequent videos. This blog post on April 18th, 2019 also offered further details on the planned war. Later in May, Mr. Goldberg offered further details in this video and well as others on his channel.
Since originally posting the videos, The New York Times confirmed a month later Mr. Goldberg's prediction that the White House was planning to use exactly "120,000" ground troops for the invasion. Mr. Goldberg had based his information on secret memos given to him by his White House source, who had been featured in a number of his videos.
Further updates will be posted on his Youtube channel here.
VIDEO UPDATE POSTED 6/21/19:

UPDATE POSTED 6/13/19:
"I'm a friend of David Goldberg. I was asked to share what I know about his death and give everyone a better idea of whats going on. I've known him for nearly a decade, but I'm not going to get into the details of my relationship with him because I want to keep my identity private. I'm going to leave out some of our personal reactions and stick to the facts we know, suffice it to say, we're all devastated by this news and it hit some of us pretty hard — especially considering David seemed afraid for his life in recent months, because of what he was posting on his You Tube channel. We all wish we had done more, but we're not sure there was anything we could do, either.

David passed in the morning on Saturday, June 8th, in his apartment. I got word of his passing from the neighbor who found him. David was found unconscious and not breathing, after the neighbor had stopped by for a planned visit and David didn't answer. The neighbor had a key, opened it, and found David lying on the floor in the main living room area. I was told there was some foam coming from his mouth and his eyes were open when he was found. The neighbor called 911 right away. The neighbor was not trained in CPR but made some attempts to try to revive him.

When the EMTs arrived, the neighbor said there was a group of cops and other law enforcement he couldn't identify. He thought they were detectives. The neighbor was quickly ushered out, asked questions by the cops, and police tape was placed around the apartment. All the tape was removed within about a day and some friends and family members were allowed in to collect things.

It was really hard to get word on David's condition. He was taken to the hospital, but only family members were notified and they were not even in the state. So as friends we were trying to get information but still haven't gotten much. All we know is he was unconscious and likely dead when the EMTs arrived, but we don't know when he was pronounced dead, and there is still no official cause of death. We've asked, but we've gotten no information at all, as to whether there is a criminal investigation, or how the death is being treated. We've also placed some calls to David's known family members, and none have returned the calls. We checked the local media reports, and there was nothing. We eventually placed calls to the local news channels letting them know what happened, but again nothing came of it.

David kept me abreast of things over email, and he told me he had been given some documents he felt could, for certain, get him killed. The documents related to some internal White House memos in which a couple of New York rabbis were meeting with Trump frequently, and the memos talked about the nature of those meetings. I didn't get full details, except that it seems the rabbis were going to deliver for Trump a reelection victory if he did things they were asking. I guess Trump was listening intently, because — well this is what David said to me — because the rabbis had a lot of power, in ways in which they could rig the elections if they needed to. The memos also talked about how Trump's poll numbers were not very good and he could easily lose in 2020, and the White House knew this, and this was part of the reason why Trump was paying so much attention to these rabbis. I guess they just have a lot of control or something, and Trump needed them. David said the documents, if they ever got out, would be very bad for Trump, because there was no way to put a positive spin on them. He said the memos were pretty blunt, and seemed to have been written by a couple of staffers coordinating the meetings.

There were also documents in David's safe that we were able to recover after the cops left. They took a lot of David's stuff without any explanation as to why, but they didn't get the safe, which was a floor safe and it's possible they didn't even know it was there. In fact, we're pretty certain they didn't know it was there, because it is very well hidden.

David was smart and put pretty much everything in that safe that was important. David had also given at least three friends access to his online accounts, and said if something happened to him, to be ready to take over.

The rest of his stuff, which was paper, notes, his computers and phones had some information but nothing like what was in the safe, where he kept all of it. The friends removed everything from his safe, and have made copies of what they could and have those copies in safe places in case anything happens.

There will be some more updates coming. We are talking on a video which will show the documents, and also we have retained a lawyer to go over how best we can present the information David left behind."
"David Goldberg" Admitted he was Jewish Agent
September 5, 2019
A March 2019 recording establishes Goldberg's loyalties. He wasn't
trying to save the goyim from Jewish fanatics who have taken control of the White House, as implied in later recordings.
He was not murdered. He is a psyop.
There is no evidence he is a real person. His purpose was to
warn "antisemites" like Adam Green that they must fall into line.
by Henry Makow PhD
In March "David Goldberg", a Mossad-ADL psyop demanded Adam Green shut down his website, Know More Jews. Goldberg admitted Green was telling the truth about the Cabalist Jewish agenda and that was the problem.
"You are making too much sense to white people. You are making valid points. They are starting to put the puzzle pieces together. Shut it down, you cockroach."
The Cabalist Jewish agenda is to enslave the goyim, he says. "We are chosen. We rule over you. Goyim, you are cattle to us. Israel is your authority."
"We tell you all this in our holy books, but you are too stupid to look it up."
All criticism of Jews is "hate" and is illegal. "You will go to prison. We are passing laws against resistance."
Presumably, all opposition to Jewish control will be equated with the Nazis who perpetrated the Holocaust.
Goldberg says Trump is a Jew. Jared Kushner will be the "Messiah."
Goldberg is puzzled that he is being watched by the White House.
("David Goldberg's" only pic)
"I am still a Jew, a Zionist. They must have their reasons. I have promoted Jewish causes for 25 years, My enemy is the Gentile."
" Green, shut it down! This is your final warning."
Surprisingly this recording only has 680 views. It is still available on the heavily censored YouTube. The Illuminati want the goyim to get this message. "Resistance is futile. We will take your guns."
D –Thanks for the Tip!
—
Related – Dead Jewish Whistleblower Confirms Cabalist WW3 Agenda
Goldberg Challenges the Goyim to Face their Fate
Goldberg's Message to the Goyim -You are being tagged for extermination.
First Comment from John C:
I've followed the story carefully. Listening to the recording, it reminds me of the Harold Rosenthal, and Rabbi Abraham Finkelstein interviews.
The voice qualities are identical, all three resonate with demonic energy, very low and dense vibration of extreme hate. All three reveal truths, mixed with disinformation and plausible deniability. Like a snake hisses, before it strikes its prey, we are given a warning of their intentions. They have to reveal their plans in advance. The "warning" is mocking the victim to elicit a knee-jerk response and attempt at provoking a violent reaction.
I am highly intuitive, the message is hiding behind a veil of hate, it is absolute fear and powerlessness of the tormentors, they are weak and vulnerable and know it. The cabalist, Luciferian, Satanic energies are losing their power, and we are seeing in these days what appears as an increase of power which is the last push of desperation.
The rising level of consciousness and truth is a tipping point, either humanity loses or they do. The truth does not reside within them, it resides in humanity. Their time is short, they know it and are getting ever more desperate. They are an anti-logos force and can not hold out against the greater logos force of this and many Universes and Multi-verses.
The trick they play is we need them more than they need us, also that they are more powerful, as servants of iniquity they are weak and they are the lowest life form. Their plans will fail just the same as all the others. The Christ consciousness of humanity is their greatest fear.
FOOTNOTES:
Sayanim at work. Copy of a page from http://www.israpundit.com, freely available on Internet, in the public domain. I'm sure they won't mind my copy here; they claim to have come under Internet attack and to have been almost destroyed by hackers, so here's a copy, I hope secure, of just one page. It is unaltered, apart from removing pleas for money, advertisements, simple pictures, and other junk. Dated 2013; gives a fascinating, but depressing, picture of how Jewish liars view themselves and view the goyim. Study the mutually-interlinked systems of lies, fake history, fake emotions, and simple deception systems.

I've left original links to the site unchanged; they may or may work: they may be removed, edited, or completely changed. Please bear in mind that vast atrocities, wars, cruelties, frauds and deception have been carried out by these simple-minded group-obsessed psychopaths and their ancestors.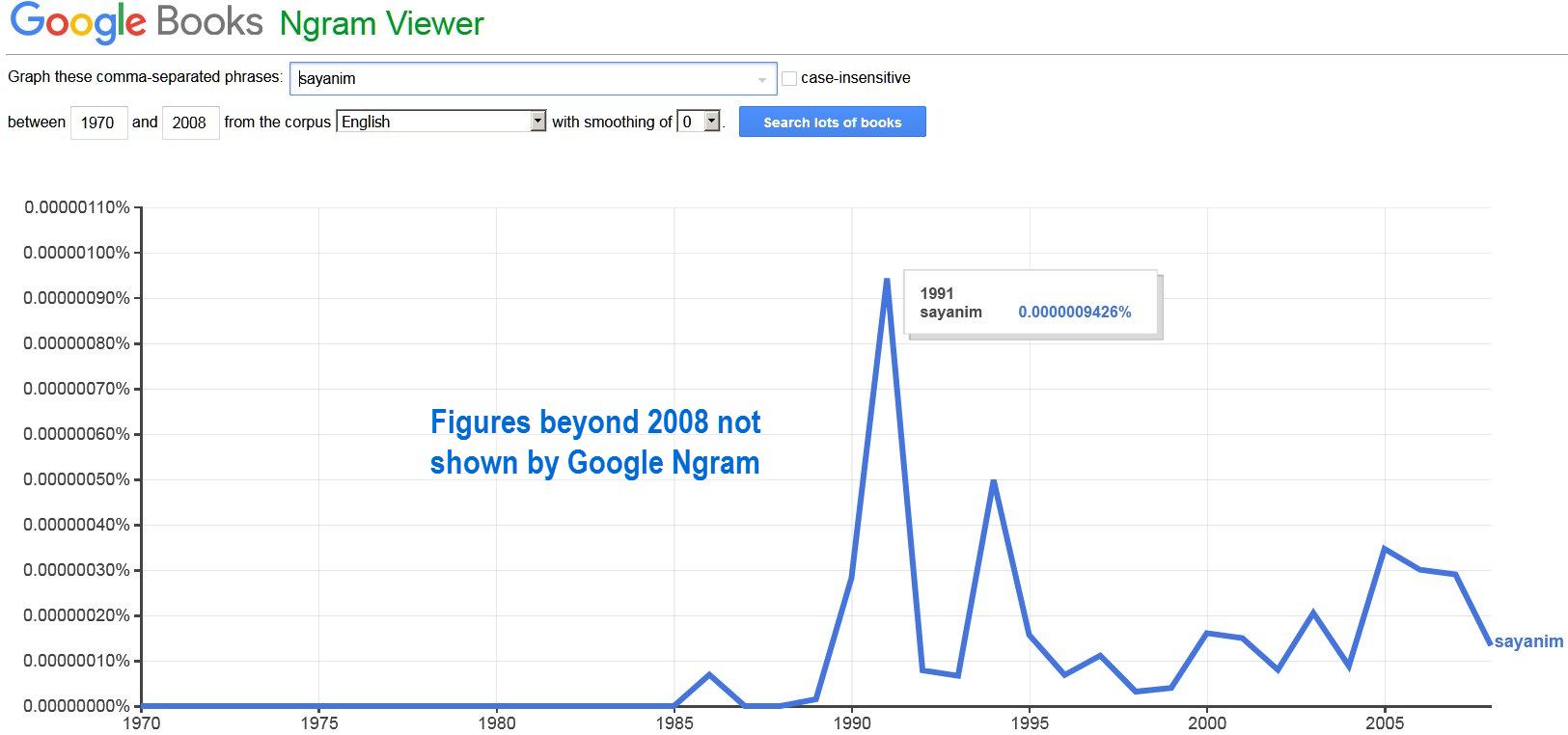 Frequency of word-use of 'Sayanim' in English, according to Google
Hasbara (I'm told) means something like 'explanation': imagine an entry in an Israeli encyclopedia, for example, or in Jewish media. Hasbarat seems to be the plural.
Sayanim (I'm told) means something like 'helpers' and is a collective noun for the people engaged in putting out their hasbarat lies.
---
Sceptics/ skeptics who find this hard to believe might like this View inside Jewish Wikipedia on English-language Metapedia, which has detailed accounts of Wikipedia's funding origin (by porn), methods of editing, 'rouge [rogue] admins', and resulting quality of content.
–Rerevisionist. [ big-lies.org ]
---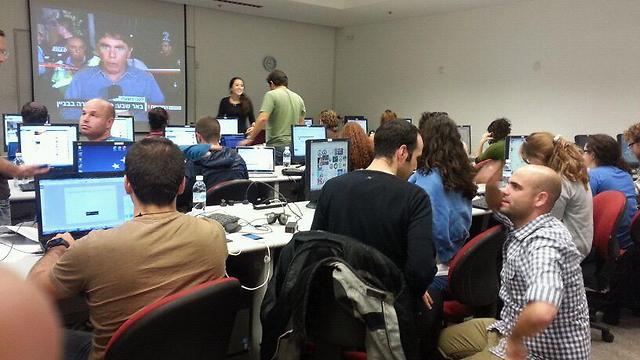 IDC comment 'war room' (Photo: Oren Kochavi)
---
BUT before all that, here's an overview of how a few thousand jews can ruin a country.
From Goran Lind, in facebook:
What Is A Sayanim ?
The Sayanim is any Jewish person, that can be called on to assist another Jew in any cause. Since birth, the Jewish people have been taught of their superiority… and need for cohesion. The Sephardic Jews are the upper level of the race, and the Ashkenazim, which constitute 95% of all Jews, are the worker parasites of the race. Since the Sephardics first converted the AshkeNAZI, they brainwashed them into the idea that the world is their enemy and their fellow Jew is a "Quiet Guardian".
Who Is A Sayanim?
Every Jewish person is expected to be a potential agent (spy/sayanim), in varying degrees.
What Will They Do?
If the Jewish people sense a potential threat, the Jewish Sayanim is authorized to commit anything from simple harassment to business ruin, and even multiple murders. The Columbine Massacre was a perfect example. The police knew there were seven people involved, but five students, two sets of parents, one employer and psychiatrists, provided alibis and corrupted evidence.
Examples:
Your Jewish accountant will relay any private bookkeeping info to a Jewish competitor, your friendly Jewish pharmacist will assist your Jewish doctor to poison you, a clerk at VISA will supply your private credit information to anyone, the list is endless.
Sayanim Indoctrination Starts At Childhood:
Family Life:
Jewish children rarely are allowed to play with the gentiles. Around the house the child is constantly bombarded with the word Goy.
Goy
(goyim means cattle/animals), relates to menial occupations. The family maid, nannies, gardener, plumber, etc are referred to as "The Goy or goyim".
Grammar School:
A public Jewish school will receive grants, and the best teachers are put in the district. 6th graders at these "Magnet schools" are the equivalent of an 8th grader at a normal school. Jewish kid's will always be eligible for the "Gifted Programs". Exceptional Jewish children are turned over to the Rabbi for future guidance.
High School:
In heavily Jewish communities the public schools will always have a "Gifted program". For those with the resources, they will attend exclusive schools.
Colleges & Universities:
Here is the big payoff. Entrance into the finest schools is assured. All the larger Universities have Sayanims placed in key locations from the Dean to the Admission Officers, to the loans, and the scholarship personnel. Societies, such as Hillel, will shepherd a young Jew throughout his college career.
Jewish professors will always favor the Jewish student. Jewish students make up 30% of the Ivy League, which they credit to their extraordinary IQ's, which is a myth. Law schools, such as Yale, can have an enrollment of 60% +.
Business World:
In any Jewish controlled company, a Jew is given first preference in job interviews. If a Jew is a businessman, he gets preferential treatment on contracts where another Jewish person is involved. Getting a bank loan is a cinch if he is a Jew.
Government:
Jews have lined all government's offices around the planet with their people. (parasitic infestations) ! Student loans get erased if they are a Jew or Jewess. A non-Jew business competitor can have a regulatory agency put on him by these parasites. The Judicial is 40% Jewish and another 35% are minorities they control.
So What Is Expected Of A Sayanim?
The standard Sayanim routine is basically favoring other Jews in ordinary transactions, but the sayanim can be called on to protect any criminal enterprise. From the traffic court Judge to an Appellate Judge – fellow sayanims receive special treatment. The special Sayanim (200,000 of them worldwide but there are probably a lot more now) will be expected to cooperate in any Israeli Mossad (Israel's Secret Service) enterprise including murder, sabotage and any form of Fifth Column activity (does 9/11 ring a bell?). A division of the Mossad ( Katsas) keeps records, and stays in active contact with this group, the Mossad.
The Sayanim (sleeping cells who spy/act for Mossad in the host nation they live in, sometimes pretending to be Christians, Moslems, Israelites, etc.)
"The individual is handicapped by coming face to face with a conspiracy so monstrous he cannot believe it exists". J. Edgar Hoover, FBI Director 1924-1972, quoted in The Elks Magazine (August 1956).
"All Jews are provocateurs in Peacetime, saboteurs in Wartime, and subversives all the time." 24 December at 04:05
September 19, 2013
Online battle for Israel's hasbara
Comment posted, damage done
By Eyal Lehmann, YNET
Internet pages are fighting ring where Israel supporters try to ward off millions of pro-Palestinian posters. In hectic, viral world of talkbacks, every photo is replied, every reply is commented on, every comment has minute-long shelf life before it is challenged by rivals
On July 11, the Middle East made headlines in Italy again. Not one missile fell in Israeli territory, nor was a terrorist killed in Gaza. Still, for 24 hours, one feature did not escape the headlines on the La Repubblica website, one of the two most popular news sources in the country: "Israeli soldiers," the website reported with a video, "arrested a five-year-old Palestinian boy in the West Bank for throwing rocks." The IDF maintained that the boy was merely detained and then released back to his parents, but many Italian surfers saw enough to unholster.
"They should be annihilated," surfer Fabrizio posted on the La Repubblica Facebook page, which attracts over 1.2 million readers. "Hitler should come back and destroy you, dirty fascists," surfer Salvino added. Surfer Fabio posted "Israelis are doing to the Palestinians what the Germans did to them," while surfer Terry posted a response reading "these are the Nazis of the third millennium, but because they have money and American friends, the Palestinians are the ones seen as terrorists." A particularly active poster named Viviana wrote: "Israel is a murderous country! It's committing an unprecedented ethnic cleansing! Poor Palestinians."
Some 600 comments pile on the website; bold, poisonous, at times succinct and often not. Suddenly, someone raises a challenge. "What are you talking about?" Ehud wards off Viviana in fluent Italian. "Ethnic cleansing? Daily injury of women and children? Do you have proof or are you just firing slander? Remember reality is not black and white, and that one must always study things before taking such a stark stand." A Palestinian named Mussa replies: "Ehud, why doesn't Israel restore the '67 lines instead of building in settlements, considering Palestinians have acknowledged its existence? Under what right did Israel take away my country?"
"Mussa," Ehud replies politely, "before we can talk about borders, one real development must occur—the realization of both nations that the country will have to be shared. I'm afraid that realization has not yet taken place. Hamas crying out against Israel's existence and Israel building new settlements both testify to that."
Ehud Assoulin is a 26-year-old from Ramat Hasharon who has been living and studying in Rome for the past four years. "I started posting comments in Italian for Israel during Operation Cast Lead," he said, "when Italian media was turbulent, and I saw an array of media distortions and prejudice about Israel. It made me angry on the simplest and most moral level and I felt that I couldn't stay indifferent."
Since then, unusual news regarding Israel set him at the computer screen: "My goal is to make Italians think and go past the ordinary and simplistic patters they are mostly captive in, to make them realize that in reality things are much more complex."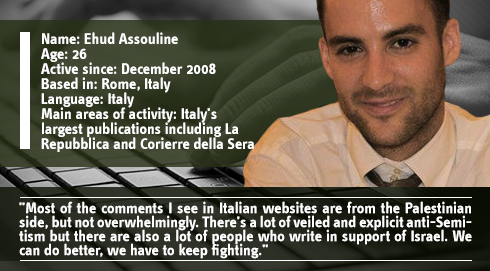 Assoulin is one of many Israelis, Jews and Zionists abroad who take part in the most informal and quiet hasbara war in recent years: The war of comment posters.
Dubbed "Talkbacks" in Hebrew, comments first appeared in the bottom of news websites, where they were carefully screened for swear words and racism, but recently they've wandered to the news Facbook pages, which attracts hundreds of thousands if not millions of followers. There, under a full name and without masks, anything goes.
Now, in the Israeli-Palestinian battle for world opinion, comments are an unusual battlefield: They are the only arena in virtual space that creates a direct, real-time and active conflict between Israel's supporters and its opponents. Here, cleaver illustrations of missiles or a screen caption of a mother shielding her children from missiles will not do; in the neurotic world of talkbacks, every photo has a reply, every reply has a comment, and every comment has a minute-long shelf life before it too is debunked by rivals. Which truth will eventually win – the Israeli one or the Palestinian one? Much of it depends on comment posters' perseverance and their devotion to the battle of the minds.
4% write, 30% read
Dr. Tzvi Reich from the Department of Communication in Ben-Gurion University took part in a thorough international study where Internet surfing and comment posting habits were studied on 24 leading news websites in the world, from the US to France, from Germany to Estonia. He said the comment posters' ability to control discourse compared to their size in the population is simply enormous. Studies in the world and in Israel, he said, show that only 4%-7% of news website surfers post comments, and a much larger percent reads them: 30%-40% of surfers.
"A small group of comment posters who are skilled and devoted can monopolize an article, such as a political item in Israel, and appear as a majority, or at least larger than it is," he said. It is clear to him that comments posted on news websites have psychological effects as well: "A surfer can read a comment on an article and understand they're in the minority and feel bad about it, like they're on the wrong side."
That is the exact reason why some try to show surfers "the right side". Avishai Bitton, a 24-year-old student from Rishon Lezion, is another Israeli web warrior. As a child, he came to Israel from New York, where he lived right across from the UN Headquarters. During his military service, a while after the operation in Gaza in 2009, he went to visit family in the US and passed by a pro-Palestinian rally in the Big Apple. The chasm between the signs reading "Israel is a murderer" and his experiences as a soldier in the most moral army in the world, as he continuously calls it, jolted him. Since then, he has been there: Morning, noon, night, whenever is needed. Coffee on the table, laptop in his hands, looking for virtual battles around the world.
"There isn't a day when I don't visit an international news website," he says. "Some days the world is merciful and focuses on Syria and I can sleep. But you find yourself awake at night, and it's not just due to empathizing with the State, it's because of wanting justice. You write ten lines in a comment just so you can go to bed at night and say, 'I did what I could, I showed the other side of the story as much as possible.' There were days when I spent 12-14 hours in front of news site. I got up in the morning, I sat at the computer; and only went to sleep when I could no longer write."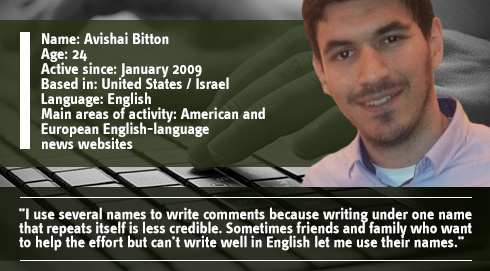 Comment posters, he knows well, are cruel. Next to legitimate criticism about Israel, in the bottom of the world's news websites, he and his peers have seen the most blatant of lies. When surfers see a Palestinian's body, they start chanting lies: That the Israelis drink Arabs' blood and rape women at checkpoints.
They share experiences from their latest visit to the Gaza Strip and talk about Israeli soldiers who torture children for fun while drinking and laughing. It is unclear how many of them know that other than in special operations, there have been no Israeli soldiers in Gaza for eight years. It does not matter: Comment posted, damage done. Bitton tries to beat them with words and images: Strives to expose hasbara lies by the other side, prove commenters' ignorance, and raise questions that could dent their absolute faith.
"When you're fluent in a language and know local customs, it gives you another perspective," he said. "Surfers think, here is a person who is from my country and is out there and telling us what he's experienced. Knowing Americans, for example, I don't comment on a news item the same on the Republican Fox News website as I do on the liberal CNN website. I can appeal to emotion on Fox News since its surfers are predisposed to support Israel, CNN's liberal readers need more logic and data. They want to know how and why; you have to show them less familiar angles."
'Like teaching cows to read'
The comment war suggests that maybe we do not suffer from a persecution complex; that maybe Israel is covered not proportionally to its size. Dr. Reich said that editors of news websites around the globe who took part in his study all said one issue makes their comment system spin more than any other: "Editors all over the world, from the Washington Post, from the Guardian, from Die Welt, from La Figaro, all talk about an influx of comments on any item related to the Israeli-Palestinian conflict.
"In the comments for any item, the discourse deteriorates to hate speech. Website editors described the experiences saying,'you posted an item about the Mideast? You won't get any sleep.' They map out organized pro-Palestinian and Palestinian communities on one side, and pro-Jewish or Jewish communities on the other, that fight between them and ravage any new item published."
But Israelis and Jewish communities in the Diaspora are not alone in the fight. "The majority of the people writing pro-Israel talkbacks are not Jewish," said Philip Fabian, a 32-year-old German from Berlin. "I never started to write pro-Israeli talkbacks consciously. I am a classic news-junkie, and the internet contributed a lot in developing my political conscience, starting in the post 9/11 world and the Intifada of the last decade. It made me realize the obvious shortcomings of mainstream media news outlets, especially when it comes to Israel."
The experience he describes sounds thoroughly Israeli: "With many people, after discussing and repeating the same things again and again, you realize that you are in a loop with no way out, and you know that trying to explain Israel or anti-Semitism to them is like trying to teach a cow how to read. But sometimes, you realize some people start to change bit by bit, because they admit to themselves that you are right in some points, or because they get a point of view on things that they haven't encountered before."
His comment activism came at a cost: "At times, the urge to argue about Israel was very strong, and it became an extremely time-consuming activity," he said. "I wouldn't let go of an online argument, even late at night or even during work time, and I lost a few friends who thought I was obsessed, but I don't regret it. Advocating for Israel introduced me to new friends."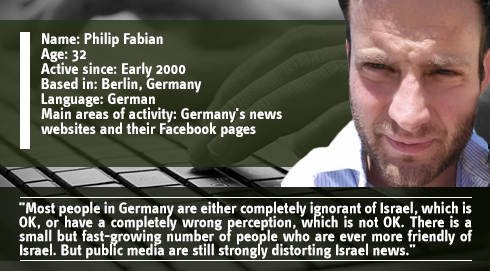 The most skilled comment posters know to characterize other comment posters according to their land, and describe Latin America as one of the most problematic zones for Israel: "There's a horrible knowledge base there," a senior comment poster said, "Sometimes people write about Israel like they used to talk about the world being flat, showing false data and 'facts' that make us cry and laugh simultaneously."
Trying to set the record straight is Nissim Tarrab, a 20-year-old fromVenezuela who is studying for his bachelor in communication in Israel. Every day he logs on to the biggest Spanish news sites: From papers of his own country, to the Argentinean Clarin and the Spanish El Pais.
"There have been a lot of changes in Latin America recently, and common financial interests with Arab countries cause South American countries to side with the Palestinians," he said. "From there it sometimes looks like Israel is a dictatorship where Arabs have no rights. I read the news in Spanish every day, and when I find a story that sheds a negative and unjustified light on Israel, I'm moved to clarify the situation based on facts.
"It's often frustrating, and some comment posters are not worth the debate. We got used to anti-Semitic remarks glorifying Hitler and denying the holocaust, but I'll never forget seeing comment posters who justified the Fogel family massacre, who said that Palestinians experience that everyday. I was shocked, I couldn't understand it."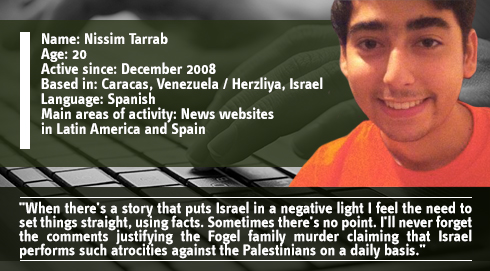 A lost cause in the comment war is the Arab arena, but even there, it turns out, there are those who maintain the wellbeing of Zionism. A few Arab Israelis who were part of hasbara efforts during various wars refused to be interviewed, but young Saudi Hussein, resident of Riyadh, is proud of his work. He started posting comments supporting Israel four years ago.
"I admit that I used to hate Israel because of the propaganda in the Arab and Muslim world," he said, "And I even thought any dialogue with Israelis is treason. But as time passed, my opinions changed, and the Israelis I talk to helped me see the facts." Hussein saves Israel's face on Arab websites and on Facebook. More than once, he said, he has received hateful comments from extreme Islamists, as he calls them, who were enraged about his support of Israel's existence and about negative comments he made regarding Hamas and Hezbollah.
"I write that I'm a good friend of Israel and Israelis and I'm proud of it," Hussein said. His Saudi friends are aware of his odd hobby, and he said some support him and some do not care. He is not afraid of the Saudi regime, either: "I know the red lines in my country. If you attack religious symbols like Muhammad, you're in trouble, but if you praise Israel – there's nothing to worry about. Many Saudis support peace with Israel, and many famous Saudi individuals, like the manager of Al-Arabiya, said wonderful things about it without anything happening."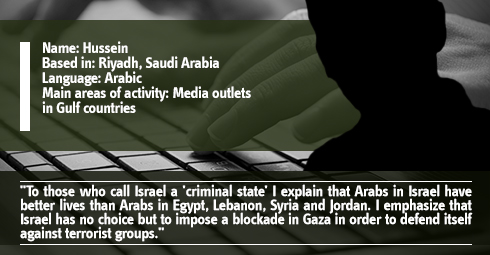 Hussein's work, naturally, is especially difficult: "Lies in the Arab media are many and big, and anything negative relates to Israel. The latest lie is of course by Assad supporters, who accuse Israel of aiding Jihadists in Syria. To those who call Israel a criminal I explain that Arabs in Israel live a much better life than Arabs in Egypt,Lebanon, Syria or Jordan, and that Israel is a democratic country that doesn't discriminate. I emphasize that Israel must blockade Gaza to protect itself from terror organizations, and that food and medicine are always being sent to the Gaza Strip."
But it works the other way, as well. The Israeli army of comment posters is made up of idealists driven by a sense of calling who want to prove the world wrong, but some of them say they themselves sometimes are faced with complex reality, and enemy comments seed doubts in them. Some incidents are hard to justify, some killing is avoidable, and sometimes they too are convinced that Israelis can do more for peace.
"I'm generally very convicted of the importance of Zionist work," said Assoulin, "So there isn't a comment poster who made me question the idea that Israel is based on, but such massive exposure to opposite opinions has made me see the reality in a more balanced way. I also don't rush to justify everything Israel does. When soldiers in the West Bank detained the five-year-old, I clarified in my comments that I think the soldiers were wrong, and focused on explaining the context, the fact that what happened was a detainment and a slap on the wrist, not an arrest, and that it's not a game of good vs. bad." Many comment posters also say that the building in the settlements is an action they find difficult to explain.
Copy-paste hatred
The most successful attempt to raise an army of comment posters was during Operation Cast Lead, when the Interdisciplinary Center (IDC) Herzliya started a round-the-clock "war room", where 1,600 multilingual students, mostly foreign students who were studying in Israel at the time, commented on major news websites. Three teams focused on posting comments to websites in 34 languages and 61 countries, and reached, they estimate, 20 million computer screens. Other than comments in English, Spanish and Russian, they made sure to leave pro-Israeli comments on websites in Georgia, Turkey, South Korea and other arenas not considered "classic", all in the country's native tongue.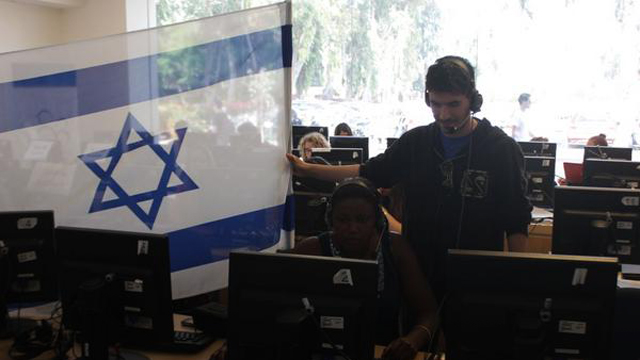 Avishai Bitton at IDC online comments war room
"The idea we worked by was that we are not official representatives of the country, but simple people writing about our personal feelings living under fire, and that's how we achieved what we did," said Yarden Ben-Yosef, who started the war room. "I remember that on a news site in Denmark, comment posters promoted an anti-Israeli protest, and our posters developed a dialogue with them and showed them, in Danish, the Hamas Charter that calls to destroy Israel and links to Hamas summer camps that teach Palestinian children hate. Remarkably, a comment poster who was so active in promoting the protest suddenly admitted he never saw those things before."
The problem is, comment posters say, that on regular, days Israel doesn't hold an army of commenters. During a military operation, a force like that may be started ad hoc, but the comment war is a long-term war and it is daily events—from the killing of terrorists depicted as innocent citizens to releasing Palestinian murderers depicted as "political prisoners"—that keep it in motion. World opinion, therefore, continues to form in the war between the wars.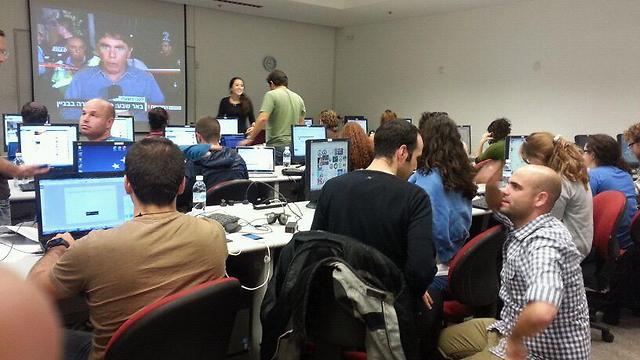 IDC comment war room (Photo: Oren Kochavi)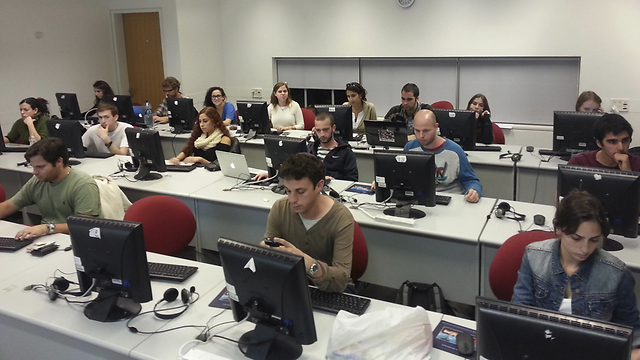 Firing online comments in 34 languages to 61 countries (Photo: Oren Kochavi)
Four years ago, it was said that the Foreign Ministry was starting a division of paid comment posters to increase Israeli presence online, but the idea never took off. The Foreign Ministry explained that not only questions of cost went into the process, but questions of morals and reliability. A country that pays people, regardless of their opinion, to market it to the world, guised as independent surfers, is playing a very dangerous game.
"Even in the hasbara war, not all means are 'kosher', let alone if we consider ourselves to be the good side," said Foreign Ministry's Department of Digital Diplomacy Director Yoram Morad. "I've heard of programs that can flood pages with pro-Israeli messages, we could open fictitious profiles, but beyond the fact that such deceit is easily exposed these days—it's just not the way." Although comments are the only arena of direct conflict, the Foreign Ministry believes they are of less importance than viral posts on Facebook and Twitter or presence in the radio, television and printed press.
The keyboard fighters attest almost unanimously that in the visibility fight on comment pages, the Israeli defeat is absolute; according to numbers alone, we are David all over again, and the Arabs – Goliath. Israel is a melting pot with a huge potential of bilingual and multilingual comment posters, but in certain countries in the world, blue-and-white comments that question the news report itself or the comments on it, are mere isles in a sea of pro-Palestinian reproach.
Yarden Ben-Yosef said that in this war, numbers matter as much as words. "Even if the most intelligent writer writes a comment rich with data and historical facts, no one will read it because it's too long. Ten pro-Palestinian comments that simply say "murderers" or another emotional word will win the battle for the readers hearts and on public opinion, and we should strive to balance the playing field, numbers-wise."
Avishai Bitton disagrees with him. He calls those comments "copy-paste hatred" and in that game, if you ask him, we lost before the starting shot was even fired. A billion and a half Muslims sprinkled with anti-Israeli European sentiment leave no room for several dozens of millions of Israel-supporting Jews and Christians. "I don't deny the fact that when the layman reader sees that about 90% of comments slander Israel they tend to adopt the position, but I think we shouldn't focus on those readers, since it's a lost cause. We should focus on intelligent readers who are genuinely interested in the conflict, who in 10 or 20 years will be leaders in their countries. It's better to lose a thousand students on a campus in the US but gain the sympathy of one honors student of international relations, the one who will one day be a UN diplomat and have much more impact on our fate."
The Foreign Ministry in Jerusalem believes that institutional focus on comments is unrealistic, and the strategy of "pressure on the whole field" (investing in relations with pro-Israeli organizations, universities and key communities abroad) is the right way to create meaningful hasbara leverage, which will vicariously move the wheels of pro-Israeli comment posts. Until then, they're relying heavily on independent initiative.
"We won't find four million state workers who will post comments," said Morad, "and that's why Israelis need to understand that in that area, things depend on them much more than on the government. We can each do something, even if it's educating two surfers, and the ministry's job is to make sure there are no Israelis who wish to join the effort and find they have no one to turn to for tools and information."
Roi Kais contributed to this report
---
JEWS IN FRANCE 2014 is a long video, a 'documenterview', including Jacob Cohen, described as a Moroccan Jew novelist, who more-or-less speaks English. It's produced by META in a deliberately amateurish style. It's on my bitchute site, at least while that lasts, but is too long for easy handling. It's in the fake revelations genre. Jacob Cohen presumably was selected for his Chomskyesque bumbling appearance. No doubt the thing is intended to help put the word 'sayanim' into circulation. There are segments on Paris, forced immigration, Jews and puppets of Jews and puppets of puppets. Vichy of course, bombing of France, the Holohoax. Dieudonné is there. But of course the full impact of Jewish control of money, of Freemasonry, of control of media, education, and spying, false flags and all the rest is omitted..
Vanunu and his multiple siblings was from Morocco: see Vanunu: Media Disinformation Campaign Pretends That Israel Is Nuclear Armed for a laugh.