Breonna Taylor: Police killed black woman after storming home in hunt for suspect already in custody, lawsuit says
The emergency medical worker was shot at least eight times by officers, according to her family.
Sunday 7 June 2020 02:14, UK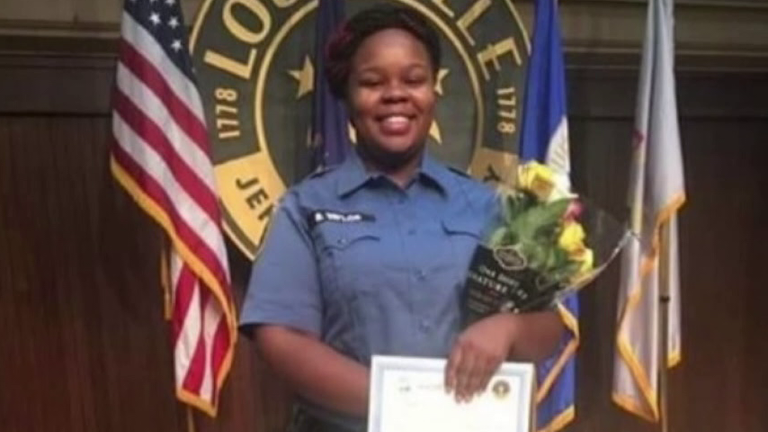 A black woman was shot dead by police who stormed her home as she slept while searching for a suspect who was already in custody, a lawsuit claims.
Breonna Taylor, an emergency medical technician (EMT), was 26 when officers entered her Louisville home early on 13 March as part of a drugs investigation.
Police claim they were returning fire after one officer was shot and wounded in the apartment.
A defence attorney for Ms Taylor's boyfriend, Kenneth Walker, says he fired in self-defence because police did not announce themselves and that he believed they were breaking in to the home.
Her family have now hired prominent civil rights attorney Ben Crump, who has represented the families of other high-profile black shooting victims, including Trayvon Martin and Ahmaud Arbery.
The lawsuit filed by the family says the officers were not looking for Taylor or her boyfriend, but for a suspect who was already in custody.
"Breonna Taylor was shot at least eight times by the officers' gunfire and died as a result," it says.
Mr Crump called the killing "inexcusable".
"We stand with the family of this young woman in demanding answers from the Louisville Police Department," he said.
"Despite the tragic circumstances surrounding her death, the department has not provided any answers regarding the facts and circumstances of how this tragedy occurred, nor have they taken responsibility for her senseless killing."
Louisville Police Department has declined to answer several questions about the allegations, citing an ongoing internal investigation.
Mr Crump also represents the family of Ahmaud Arbery, a black man who was shot dead in February while out jogging in a coastal Georgia town.
A white father and son were arrested last week after video widely shared online showed them confronting Arbery.
A struggle then ensued in which punches were thrown, before three shots were fired and Arbery is seen collapsing.
The men told police they suspected Arbery was a burglar. They were not arrested for two months and the prosecutors involved are now under investigation.
Mr Crump also was involved in the 2012 case of Trayvon Martin, the unarmed black Florida teenager shot and killed by a neighbourhood watch volunteer.
Breanna Taylor. She, a black EMT, was in bed with her boyfriend after midnight in Louisville. The police, under a no-knock warrant, using a battering ram, with no warning, crashed into her apartment. Her boyfriend, wakened by the intrusion, thought the couple were being attacked by god knew who. Reasonably, he fired a pistol at them, hitting a cop in the leg. The cops responded by shooting Breanna eight times, killing her.
With a predictability that makes Congressional corruption seem a long shot, the police said that, actually, see, they knocked and announced that they were police.
The police are lying. First, you don't get a no-knock warrant and then knock, calling out that you are police. Second, if the police announce themselves, a guy in bed with his girlfriend will get up and open the door.
However: What happens when police have done a cowboy battering-ram I'm-a-really-cool-SWAT-guy enhanced entrance, and then discover that they have killed a young woman? Easy. They suddenly remember that they knocked. Since they have killed the only other witness, they can get away with it.
Perhaps an autopsy report will say that she died of underlying conditions. Yes, of natural causes, by purest coincidence while being shot eight times. Happens all the time.
The Breanna murder, like the Floyd trophy animal technique, was inverse PR genius. There must be a manual on this. Can you think of a more preternaturally foolish approach to race relations? You don't shoot the guy you are supposed to be arresting. No. You kill his girlfriend. What brilliant police work. Awesome."