UPDATE 16. April 2020: Activists: Turning on the brain and reading between the lines has become important.
Lawyer Beate Bahner attended the hearing at the Heidelberg Police Department on Wednesday, 15 April 2020. Though the police requested, she had expressly waived legal assistance. Since the interrogation report was not handed over to her in person, but can only be obtained by inspecting the file from the Public Prosecutor's Office, a summary of the interrogation follows here based on her recollection:

The police officer explained that due to her opposition to the Corona regulations of all 16 federal states and because of the invitation to a demonstration on Easter Saturday 2020 "Coronoia 2020 – never again with us. We stand up today" an investigation has been launched against her. In accordance with Paragraph 111 of the StGB, she had thereby publicly called for commiting a criminal offence.

Bahner initially expressly confirmed that this public call had been made by her alone and that the homepage www.beatebahner.de is operated by her alone. No one has access to this homepage except her and her secretary.

The police officer then explained that the Corona regulations contained a catalogue of fines in the event of a breach of the movement rules. The Corona regulations were based on Section 28 of the Infection Protection Act.

Bahner initially replied that, unfortunately, she was not yet aware of the Infection Protection Act.

Bahner then commented as follows:

She wanted to apologize first to the police and the prosecutor's office for the great uproar she had caused. She is sorry that the police now have such anger with the 200 or so people who gathered in front of the police headquarters at 1 p.m. She merely asked for lenience, since she is not familiar with the new legal situation.

It was the case that she had been on holiday for the last 14 days. She had made several small city trips and had only ever been to Heidelberg for a short time in the meantime.

In the first two weeks of April, she was first in Berlin. She had visited museums there and had been to the opera houses.

She then went to Paris, especially to enjoy the Louvre and a boat trip on the Seine.

Shortly back in Heidelberg, she finally flew to London to visit other friends, browse beautiful shops, enjoy the great museums and go to the Royal Opera House.

Bahner explained once again how sorry she was: As soon as she had travelled two weeks, so much had changed in terms of law. Normally, she reads the Federal Law Gazette every day in the office in order to always be well informed. It also tries to comply with the law correctly and to behave honestly both professionally and privately.

She had been on holiday for a short time and was now falling into the biggest legal trap that had ever happened to her in her life.

In this case, however, she asks for mitigating circumstances: on the one hand, it is the first time that she has broken the law so massively.

On the other hand, the offence of "demonstration/meetings/gatherings in public spaces" is still not to be found in the Criminal Code. She therefore again apologised very much for all these circumstances and at the same time promised to delete the name of the investigating police officer on the two police documents. In any case, this is not to be seen as appropriate under data protection law, especially since the police officer has apparently been bombarded with hundreds of telephone calls every day since this publication. Bahner also apologizes in this regard again for the data protection violation, which was also not clear to her.

The conversation took place in a friendly and pleasant atmosphere in the presence of two non-legal assistants. The hearing lasted about 30 minutes.

The facts are now being investigated further. An indictment for the infringement under Section 111 of the German Criminal Code may then be brought against her. There may also be a penalty order or to drop the case against a fine. Finally, a termination of the proceedings in the absence of sufficient suspicion under Paragraph 170(2) of the StPO may also be considered. However, this is hardly to be expected, given the accusation of calling out to 83 million people to commit a criminal offence.
Beate Bahner, Heidelberg, April 16, 2020, 1 p.m.
(Machine translation from the original GERMAN TEXT)
===
Fake Covid-19 pandemic. German Lawyer Beate Bahner severely beaten by police and taken to psychiatric ward
By Baron (slightly edited) – 13. April 2020
In Germany, everyone who does not believe in the (in any way Fake) Corona pandemic can today be taken to a psychiatric hospital, and be severely beaten, tomorrow of course one also could be murdered by police.
This proves that we need to know: anything is fake, NWO is going to destroy our industries, to imprison us and later to kill us with the 'vaccine' of Bill Gates.
Not one of the German MS presstitues has reported today about this unbelievable mistreatment of a professional lawyer and the gross violation of human rights by Merkel's Criminal NWO Gang.
Today psychiatric punishment is tested in Germany, tomorrow such will arrive in the USA, be sure.

Only the Rhein-Neckar-Zeitung (RNZ) newspaper reported briefly online that the Heidelberg lawyer Beate Bahner, who applied for an urgent decision against the Corona Ordinances before the Federal Constitutional Court, and had her case thrown out, was brutally arrested and taken to a psychiatric institution in a high-security jail facility on Sunday evening. Bahner herself complains of forced admission under massive violence (audio below). According to google, other news portals or media did not report anything on the case by Monday evening.
"She made a very confused impression", a police spokesperson explained the action to the RNZ. In the meantime, the article could no longer be accessed for some time on the newspaper's website. The only way to find the basic statement – the admission to a psychiatric clinic – was via the google archive. Now the article is online again – but it is only an old version with the psychiatric admission as an update. There it says that she published a "resurrection decree" on her website and declared the government imposed shutdown to be over. Also on the lawyer's page many pages appear to have been removed.

But on the internet there is now an audio message, apparently coming from Mrs. Bahner speaking directly from the isolation ward and addressed to her sister, in which she tells quite calmly and not confused how she was stalked by a car and then ambushed and how police brutally attacked her during her arrest (listen to it below or via this link or this soundcloud):
"The police came, they handcuffed me, in the back, pressed me to the floor, rolled me in the dirt, used massive police violence. …then they took me to the psychiatric ward, then I asked them to let me sit down, then the policeman said, sit down, there is a bench here, then he pushed me down on the floor and slammed my head from a height of one meter onto the stone floor, I still haven't been able to get it bandaged…then four of them carried me to the doctor… I didn't get a lawyer, I wasn't allowed to call anybody… then they forced me to stay all night in the Guantanamo high security wing of the psychiatric hospital… I was on the floor, no toilet, a sink, no soap, no towel, nothing else…"
Although she is by now held for almost 24 hours, there is still no court order, Bahner said in the audio message. While she had to sleep during the first night on the bare floor, she has in the meantime, however, been provided with a bed and other amenities. She further speaks of "tyranny" and a worldwide "fake" with Corona – the virus and the measures against it.
Even if one does not share this view of her and considers it extreme, the question is whether it justifies forced admission to a psychiatric hospital. The point above all is that totalitarian regimes are known to have used such methods; in the Soviet Union and the GDR, for example, such admissions were regularly common practice in dealing with people who too openly and actively criticised or even fought against socialism, which from the point of view of those in power at the time was "scientifically proven".

On the lawyer's channel in the social network "telegram" it reads:"Beate Bahner was arrested on Easter Sunday at 7.30 p.m., severely mistreated by the police and held in a high-security prison, offshoot of the psychiatric hospital Heidelberg for 24 hours. Now imprisoned until further notice in the closed new "isolation ward" of the Heidelberg psychiatric hospital after her willingness to wear mouthguards [face-masks] there. This ward is actually for patients suffering from depression and is completely empty. There is no court order or public prosecutor's investigation. Please share this message together with the voice message."

I will continue to monitor the situation and update it if necessary. Police investigations were initiated against Bahner following her announcement that she was going to file a constitutional complaint, and now the apparatus has been activated because she had called for a demonstration against the state-imposed Corona measures. The police visited her in her office and switched off her website. At that point and understandably, the lawyer reacted very emotionally, spoke of a dictatorship in Germany and said she would return her license to practice law (which later she decided to not do). [The website was then back on again on 13. April 2020 with partly tampered pages, but then again on 14. April 2020 it is not reachable – an archived version can be found HERE]. On 14. April 2020 then her NEW WEBSITE went online and then offline again. It is at present not known if state-security is tampering with her website or the website problems are based on other issues. We will contiue to monitor. UPDATE 14. 04. 2020: Website https://www.beatebahner.de/ works again (in German)

A few days before this incident, the German state of Saxony (former GDR) announced that they would put quarantine refuters and corona-virus deniers in psychiatric hospitals. "The state has prepared nearly two dozen rooms in psychiatric clinics where the police will guard those who cannot be taught," reported the newspaper Die Welt. And further: "In Saxony, anyone who refuses the order of domestic quarantine can be detained in a psychiatric clinic since Thursday [last week];" and added: "It is important for all our health and lives that people comply with the quarantine orders of the health authorities," the MDR quotes the state's Minister of Social Affairs, Petra Köpping (SPD).

Professor of Political Science Jerzy Maćkóv, university Regensburg, commented this news on facebook as follows: "Tchaadayev was the name of the philosopher who criticised Russia's history and was declared insane by the Tsar in return and was subsequently forced to undergo regular medical examinations. Communists in the Soviet Union, as is well known, took similar action against their critics – a continuity that speaks volumes. Now comes the harrowing sequel – legally sanctioned."
In Switzerland, too, police arrested a 58-year-old medical doctor on Saturday and admitted him to a psychiatric clinic. He had allegedly written corona-sceptical tweets previously, according to the portal "20 Minuten". According to the police, he has spread threats against family members and authorities.
Report by Beate Bahner
Google and Youtube delete videos and information continuously, hopefully the piece below will be not quickly removed. However, download her original report as we did and it then would go up on BitChute or other websites like https://banned.video that can't be controlled (yet) by the emerging global Neo-Nazi governance.
Hear also on SOUNDCLOUD (in German)
Voice of Mrs. Bahner in German language.
Original Video text: Immer öfter wird der Faschismus sichtbar, Schweizer Arzt und Deutsche Rechtsanwältin nach Kritik an den Corona-Maßnahmen in Psychiatrie. [Fascism becomes visible more an more often, Swiss medical doctor and German lawyer in psychiatric wards after criticism of Corona.]
===
UPDATE 14. April 2020:
Beate Bahner freed
Beate Bahner was on Tuesday evening, 14 April 2020 released from the high-security prison Heidelberg, Psychiatry station ("ISOLATION WARD") Heidelberg, Voßstraße 4, headed by its medical director Prof. Dr. Sabine Herpetz.
It is thus possible for her to attend the hearing on Wednesday, April 15, 2020, 1 p.m. in Heidelberg, police headquarters Römerstr. 2-4.
The Heidelberg Public Prosecutor's Office is investigating Beate Bahner on charges of "public incitement to commit crimes" under Section 111 of the German Criminal Code (StGB).
Beate Bahner will comment on the matter.
Legal representation: Beate Bahner does not need legal representation, after almost all the legal profession and almost the entire judiciary have failed during full two weeks, thus contributing to the abolition of the rule of law In German and the lightning-fast establishment of the most monstrous and most horrific regime of injustice that the world has ever seen.
===
Judges: Presiding Judge – HARBARTH, Lady-Judge – BRITZ, Judge – RADTKE
===
UPDATE VIDEOS 15. April 2020:
We Are The People
"Wir sind das Volk". Lawyer Beate Bahner at CID HQ Heidelberg
•Apr 15, 2020
W.I.M. – Wirtschaft Information Meinung
In the early afternoon of 15 April, dozens of protestors rallied in front of the Heidelberg Criminal Police building where Ms Bahner had just been interviewed for alleged incitement to commit criminal offences. Ms Bahner told the assembled crowd that she had been given a date, apparently for a further interview.
Heidelberg: Policer threatens unsuccessfully to dissolve the media event and support ralley for Lawyer Beate Bahner
•Apr 15, 2020
W.I.M. – Wirtschaft Information Meinung
Complete Speach given by Beate Bahner at CID HQ Heidelberg
•Apr 15, 2020
W.I.M. – Wirtschaft Information Meinung
===
Coronavirus lockdown: German lawyer detained for opposition
By Alex Thomson, Eastern Approaches – Tuesday, 14th April 2020
A large number of well-established doctors and lawyers in the German-speaking countries have questioned the constitutionality of their governments' stringent confinement measures, which are commonly being referred to by the English loan-word der Shutdown (as there is no precedent for what to call the situation in German). These measures have begun to be challenged openly on the streets of Berlin. The medical and legal dissidents number in the dozens. None, however, has paid such a price for that freedom of speech as the German medical lawyer Beate Bahner, who has been committed to a psychiatric institution for publicly disagreeing with the measures and policies followed by the German government.
No right to demonstrate
Beate Bahner, in the southern German state of Baden-Württemberg, has a 25-year career and has won three cases before the Federal Constitutional Court (German Supreme Court) in the domain of unlawful infringements of the right to practise one's profession. She has written five books on medical law, most recently an analysis of the 2016 federal act to tackle corruption in the healthcare system.
On Friday 3 April 2020, Ms Bahner issued a press release decrying the German government's Coronavirus measures as "flagrantly unconstitutional, infringing to an unprecedented extent many of the fundamental rights of German citizens". The statement argued that the small minority of the public that was at risk of serious harm in the event of contracting Covid–19 could be far more suitably protected by means of targeted measures based on the principle of adult responsibility for safeguarding one's own health.
She continued:
In particular, these measures are not justified by the Infection Prevention Act, which was hurriedly amended just a few days ago. Long-term restrictions on leaving home and meeting others, based on high-death-rate modelled scenarios (which fail to take account of actual critical expert opinions), and the complete shutdown of businesses and shops with no proof that they pose any risk of infection, are thoroughly unlawful.
Noting that the Federal Ministry of Health had failed so far to supply protective equipment to medics and care workers and to conduct enough random tests to establish the actual rate of infection in the population, Ms Bahner went on in her press release to predict that the shutdown would have "devastating consequences for society, the economy, democracy and above all human health", and indicated her readiness to take the matter to the Federal Constitutional Court, since the lockdown represented a grave violation of the constitutional principle of proportionate measures and an abandonment by the state of its duty to guarantee the liberty and health of its citizens.
Ms Bahner followed up that press release with a nineteen-page legal analysis published on 7 April entitled Why the shutdown is unconstitutional and the greatest legal scandal in the post-1940s history of Germany. The headings of the document are as follows:
1. The Coronavirus Regulations in the State of Baden-Württemberg —
grounds;
citizens' responsibilities and demands made on them;
lack of state competence to issue the regulations;
curtailment of practically all fundamental rights and freedoms;
the need to nullify all Coronavirus regulations with immediate effect

2. The Infection Prevention Act forms no legal basis for the shutdown —
intent and purpose of the Act;
notifiable diseases and evidence of pathogens

3. Epidemic containment measures —
those restricted to persons actually ill or suspected of being bearers;
those applying only marginally to healthy persons;
the administrative law precedent from the measles ruling;
the unlawfulness of a blanket shutdown of institutions and businesses;
shutdown constitutes a severe and unconstitutional impingement of the freedom to practice one's profession

4. The Act is meant to ensure people assume responsibility for their own health —
spread of Covid–19 by droplets;
following the Chancellor's guidance;
every citizen's right to immunisation;
quarantines are supposed to confine the sick, not the healthy

5. The local state Coronavirus Regulations flagrantly breach the Basic Law —
state governments have disregarded the federal government's lawful regulation;
the shutdown is the greatest legal scandal in the history of post-War Germany;
criminal offences by the state government and police;
the ban on demonstrations has suspended the right to resist;
fines and detentions are unlawful
After these substantive sections, Ms Bahner closed her document with three brief appeals:
An appeal to the Chancellor and all heads of government to end the tyranny at once

A call for a nationwide demonstration at 3 pm on Easter Saturday

The oaths of all lawyers and judges bind us to safeguard the rule of law
It was the second of these appeals, to demonstrate against "coronoia" (Coronavirus paranoia), that landed Ms Bahner in trouble. In full, it read:
Fellow citizens,

I hereby invite all 83 million of you across the nation to gather and demonstrate peacefully at 3 pm on Easter Saturday:

Coronoia 2020 — [Tyranny] never again. We rise up today!

In accordance with §14.1 of the Assembly Act, please give the competent authority prior notification of your intent to demonstrate.
Website takedown
The next day, Heidelberg Police announced their intention to prosecute Ms Bahner for this appeal, on the grounds of Article 111 of the German Penal Code:
He who publicly, whether in a gathering or by disseminating writing, encourages an illegal act will be prosecuted for incitement.
The police notification sent to Ms Bahner, ordering her to appear for interview as a criminal suspect on 15 April, stated:
As I have not been able to reach you personally, I inform you by this letter that due to your public call to commit criminal acts (national gatherings at 3 pm on Easter Saturday despite a ban), your website will immediately be switched off.

An order to that effect is being sent to the company 1&1 Telekommunikation SE.
Ms Bahner's website was duly switched off that day (9 April) but was available again the next day.
Supreme Court declines case
Meanwhile, as previously announced, Ms Bahner had submitted a 36-page urgent motion to the German Constitutional Court regarding the unlawfulness of all 16 German federal states' Coronavirus measures, on 8 April. At closing time on Good Friday (10 April), the Constitutional Court faxed its refusal to hear her motion, finding it inadmissible as a matter of inferior administrative law.
Violent committal to psychiatric clinic
On Easter Monday, a recording was uploaded of a calm 12½-minute voicemail left by Ms Bahner for her sister, describing a massively brutal swoop on her home on Easter Sunday evening (12 April). The voice in the recording matches a previous video recording of Ms Bahner (ironically, one in which she describes nursing liability law). In the voicemail, Ms Bahner recounts:
I went into the garage and found a car following me suspiciously. After standing in front of my car for ten minutes, I sensed something was not right and ran back out of the garage. Stupidly, I didn't run into the house, because my secretary had gone to get her car on Voss-strasse and she just didn't show up again … I asked a passing car to call the police for me. They simply kept refusing to [respond] for five minutes, and then I realised it had been a huge mistake to call the police, because at the moment I'm Number One Enemy of the State.

When the police did arrive, I told them I felt threatened. They brought the handcuffs out and pushed me to the ground with massive force. They kept me sitting in their car for ten minutes with my hands cuffed behind my back, then they drove me around the corner to the psychiatric clinic. There were four police officers there, three nurses, and a doctor, though she only arrived ten minutes later.

I asked to be allowed to sit down and was shown to a bench. Then I asked to have the handcuffs taken off, since it was actually I who had requested police protection. But instead, I was thrown to the floor again, having my head hurled onto the stone floor from a metre (3 ft) height, which nobody reacted to. Then they asked me whether I wanted a face mask, which of course I declined.

Because I refused to move, they physically carried me to the doctor, who asked me "why I felt threatened", even though they all know perfectly well who I am. I was told I would not be given a lawyer.
She goes on to describe in the voicemail her unfamiliarity with the psychiatric facility to which she was taken, even though she is a local lawyer who apparently had to visit clients in that clinic in the past:
Then I was forced to spend the night lying on the floor in some high-security Guantanamo psychiatric clinic, which I didn't recognise; it's been renovated. There was no toilet, no sink, though they did allow me water, and there was a bell I could ring, though they ignored it after the third time I pressed it.
After a further ten minutes of description of how Ms Bahner was "upgraded" from the floor of an isolation cell to a proper furnished room with good nurses, she ends the voicemail to her sister with the observation:
I have been held here for 20 hours now. If people don't finally wake up, this is going to turn into the worst régime of terror ever … We are being tyrannised by evil, evil, evil forces. Last night, I was petrified of being killed, of being forceably injected. I am fearful of being disappeared … Because I had been without a mobile phone at the time I was arrested, I had no way of contacting anyone … I have a summons for Wednesday [15 April] because I allegedly breached Article 111 of the Penal Code, "Incitement to Criminal Acts". I called upon people to demonstrate! Freedom of speech was the most fundamental constitutional right in Germany, and in the space of three months it has become a criminal act.
Ms Bahner's presence at the Klinik für Allgemeine Psychiatrie on Voss-strasse in Heidelberg, a university clinic, was confirmed on Tuesday 14 April in a telephone call by journalist Hagen Grell. The clinic told him that it had put out a public statement on the case and refused to allow him to speak to Ms Bahner, but suggested that if he were able to obtain her mobile telephone number, he would be able to call her directly.
The detention has also been reported by local Heidelberg media, regional media and a national news source. Ms Bahner's interview for "incitement to commit criminal acts" is reportedly scheduled for 1 pm on Wednesday 15 April at the K6 Heidelberg Criminal Police Department on Römerstrasse.
On Tuesday 14 April, Attorney W. Schmitz wrote to the German Federal Bar Association that it should take up Ms Bahner's case, if only because the Psychiatric Treatment Act did not in his understanding justify the committal of a person to an institution on the "alleged perception of a police officer" that she appeared confused. He added:
I should not have to add that Ms Bahner's claims of very grave abuse have very untoward connotations of the darkest chapters of German history. The mere fact that she claimed to have been so badly abused was what prompted me to write to you.

Ms Bahner is in the company of over 50 well-known experts in criticising the nationwide lockdown; I would be glad to furnish you with a list of their names.

If it really is the case that lawyers critical of government measures can now be intimidated using the state legal apparatus or psychiatry, and can be professionally and socially destroyed, then it is five minutes to midnight in this country.
Confinement of whistleblowers in psychiatric institutions, an old Soviet technique, has previously been reported by UK Column from Lancashire (in our most viewed ever video, an interview with social worker Carol Woods, who we understand has recently been released but remains at threat from persecutors); from North Yorkshire (in the Hofschröer case, extending to Germany and Austria); from Nottinghamshire (the case of Melanie Shaw, who is now being well looked after in another institution); and from Cornwall (the case of Emma, a mother who had reported apparent sexual grooming going on at her child's primary school).
UPDATE: A statement on Ms Bahner's website of Wednesday 15 April indicates that she was released from psychiatric committal the previous evening. In the early afternoon of 15 April, dozens of protestors rallied in front of the Heidelberg Criminal Police building where Ms Bahner had just been interviewed for alleged incitement to commit criminal offences. Ms Bahner told the assembled crowd that she had been given a date, apparently for a further interview.
Ms Bahner's statement ends:
Beate Bahner requires no legal representation, since practically the whole legal profession and the whole judicial system has utterly failed in the past two weeks, thereby contributing to the abolition of the rule of law and the lightning-quick setting-up of the most monstrous and appalling régime of injustice that the world has ever seen.
A statement of 14 April by the Heidelberg Public Prosecutor, the body's second press statement on Ms Bahner, announces that her prosecution by criminal police and the State Security Department is continuing and insists that the criminal proceedings against her have nothing to with "either the psychiatric committal of the accused or any other use of force by law enforcement".
===
===
German Lawyer Sent to Psychiatric Ward for Organizing Protest Against COVID-19 Lockdown
Resistance to mass house arrest is mental illness.
By Kurt Nimmo – 15. April 2020
In the Soviet Union, activists were sent to state psychiatric wards. According to the state, any and all opposition to government policy was considered a form of mental illness.
Stephanie Buck writes about the treatment of the "social parasite" Joseph Brodsky.
In 1963, Russian poet Joseph Brodsky was seized and sent to a mental institution… Hospital workers pumped him with tranquilizers and repeatedly woke him during the night. He was given cold baths and wrapped in wet canvas that shrank and cut his skin while drying.
It is not likely German lawyer Beate Bahner will be tortured like Brodsky. However, that does not make her arrest and forced confinement in a mental institution any less egregious.
It has begun: German medical lawyer Beate Bahner, who has been committed to a psychiatric institution for publicly disagreeing with lockdown.https://www.ukcolumn.org/article/coronavirus-lockdown-german-lawyer-detained-opposition …
"Bahner had become known in the past few days with a call for nationwide demonstrations and an urgent application for the abolition of all corona protective measures," reports Welt. "The [medical specialist] lawyer from Heidelberg considers the corona rules to be excessive and advocates for them to be abolished."
Prior to her arrest, which she resisted, Bahner's website was shut down at the request of the Mannheim police, according to the newspaper.
Hundreds pour onto the streets of Berlin to protest.
Protest to end the lockdown #COVID19
In America, the state has yet to lock dissidents up in mental institutions, although police have threatened people for attending church services and disobeying social distancing mandates.
In Mississippi, parishioners were fined $500 for attending a drive-in church service. In Massachusetts, the governor and local government control freaks ordered citizens to wear masks. The city of Lynn imposed a mandatory curfew. Authorities in Minneapolis charged twenty-three people with violating stay-at-home orders.
In Australia and Britain, police are fining citizens for daring to go outside (doing so in Queensland will result in a $100k fine). The dictator president of the Philippines, Rodrigo Duterte, has ordered police and the military to shoot and kill all in violation of an iron-fisted lockdown.
As a nation-wide lockdown and draconian measures destroy business, jobs, and lives, people are beginning to resist.
In Michigan, protesters gathered outside the state capitol to denounce Gov. Gretchen Whitmer's lockdown.
"We do not agree with or consent to our unalienable rights being restricted or rescinded for any reason, including the COVID-19 pandemic," said Michigan United for Liberty on its Facebook page.
Wow. The Michigan anti-lockdown Facebook group gained another 45,000+ followers yesterday and is now close to 310,000, ~4% of the state's adult population. Wonder how many will show up for the protest.
#stopthelockdown #TheRealDonaldTrump
This will only get worse until we reverse course on this lockdown. Which is destroying our economy, everything America stands for around freedom, and peoples livelihood.https://www.foxnews.com/politics/coronavirus-stay-at-home-orders-protests-economy …
At least 15,000 cars and trucks are expected to descend on Michigan's state capital on Wednesday to protest what they are calling Gov. Gretchen Whitmer's tyrannical new guidelines to slow the spread…foxnews.com
In Raleigh, North Carolina the police denounced a protest against lockdown as "non-essential activity," a direct violation of the First Amendment.
I wanted to believe this was a joke or a hoax – @raleighpolice calling a protest a "non-essential activity" and arresting someone for speaking out against the state's lockdown. But it is as real as Stalin.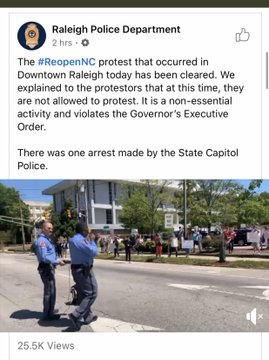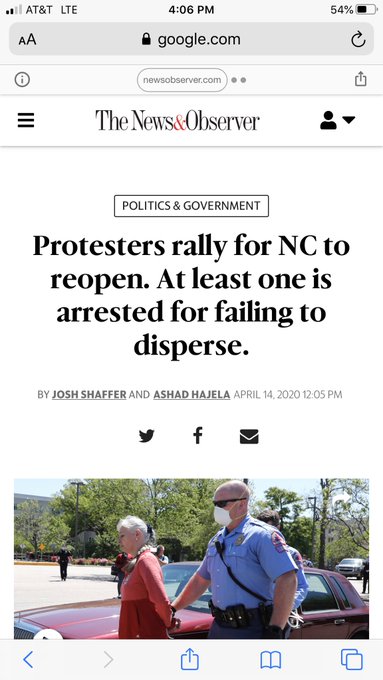 Protesters angry with Gov. Mike DeWine's lockdown order interrupted a coronavirus briefing at the Ohio Statehouse on Thursday.
Protesters gather outside Ohio Statehouse during coronavirus briefing https://bit.ly/2K4Yc6x #10TV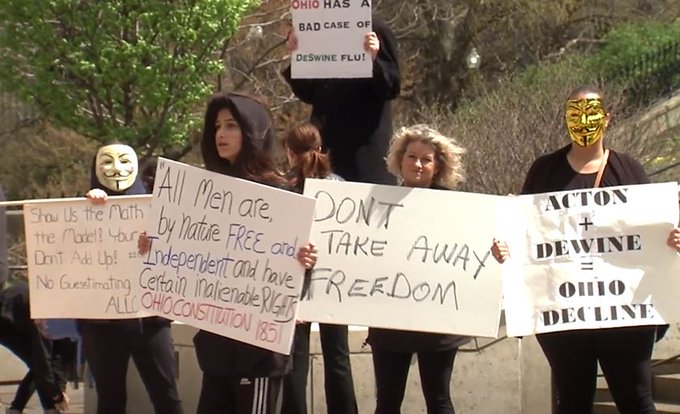 Officialdom has warned lockdowns may be in place until a vaccine is manufactured, possibly 18 months from now. This is a sure recipe for civil unrest and violence. It is not feasible for millions of people—and billions around the world—to endure lockdown and other authoritarian measures, possibly indefinitely.
In Germany, the state has moved to declare opposition to the destruction of civilization a mental illness. As more people resist mass house arrest and enforced privation, the state will undoubtedly resort to measures above and beyond locking activists up in mental institutions.
NORAD and the Pentagon have planned for civil unrest for some time. The military is now engaged in a PR campaign to "reassure the public" that it will use the appropriate protective equipment as it prepares to put down inevitable uprisings.
NORAD Wants Photos of Troops to 'Reassure the Public'
Seeks photos of troops in US wearing proper protective equipment#NORAD #Coronavirus #Covid19https://news.antiwar.com/2020/04/13/norad-wants-photos-of-troops-to-reassure-the-public/ …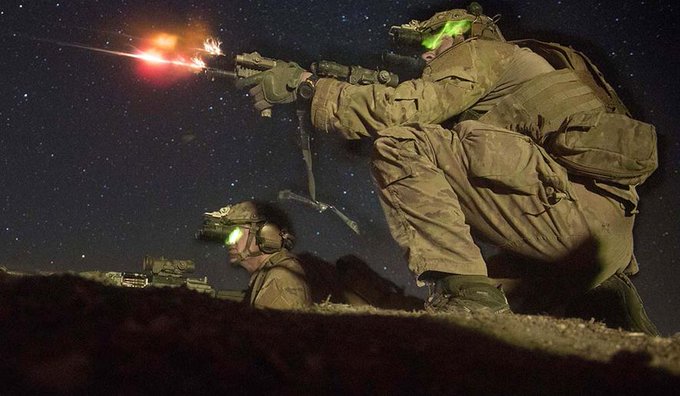 See Antiwar.com's other Tweets
Auhor:
Kurt Nimmo writes on his blog, Another Day in the Empire, where this article was originally published. He is a frequent contributor to Global Research. The original source of this article is Copyright © Kurt Nimmo
* Note to readers: Forward this article to your email lists. Crosspost on your blog site, internet forums. etc.
===
If the case would succeed at the European Court for Human Rights is questionable in the present political landscape:
Actions
So ist das halt: Die Ratten
sind alle eine grosse selbst- u. eigennützige Familie!

Fast jeder 4. Richter am Europäischen Gerichtshof für Menschenrechte ist eng mit Soros verbunden (Video)
10. April 2020

Eine Studie behauptet, dass fast ein Viertel der Richter am Europäischen Gerichtshof für Menschenrechte enge Verbindungen zu NGOs von Soros haben und trotzdem über Fälle entscheiden, in die Soros-NGOs verwickelt sind

https://dieunbestechlichen.com/2020/04/fast-jeder-4-r..
Fast jeder 4. Richter am Europäischen Gerichtshof für Menschenrechte ist eng mit Soros verbunden (VIDEO) dieunbestechlichen.com https://www.youtube.com/embed/EPEq0lLK3_o?version=3&rel=1&fs=1&autohide=2&showsearch=0&showinfo=1&iv_load_policy=1&wmode=transparent
Fast jeder 4. Richter am Europäischen Gerichtshof für Menschenrechte ist eng mit Soros verbunden
•Mar 8, 2020
Eine Studie behauptet, dass fast ein Viertel der Richter am Europäischen Gerichtshof für Menschenrechte enge Verbindungen zu NGOs von Soros haben und trotzdem über Fälle entscheiden, in die Soros-NGOs verwickelt sind.
===
NGOS AND THE JUDGES OF THE ECHR, 2009 – 2019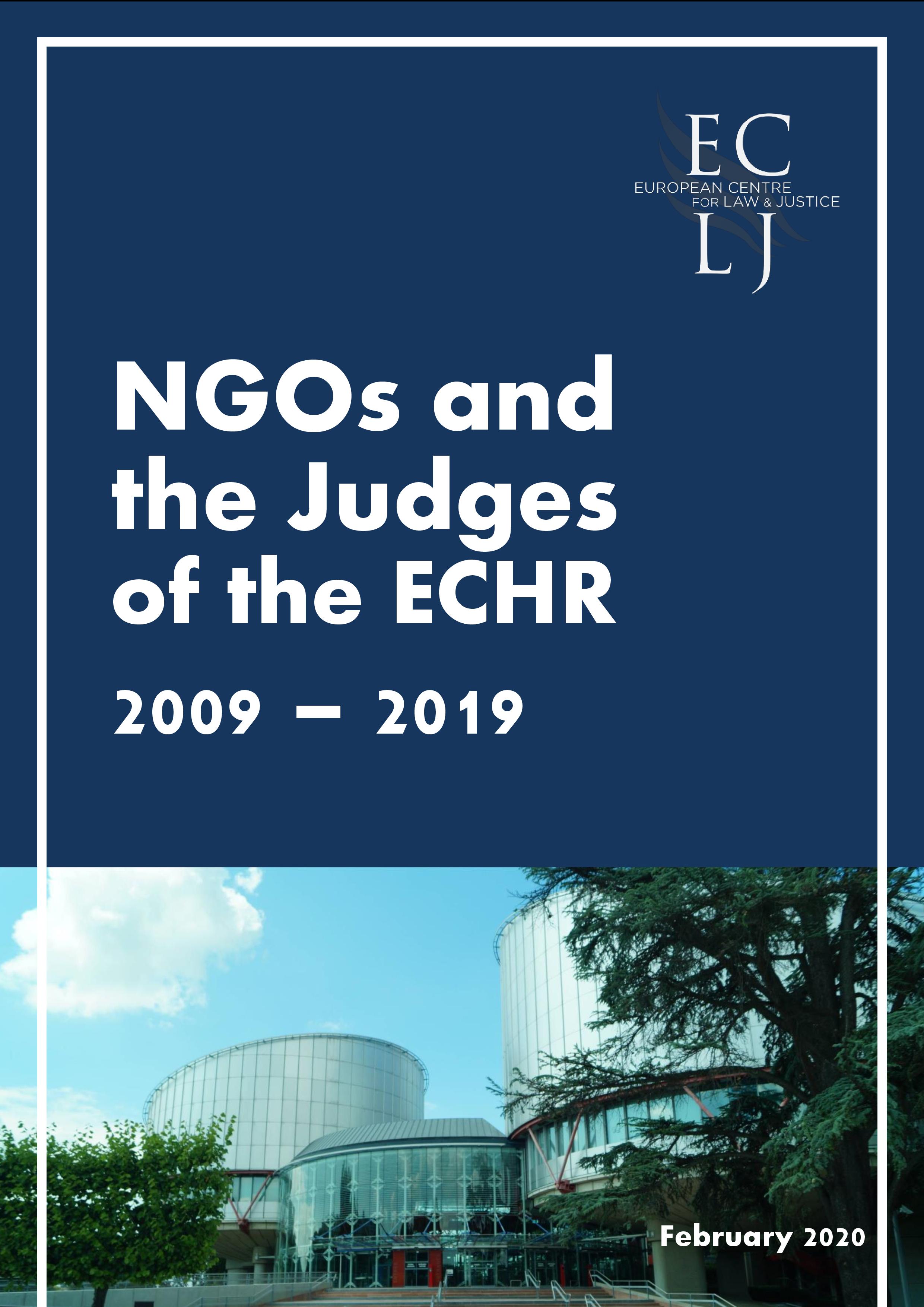 This report exposes the relationships existing between several judges of the European Court of Human Rights and NGOs that are active before this Court. It analyzes the various problems that these connections cause, and seeks solutions.