PQC: These Hongkongers are truly tough! The "powerful" COVID19 just cannot stop them!
===
Tactical police forces subdue at least two as more than 100 take to street chanting anti-government slogans
Saturday marked first March 21 since August that MTR has not closed the local station ahead of protest
Published: 10:35pm, 21 Mar, 2020
Updated: 1:04am, 22 Mar, 2020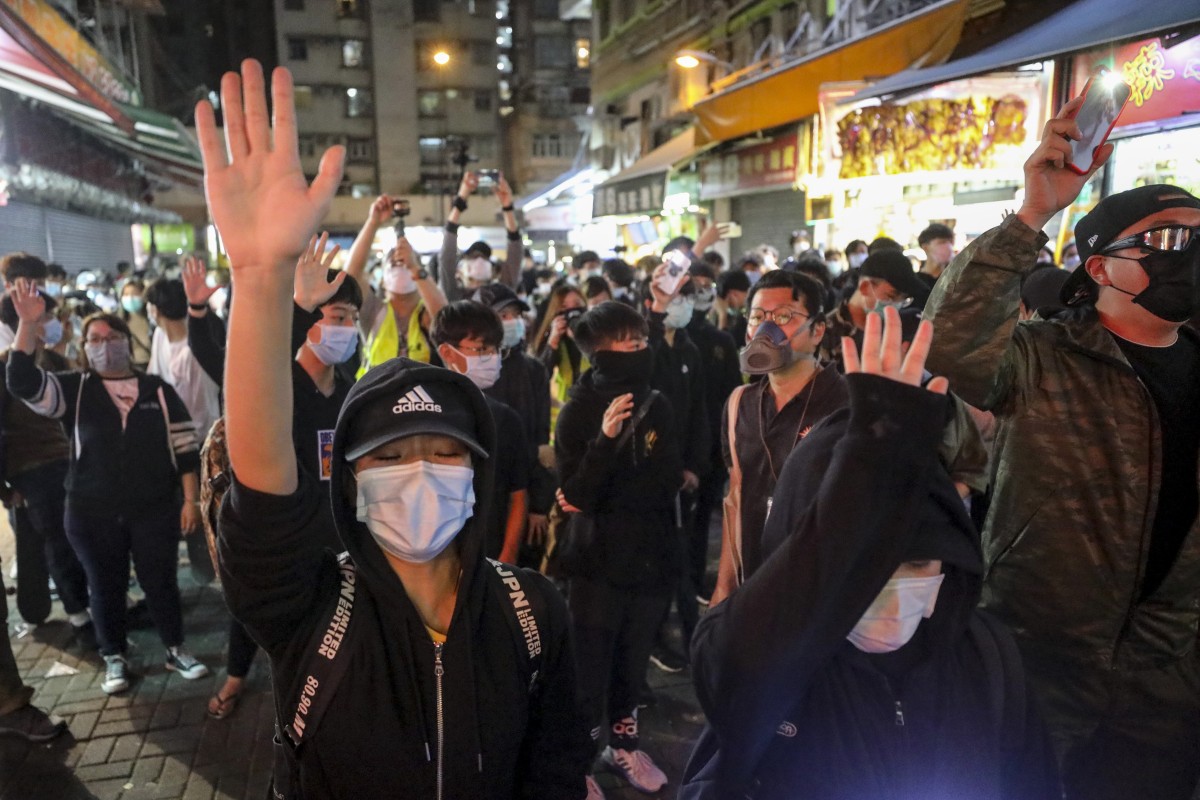 Protesters rally in Yeun Long in to mark eight months since the indiscriminate attack on protesters and residents that left 45 injured. Photo: Dickson Lee
A demonstration by more than 100 people on Saturday to mark eight months since the mob beatings in Hong Kong's Yuen Long area led to protesters blocking roads and starting a small fire, as police fired tear gas to disperse the crowd.
The rally centred on the events of last July 21, when a group of white-clad men wielding metal rods and wooden poles attacked protesters and commuters indiscriminately at the district's MTR station and on a train, injuring 45.
Police were accused of arriving late to the scene, while the force said manpower had been tied down dealing with violent protests in the city centre.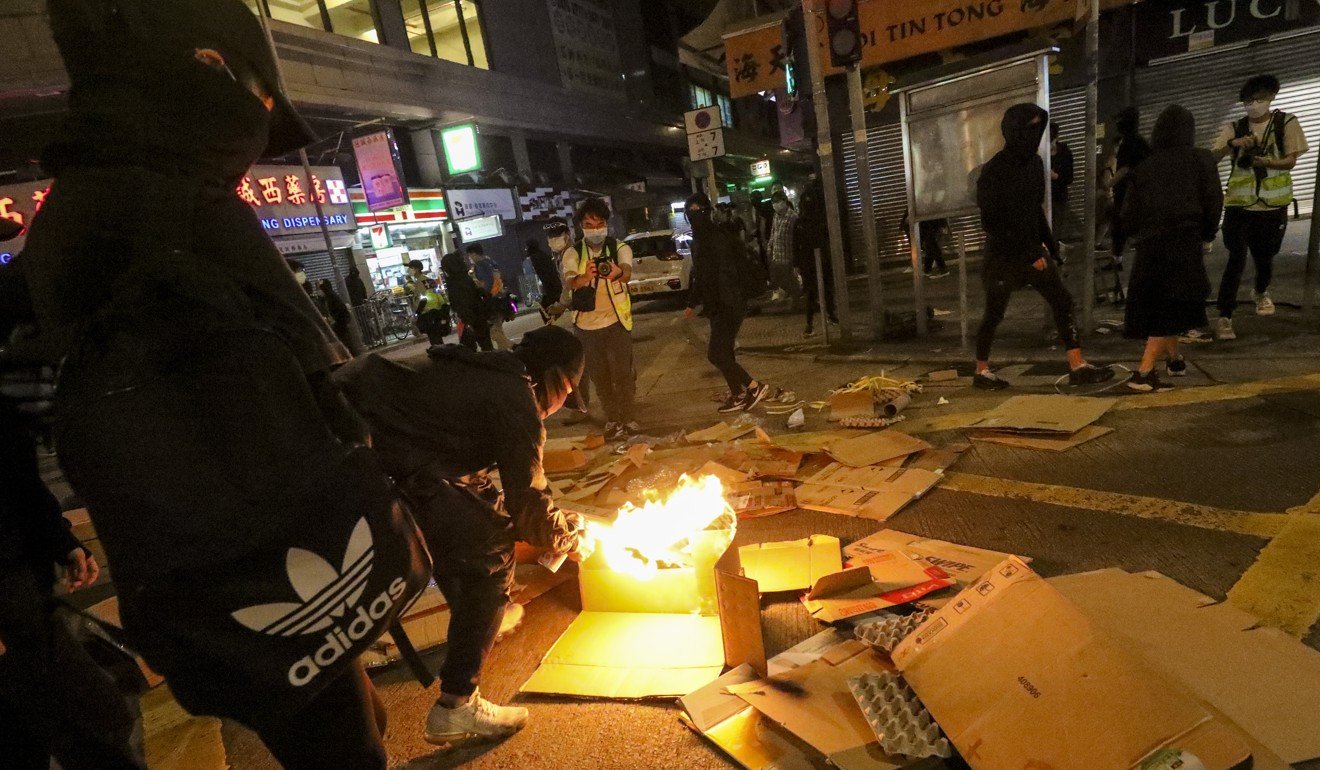 Demonstrators set cardboard alight in Yuen Long during a protest marking eight months since a group of men armed with poles indiscriminately beat anti-government protesters and bystanders at the local MTR station. Photo: Dickson Lee
On Saturday, demonstrators started a fire on Tai Tong Road and blocked some roads in the district, prompting officers to rush to the area soon before 9pm to disperse the crowd.
Members of police's Special Tactical Squad, known as Raptors, subdued at least two people.
Protesters initially planned to march on Castle Peak Road in Yuen Long and stage a silent evening sit-in at three rail stations: Causeway Bay, Chai Wan and Heng Fa Chuen.
More than 100 people showed up in Yuen Long shouting slogans such as "liberate Hong Kong, revolution of our time!", "Hong Kong independence is the only way out" and "five demands, not one less" at about 7pm.
The scene had been largely calm early on despite the heavy presence of police officers in Yuen Long and Causeway Bay. Police intercepted some people dressed in black and performed body searches.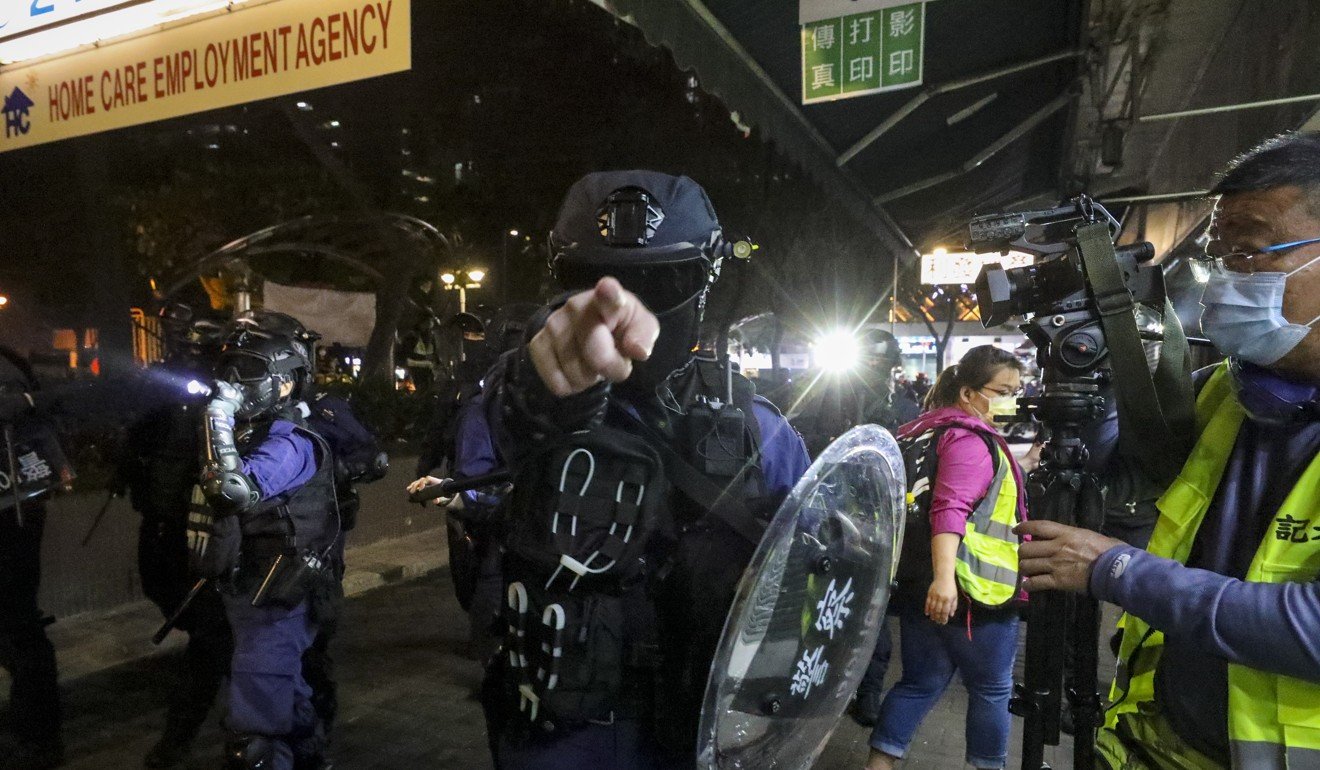 A riot police officer points at a photographer during a rally commemorating eight months since the violent mob attack in Yuen Long. Photo: Dickson Lee
On Saturday, the MTR Corporation for the first time since August did not close Yuen Long station ahead of the monthly protest, though it closed some exits at 4pm.
By January, a total of 37 people – some with links to Triads – had been arrested for their alleged roles in the Yuen Long attack, seven of whom were charged with rioting.
Police have said they are continuing to collect evidence.
Among those arrested on Saturday evening was Yuen Long district council chairman Zachary Wong Wai-yin.
A joint statement from chairmen at 17 different councils said: "We … condemn police for using excessive force and abusing arrest proceedings, hurting Hongkongers' freedom."
By the early hours of Sunday clashes were still ongoing between protesters and riot police in Yuen Long, with pepper spray deployed by officers to disperse crowds as angry crowds shouted at them.