Seoul's handling of the outbreak emphasises transparency and relies heavily on public cooperation in place of hardline measures such as lockdowns
While uncertainties remain, it is increasingly viewed by public health experts as a model to emulate for authorities desperate to keep Covid-19 in check
Published: 8:30am, 14 Mar, 2020
A woman wearing a face mask walks along the Han river at a park in Seoul, South Korea. Photo: APFor weeks, the graph charting new cases of Covid-19 in South Korea rose in a steep line – a literal illustration of the rapid, seemingly unstoppable spread of the coronavirus. Then the line began to curve.
After announcing 600 new cases for March 3, the authorities reported 131 new infections a week later. On Friday, officials reported just 110, the lowest daily toll since February 21. The same day, the number of recovered patients, 177, exceeded new infections for the first time.President Moon Jae-in, while cautioning against premature optimism, has expressed hope that South Korea could soon enter a "phase of stability" if the trend holds firm.
With about 8,000 confirmed cases and more than 65 deaths, it was until recently the country with the most confirmed cases outside China – but South Korea has since emerged as a source of inspiration and hope for authorities around the world as they scramble to fight the pandemic.
As countries ranging from the United States to Italy and Iran struggle to manage the virus, Seoul's handling of the outbreak – involving a highly coordinated government response that has emphasised transparency and relied heavily on public cooperation in place of hardline measures such as lockdowns – is increasingly viewed by public health experts as a model to emulate for authorities desperate to keep the virus under control.
Whereas China, where the virus originated, and more recently Italy have placed millions of their citizens on lockdown, South Korea has not restricted people's movements – not even in Daegu, the southeastern city at the centre of the country's outbreak.
Instead, authorities have focused mandatory quarantine on infected patients and those with whom they have come into close contact, while advising the public to stay indoors, avoid public events, wear masks and practise good hygiene.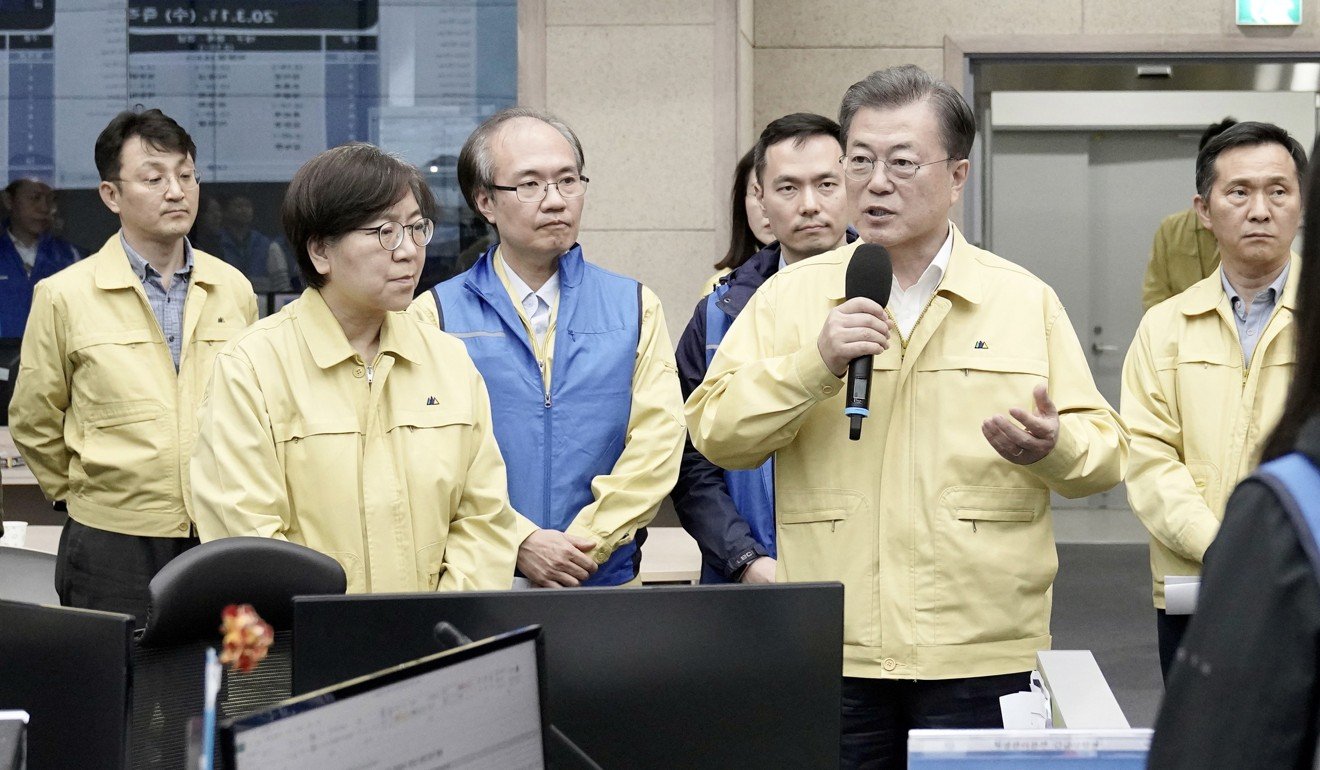 South Korean President Moon Jae-in visits the Korea Centres for Disease Control and Prevention on March 11. Photo: EPA
And while numerous countries have imposed sweeping travel bans – including the US, which has introduced dramatic restrictions on travel from Europe – Seoul has instead introduced "special immigration procedures" for heavily affected countries such as China, requiring travellers to undergo temperature checks, provide verified contact information and fill out health questionnaires.
[South Korea's] approach seems less dramatic and more usable by other countries, compared with that used in mainland China Ian MacKay, virologist at the University of Queensland
"More than a week of downward-trending case counts shows that the approach in South Korea has turned around an epidemic," said Ian Mackay, a virologist at the University of Queensland, Australia. "This approach seems less dramatic and more usable by other countries, compared with that used in mainland China. If these trends continue, they will have managed to stop the growth of their epidemic."
'A SPECTACULAR FEAT'
The linchpin of South Korea's response has been a testing programme that has screened more people per capita for the virus than any other country by far. By carrying out up to 15,000 tests per day, health officials have been able to screen some 250,000 people – about one in every 200 South Koreans – since January.
To encourage participation, testing is free for anyone referred by a doctor or displaying symptoms after recent contact with a confirmed case or travel to China. For anyone simply concerned about the risk of infection, the cost is a relatively affordable 160,000 won (US$135). Testing is available at hundreds of clinics, as well as some 50 drive-through testing stations that took their inspiration from past counterterrorism drills and can screen suspected patients in minutes.
"This country has a universal health-coverage system for the whole population and the economic burden for testing is very low," said Kim Dong-hyun, president of the Korean Society of Epidemiology. "Tests are conducted for free if you have proper symptoms."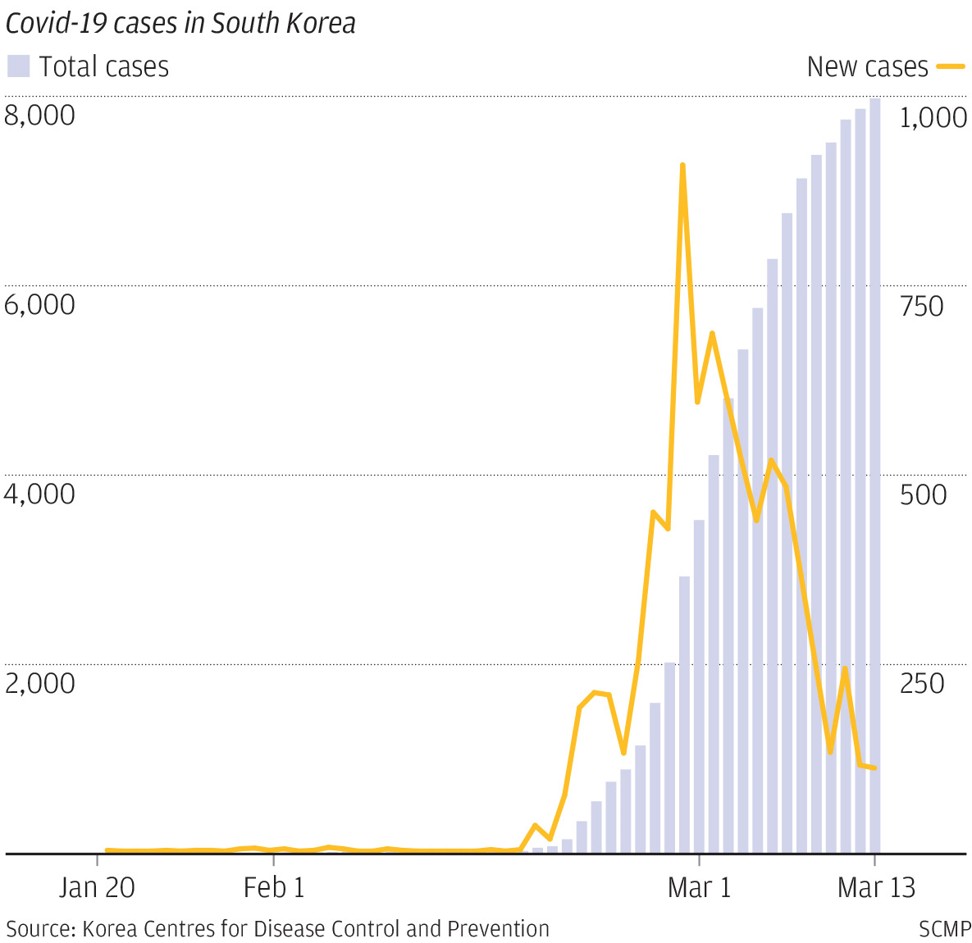 Covid cases_TWA
The massive volume of data collected has enabled the authorities to pinpoint clusters of infection to better target their quarantine and disinfection efforts, and send members of the public text-message alerts to inform them of the past movements of infected patients in their area – even down to the names of shops and restaurants they visited.
This country has a universal health coverage system for the whole population and the economic burden for testing is very low Kim Dong-hyun, president of the Korean Society of Epidemiology
"South Korea's capability to test for early detection of viruses has developed greatly as it went through the 2009 new influenza outbreak and 2015 Mers [Middle East respiratory syndrome] outbreak," said Kim Woo-joo, a professor of medicine at Korea University's College of Medicine. "It ranks among the world's top countries in this field."
Collecting this amount of data has also allowed the South Korean authorities to glean a clearer indication of the potential lethality of the virus, the fatality rate of which has diverged significantly from about 5 per cent in Italy to about 0.8 per cent in South Korea. Although factors including quality of health care, patient age and public awareness can affect the fatality rate of a virus, the scale of testing is among the most influential. How a secretive church in South Korea became a coronavirus 'super spreader'
By comparison, in neighbouring Japan – which has confirmed more than 600 cases, not including the virus-stricken Diamond Princess cruise ship – the authorities had as of Friday tested over 10,000 people.
In the United States, where the authorities are unable to confirm the number of tests since they are being carried out by a patchwork of federal, state and private laboratories, the total was estimated to be fewer than 5,000 in a survey of available data by The Atlantic.
William Schaffner, a professor of preventive medicine and infectious diseases at Vanderbilt University School of Medicine in the US, said South Korea had pulled off a "spectacular" feat that was allowing health officials to track the virus and assess its intensity.
"We are unsure where our infection is and how intensely it is being transmitted in the US and we are only now starting to test," he said.
South Korea is not unique in claiming some success in its fight against the virus. Singapore, Taiwan and Hong Kong, informed by past outbreaks such as severe acute respiratory syndrome (Sars) and Mers, have managed to keep confirmed cases low while eschewing the sort of draconian measures implemented in mainland China.
Early on, Hong Kong took some of the most comprehensive steps to implement "social distancing" – in which events are cancelled and venues closed to minimise contact between people – by shutting schools in late January, while the authorities produced a digital map of confirmed cases to allow people to avoid potentially infected areas.
In Taiwan, officials have pooled information from immigration and health insurance databases to track people's travel histories and symptoms, and used phone tracking to ensure compliance with quarantine. Singapore has similarly tracked infected patients and traced their contacts, with stiff penalties for those who disobey quarantine or mislead the authorities about where they have travelled.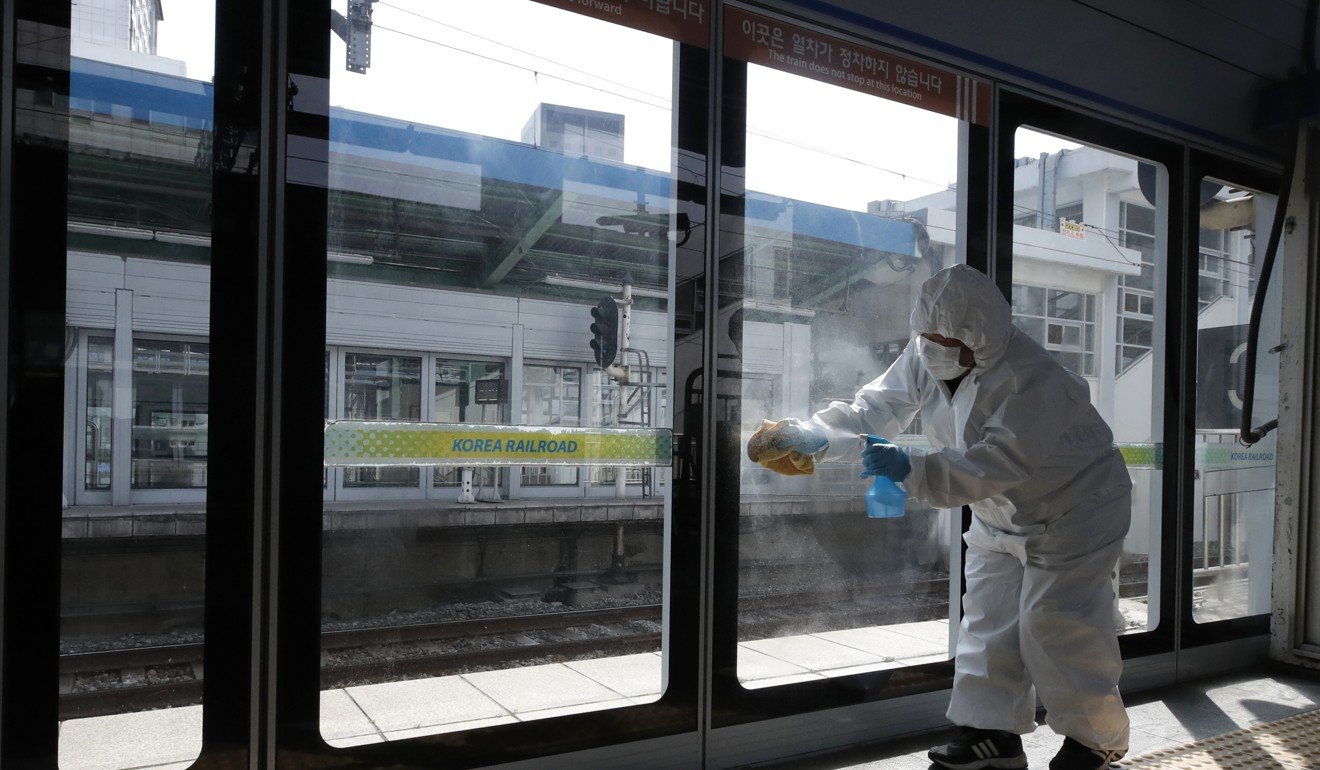 A worker disinfects a Seoul subway station as a precaution against the new coronavirus. Photo: AP
OPENNESS AND TRANSPARENCY
But where South Korea has stood apart is seemingly turning the tide against a major outbreak while maintaining openness and transparency. The largest cluster of cases in the country is linked to a secretive religious sect, Shincheonji, members of which have been accused of negligently spreading the virus as well as evading medical follow-ups and testing.
In addressing the Covid-19 outbreak, sound decision-making should not be about making a choice between maximised protection or minimal disruption Yanzhong Huang, Council on Foreign Relations
"South Korea's experience suggests that a country can contain the spread of the virus in a relatively short period of time without relying on draconian, at-all-costs containment measures," said Yanzhong Huang, a senior fellow for global health at the Council on Foreign Relations in New York.
"For countries like the US, the Korean experience offers an acceptable, likely more viable, alternative to addressing the outbreak. In addressing the Covid-19 outbreak, sound decision-making should not be about making a choice between maximised protection and minimal disruption."
China effectively barred 60 million people in Wuhan – ground zero of the outbreak – and the rest of the province of Hubei from leaving their homes, while restricting the movements of hundreds of millions of others across the country by shutting down public transport, banning private cars and setting up roadblocks.
The country claims to have effectively halted the spread of the virus after recording more than 80,000 cases and 3,100 deaths, and its daily updates have in recent weeks fallen from thousands of new cases to dozens. However, scepticism lingers over official figures after local and provincial officials in Hubei initially tried to hide the extent of the outbreak.In a move widely seen to be aimed at touting the success of Beijing's hardline measures, Chinese President Xi Jinping on Tuesday made his first visit to Wuhan, during which he called for businesses and factories to return to work as normal and for the country to refocus on economic growth.
"While China has been able to control Covid-19, I don't think its draconian methods are worth copying in liberal democracies," said Lawrence Gostin, director of the O'Neill Institute for National and Global Health Law at Georgetown University Law Centre in Washington. "Most democracies value human rights and freedoms … [not] the degree of social control we've seen in China. South Korea offers a better model."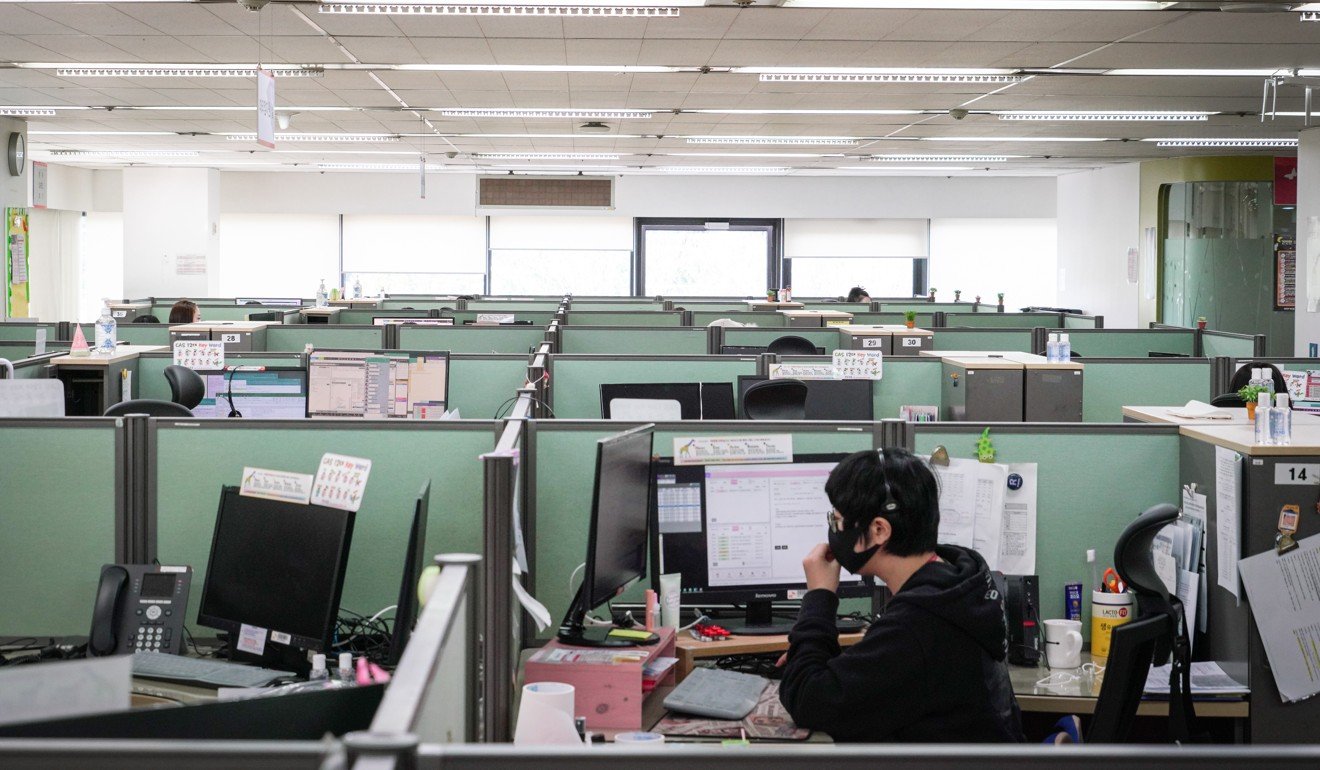 A nearly empty customer call centre in the Gocheok-dong neighbourhood of Seoul as workers isolate or work from home. Photo: EPA
But in a striking indication that Beijing's harsh tactics could inform even liberal democratic societies, Italy on Monday announced a nationwide quarantine after a massive spike in cases caught the authorities off guard. Shops, restaurants and bars have been closed, while public gatherings and most travel have been banned in the European country, which has confirmed more than 15,000 cases and 1,000 deaths as of Friday – making it the site of the biggest outbreak outside China.
In the Philippines, President Rodrigo Duterte on Thursday announced a lockdown of the entire Metro Manila region and its 12.8 million people.
David Hui Shu-cheong, an expert in respiratory medicine at the Chinese University of Hong Kong, said Italy had responded "very slowly" to the outbreak, in contrast to South Korea.
Even as Beijing touted its success at fighting the virus, with state media recently insisting the "world owes China a 'thank you'", South Korea – which democratised in the late 1980s following decades of military dictatorship – has made no secret of its desire to promote a more liberal alternative.
At a press conference with foreign media this week, vice-health minister Kim Gang-lip said that while drastic measures such as locking down affected areas had demonstrated "modest effectiveness", they suffered from being "coercive and inflexible".
"Korea, as a democratic country, values globalisation and a pluralistic society," he said. "Therefore we believe we must transcend the limitations of the conventional approach to fighting infectious disease."
Kim stressed that public trust was crucial to the government's strategy. "The more transparently and quickly accurate information is provided, the more the people will trust the government," he said. "They will act rationally for the good of the community at large."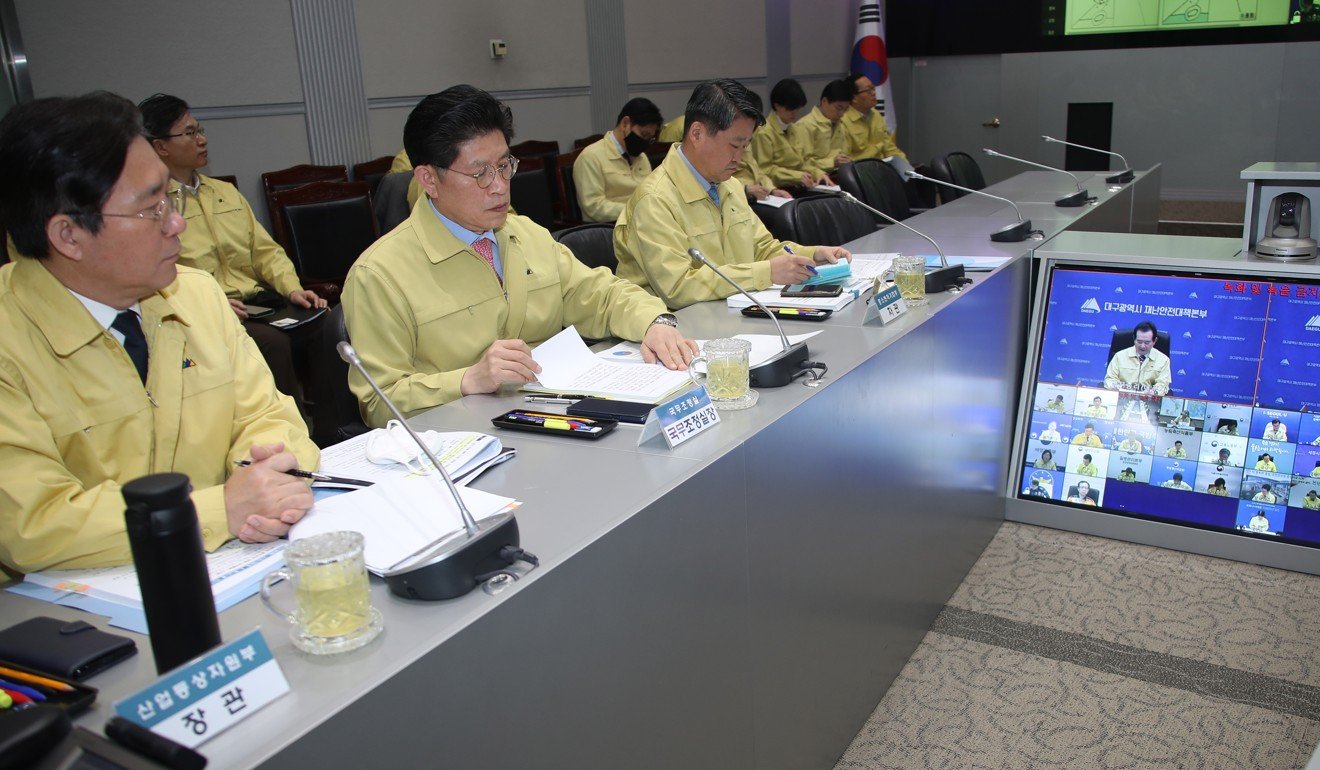 South Korean ministers listen to Prime Minister Chung Sye-kyun (on screen) during a meeting to discuss measures to deal with the spread of the new coronavirus. Photo: EPA
UNKNOWN FACTORS
Although the authorities have shut down schools nationwide, South Koreans have largely embraced self-isolation and social distancing of their own accord.
In the past fortnight, more than 12,000 businesses have applied for subsidies to pay the wages of employees while they temporarily close their doors due to the outbreak, according to the country's labour ministry. Many shops in Daegu, the site of more than three-quarters of the country's cases, have shut their doors, while shopping malls and cinemas across the country have become largely deserted as people stay at home. Catholic churches and Buddhist temples nationwide have suspended mass and prayer services.
"To an outsider, South Korea has handled an enormous surge in cases very well and seemed to mitigate further spread through forms of … passive social isolation," said Howard P. Forman, a professor of public health policy at Yale School of Management.
Some experts suggest South Korean society's emphasis on discipline and community may have given it room to avoid implementing more draconian measures.
"This measure appears to have been very successful but is reliant on the local population working with the response," said Jeremy Rossman, an honorary senior lecturer in virology at the University of Kent. "It is not clear how effective this approach would be in other cultures and it does require effective communication with the local population."
However, South Korea's response has not been without missteps or critics.
In mid-February, before it emerged that the virus had spread rapidly among Shincheonji followers, Moon made the ill-fated prediction that the outbreak would "disappear before long".
The Korean Medical Association – the country's largest association of doctors – and conservative media have criticised the president for not outright banning travel from China.
Nearly 1.5 million South Koreans have signed an online petition calling for Moon's impeachment over his handling of the outbreak, and his approval rating this week dropped to just under 45 per cent – although, in a sign of reviving fortunes, an opinion poll released on Friday saw the president's response rated favourably.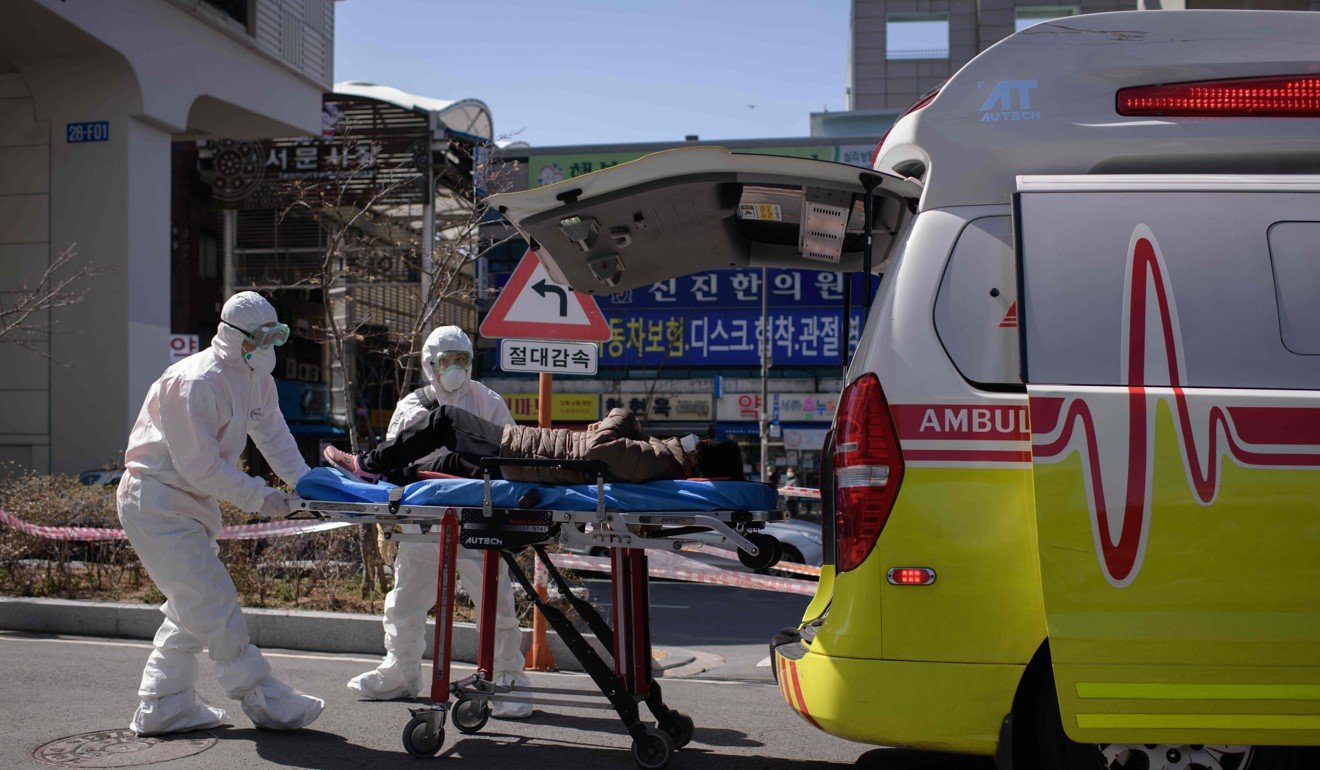 Medical workers attend to a woman who was feeling unwell upon her arrival at the Keimyung University hospital in Daegu. Photo: AFP
It is still too early to say whether the response is working Kim Dong-hyun, president of the Korean Society of Epidemiology
Some experts caution that it is too early to tell if South Korea truly has the virus under control. The discovery of a new cluster of about 100 infections at a call centre in densely populated Seoul prompted a sudden uptick in cases on Wednesday, raising fears the virus could be on the verge of spreading uncontrollably nationwide.
"It is still too early to say whether the response is working," said Kim, the president of the Korean Society of Epidemiology. "There is an optical illusion involved in the figures. The daily numbers of new cases appear to be decreasing as the screening of Shincheonji followers is coming to an end, but it must be noted that there are new clusters emerging in Seoul and other areas. We can't lower vigilance."
Like elsewhere, the country is facing unknown factors such as warming temperatures in the coming weeks and the arrival of travellers from new and emerging infection hotspots overseas. "We are seeing that in South Korea, large epidemics can be slowed," said Mackay from the University of Queensland. "Can they be prevented? That will be the challenge for countries who have yet to see widespread community transmission."
In the face of uncertainty, South Korea appears determined to hold firm to its strategy. During a visit to the Korea Centres for Disease Control and Prevention on Wednesday, Moon said the country's response had received international recognition and allowed it to avoid the "extreme choice" of sweeping travel bans.The next day, responding to the World Health Organisation's decision to declare the virus a global pandemic, the president called on South Koreans to maintain hope that the virus would be overcome.
"It might take more time than we thought," Moon said. "Everyone, please don't become fatigued." ■
Additional reporting by Park Chan-kyong