By VT Editors – March 21, 2019
PQC: Ever since the criminal clown was installed as the Clown In Tweets in the "Big Whorehouse on the Potomac" by whom you dare to know, the fucking Jews have harvested all the fruits at the expenses of not only the Arab people in the Middle East with even more deaths and destruction, chaos, but also the whole western world particularly the USA people, especially the Whites who have become even more hated and despised by the rest of the Goyim.
The fucking Jews have harvested all the fruits while pitting all the rest of Goyim against one another! Have you seen enough, you all the clown ass-kissers? Is he an "antisemite" or a true Jewish dog as most of your politicians are? What does it mean to you? Do you understand that the true power does not lie inside that Whorehouse? Have you seen enough those are wielding power right now are these fucking Jews? Oh I forgot THEY have owned your bodies and minds! Sorry for ranting at your deaf ears and blind eyes and empty heads. I digress.
That's why I do have reservations about the wisdom of Paul Craig Roberts, The Saker ( I never have any doubt about their intelligence and experiences)
In the past I raised some very serious questions and made harsh constructive comments to all my Muslim friends around the world. This time I must repeat in my next post. I always believe one must be consistent with integrity in speaking truth. That is One must not only speak truth to power but also to friends.
[Editor's note: If anyone still thinks they did the right thing by voting for Trump or still doesn't get it that he is an Israeli puppet and the US is now Israel's lap dog, then please, take your sad, racist white ass outside with one of your many guns in tow and blow your dumb brains out. Ian]
_________
BBC
Trump: Time to recognise Golan Heights as Israeli territory
President Donald Trump says it is time the US recognises Israel's sovereignty over the occupied Golan Heights, which it captured from Syria in 1967.
In a tweet, Mr Trump declared that the plateau was of "critical strategic and security importance to the State of Israel and regional stability".
Israel annexed the Golan in 1981 in a move not recognised internationally.
There was no immediate response from Syria, which has sought to regain control of the region.
Israeli Prime Minister Benjamin Netanyahu, who has warned about the military "entrenchment" of his country's arch-enemy Iran in the Syria conflict, tweeted his thanks to Mr Trump on Thursday.
"At a time when Iran seeks to use Syria as a platform to destroy Israel, President Trump boldly recognises Israeli sovereignty over the Golan Heights," he wrote.
Richard Haass, a former senior US state department official who is now president of the Council on Foreign Relations think-tank, said he "strongly disagreed" with Mr Trump's decision.
In a tweet, Mr Haass said the move violated a UN Security Council resolution, "which rules out acquiring territory by war".
Mr Trump's declaration comes as Mr Netanyahu faces a closely fought general election on 9 April, as well as a series of possible corruption charges.
In 2017, President Trump announced that the US recognised Jerusalem as Israel's capital, triggering angry reaction from the Palestinians.
Last year, the US moved its embassy from Tel Aviv to Jerusalem.
The Palestinians claim East Jerusalem as the capital of a future state, and according to the 1993 Israel-Palestinian peace accords, its final status is meant to be discussed in the latter stages of peace talks.
What is the Golan Heights?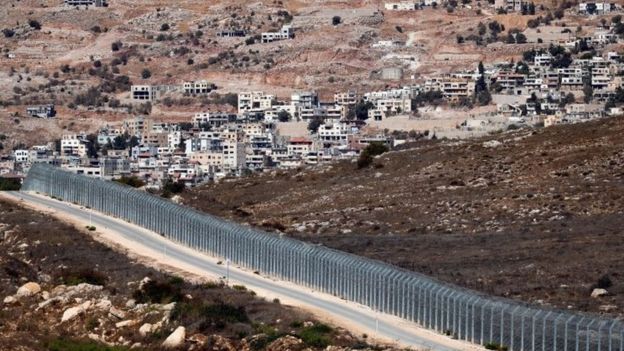 Image caption An Israeli security fence separates the Israeli-occupied sector of the Golan Heights (right) from Syria
It is a rocky plateau, covering about 1,200 sq km (400 sq miles), located about 60km (40 miles) south-west of the Syrian capital, Damascus.
There are more than 30 Jewish settlements on the heights, with an estimated 20,000 settlers.
There are some 20,000 Syrians in the area, most of them members of the Druze sect.
Israel seized most of the Golan from Syria in the closing stages of the 1967 Middle East War, and thwarted a Syrian attempt to retake it in 1973.
The two countries remain technically in a state of war, and UN observers are deployed to monitor the 70km-long demilitarised zone.
In 1981, Israel's parliament passed legislation applying Israeli "law, jurisdiction, and administration" to the Golan, in effect, annexing the territory. But other governments, including the US, did not recognise the act.
'Pre-election gift for Israel's PM'
It is hard to see President Trump's tweet as representing anything other than a pre-election gift to Israel's prime minister, who is compromised by legal investigations into allegations of corruption and facing perhaps the most difficult campaign of his tenure.
Mr Netanyahu has been pressing for this shift in US policy.
A recent state department human rights report broke with past US practice referring to the Golan, which Israel captured in 1967, as "Israeli-controlled" rather than "Israeli-occupied".
A formal announcement of the shift in US policy looks set to come when Mr Netanyahu visits Washington next week.
Like the Trump administration's decision to move the US embassy to Israel from Tel Aviv to Jerusalem, this will be seen as another demonstration of its unreserved support for Israel, and for Mr Netanyahu in particular. That will surprise no-one.