PQC: Oh dear, here we go again! If one is truly a serious and sane person with a really functioning brain, one would inevitably conclude that the Talmudic "religion" is the worst theism of all both in its "theology" and its daily practices. That's why it has been despised for millennia by people of East and West. Yet, despite of that, this inhumane and insane "religion" has not only survived but even dominated at the top of the chain of power nowadays in the West!
One does not need to agree with Lucius Annaeus Seneca (4 BC – AD 65) observation on religion to understand that religion has nothing to do with facts and reason at all.
It's very rare to know a person who become a true believer after a serious personal spiritual quest. People normally are just coerced in various ways to follow family traditions, society cultures from birth to death.
The Catholic Church has survived through its worst: the inquisition, the enlightenment period, and the modern scientific age. So has every other theistic-religion despite all shit and crap!
But all theistic-religions are no where near the mother of all religions in term of crimes, atrocities, power, and followers, the Statism! Yet, this religion has not only survived, but thrived even stronger with more devoted believers, and become more powerful than ever before in spite of its never-ending bloodiest record of human suffering!
25 years? Wishful thinking. Oh boy! There is no doubt that this catholic boy has suffered and now caused suffering to others.
Duterte, the worst is not the Catholic Church, not even the Talmudic, but the Statism that you are with now!
Duterte! No God gives you such destructive and powerful authority that allows you to take people lives you are having now, but the State, which of course only exists in people mind and your mind!
To close this, I have to quote Ludwig von Mises "Whoever wishes peace among peoples must fight statism" and paraphrase that whoever wishes freedom and justice in societies must fight statism, not religion! Religion may be bad but it is a private matter that would not have been so powerfully destructive and destructively powerful without power of the State (government).
As always, the last word is yours!

"When they get horny, the sons of bitches, they go after nuns. If they're gay, they go after young boys. Who needs a religion like that?"
Published time: 26 Feb, 2019 12:17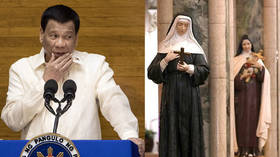 Rodrigo Duterte © AFP / Noel Celis; © AFP / GETTY IMAGES NORTH AMERICA / JUSTIN SULLIVAN
In a fiery, profanity-ridden tirade, outspoken Philippines President Rodrigo Duterte lashed out at the Roman Catholic Church, saying it will not survive long with all the controversies brewing around its clergy.
"This Catholic [Church] will disappear. In almost 25 years, it will disappear. No more, people will forget it," Duterte said on Monday.
Speaking at a public event in the nation's capital, Manila, the Philippines leader warned that the church will meet its demise as a result of the string of sexual abuse cases and corruption within its ranks. "People won't forget the ways of Catholic clergy," he said.
When they get horny, the sons of bitches, they go after nuns. If they're gay, they go after young boys. Who needs a religion like that?
Duterte's spokesperson, Salvador Panelo, later clarified his remarks, saying that the president was referring to "certain men in the cloth that have violated their own vows," and was not attacking the institution as a whole.
"I think that's a healthy criticism. It will help the Catholic Church cleanse itself and purge itself of those not deserving to be there," he told reporters, adding that Duterte's rant was his "opinion."
More than 80 percent of Filipinos identify themselves as Roman Catholic, and the church remains influential in the country.
Catholic priests have angered President Duterte by speaking out against his controversial crackdown on drugs.
Duterte, who had alleged that he himself was abused by a priest as a teenager, has repeatedly blasted the church. He called the bishops "useless fools" and said the clergy is "full of shit."