Published time: 30 Dec, 2018 05:02 Edited time: 30 Dec, 2018 05:04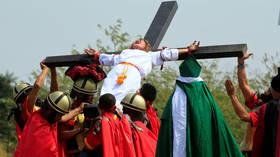 FILE PHOTO: Crucifixion re-enactment in Cutud village, Philippines © Reuters / Romeo Ranoco
The Philippines' eccentric leader has shared his views on the cornerstone tenets of the Christian faith, calling the Holy Trinity doctrine "silly" and claiming that it was "unimpressive" for a true god to get himself crucified.
In his latest tirade against the Catholic Church, Duterte started off by mocking the Holy Trinity, the Father, Son, and Holy Spirit, or three expressions of one divine essence.
There's only one God, period. You cannot divide God into three, that's silly.
"You're already praying at one God, then you're going to pray at these cursed saints. There's only one God," the Philippines' president said Saturday in Kidapawan City. Also on rt.com 'Don't pay for these idiots': Duterte wants Filipinos to ditch Catholic mass, pray at home instead
The 73-year-old leader cranked up his rhetoric when it came to Jesus Christ's crucifixion, using extremely vulgar language to attack what billions around the world consider to be God's divine plan of salvation of humankind through the sacrifice of his Son. Also on rt.com 'Stupid God': Tough-talking Duterte takes on Bible creation story
"Your God was nailed on the cross. F**k! How unimpressive," Duterte said, speaking in Tagalog.
I'm God and you will crucify me?! Motherf**ker. I'd tell them: 'Lightning, finish all of them. Burn all the non-believers'.
Duterte did not stop there, continuing his speech with an attack against veneration of the saints and the belief in their divine intervention. "Saint Catalina, Saint Anne, Saint Thomas, Saint Sebastian, Saint Rodrigo, they're nothing… I don't know them. Look, those documents were written –if at all– 3,000 years ago. Why would they care about our lives now."
Duterte, who revealed in 2015 that he was molested by a priest when he was young, has frequently slammed the institution of the Catholic Church, which remains critical of his leadership and his iron-fisted anti-drug policies. His harsh remarks against the Vatican have provoked repeated condemnation from the Christian community worldwide. Also on rt.com 'Kill them': Duterte loses patience with 'useless fools' at Catholic Church
'Don't pay for these idiots': Duterte wants Filipinos to ditch Catholic mass, pray at home instead
Published time: 26 Nov, 2018 22:50 Edited time: 27 Nov, 2018 12:14 Get short URL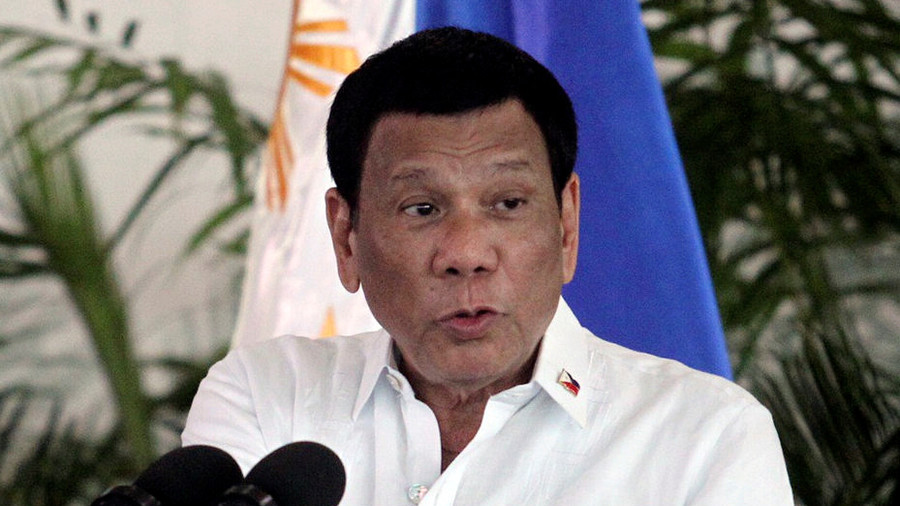 Rodrigo Duterte © Reuters / Lean Daval Jr
Turning up his war of words with the Catholic Church, Philippines President Rodrigo Duterte now wants citizens to ditch mass, calling the church's teachings out of touch and its bishops corrupt.
"You build a chapel on your own house and pray there. You don't have to go to church to pay for these idiots," Duterte said in a speech reported by ABS-CBN, the largest media conglomerate in the Philippines.
Duterte, who has never shied away from any controversy, made the comments at the groundbreaking of a water supply project in the city of Davao on Sunday, where he previously served as mayor before ascending to higher office in 2016.
After opening the infrastructure project, the unfiltered president lit into one of his favorite targets: God.
"What do they know about the world today? How can people 3,000 years ago predict or project what is happening today?" he asked, blasting the Vatican's teachings as "archaic." Also on rt.com 'Stupid God': Tough-talking Duterte takes on Bible creation story
Well used to insulting drug dealers and foreign leaders (describing Barack Obama as a "son of a whore"), this is not the first time the unrestrained president in Manila has taken on God (who he called "stupid") and the Pope (also a "son of a whore").
This time he took aim at the country's bishops rather than its priests – some of whom, he said, were his friends – warning warned parishioners not to give money to bishops who he accused of engaging in corrupt behaviour by asking the government to provide them with vehicles.
Compared to his usual outbursts, Duterte went relatively easy on the bishops this time. In 2016 he warned Church leadership "don't f**k with me" in a by-now commonplace press-conference tirade.
After Brazil and Mexico, the Philippines is the third most populous Catholic nation on the planet.
The Vatican's teachings have long-influenced the Filipino faithful's conservative attitudes towards social issues, with some two-thirds (67 percent) asked by Pew saying divorce was morally unacceptable, and 93 percent opposing abortion.
Duterte, by contrast, seems content to live a life untroubled by the church's teachings. God, he said, was "stupid" for creating humans with original sin, a "stupid proposition."
He also seems content to disregard the biblical instructions on murder: his ongoing anti-drug crackdown has claimed more than 20,000 lives, according to the government's own figures, and Duterte himself has said that he personally killed suspects during his time as mayor of Davao.
He has also boasted of having two wives and multiple girlfriends, something the church would surely frown upon, and has personally thanked pharmaceutical company Pfizer for Viagra, which he said has allowed him to keep up with his multiple, younger partners, well into his 70s.
'Stupid God': Tough-talking Duterte takes on Bible creation story
Published time: 24 Jun, 2018 14:32 Get short URL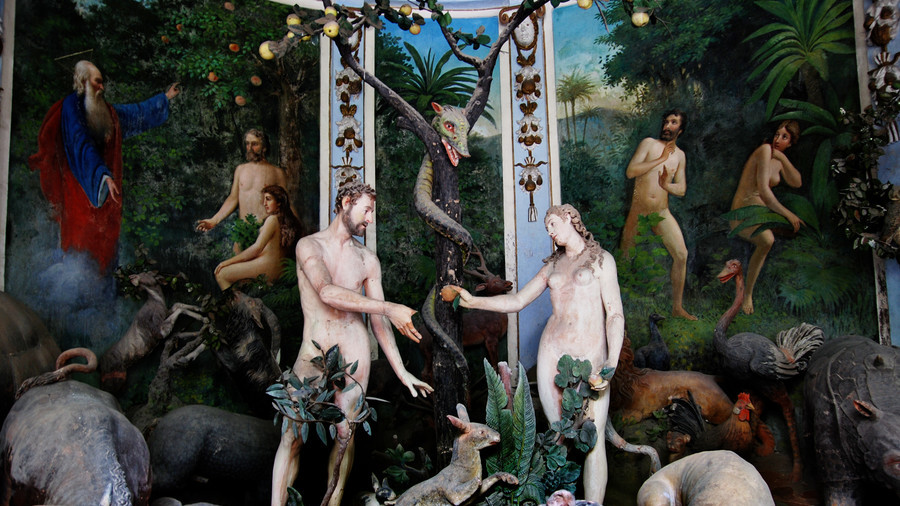 Adam and Eve (original sin) chapel © Getty Images
No one can escape the wrath of Rodrigo Duterte, one of the toughest-talking world leaders today, be it a US president, UN chief, or even the Pope! The Philippines president has now gone a step further by calling God "stupid."
This time the 72-year-old leader targeted the concept of original sin in the Bible. During a speech at the opening of the 2018 Information and Communications Technology Summit in Davao City on Friday, Duterte recalled the Bible creation story of Adam and Eve and how they ate the forbidden fruit. Read more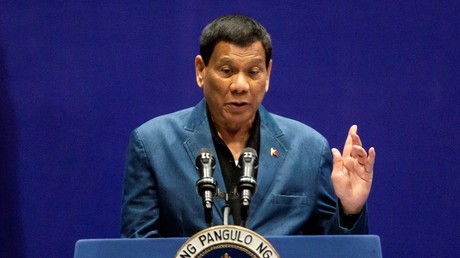 Duterte pledges to resign…if every woman wants him to
"Adam ate it… then malice was born. Who is this stupid God? That son of a b*tch is stupid if that's the case," the outspoken leader said. "You created something perfect and then you think of an event that would tempt and destroy the quality of your work."
Notorious for his controversial statements, the president continued, saying that babies shouldn't be responsible for original sin. "That was your mother and father's deed, you weren't born yet, but now you have original sin. What kind of religion is that? I can't accept it." Duterte, however, said he still believes in the existence of "a universal mind."
The latest rant is not the only one on the topic of religion. Earlier in June, Duterte went on a long tirade against Catholic priests for casting the government in a bad light, accusing them of hypocrisy. In 2015, while still mayor of Davao City, he even cursed Pope Francis over the traffic jams during his visit.
Apart from his attacks on religion, the Philippines leader has a rather large portfolio of insults aimed at world leaders and high-ranking officials. One of his greatest 'hits' remains calling former US President Barack Obama a "son of a b*tch/whore" and telling him to "go to hell." He also threatened to "burn down the United Nations" and called former UN Secretary-General Ban Ki-moon a "devil."
'Kill them': Duterte loses patience with 'useless fools' at Catholic Church
Published time: 6 Dec, 2018 04:11 Edited time: 6 Dec, 2018 10:56 Get short URL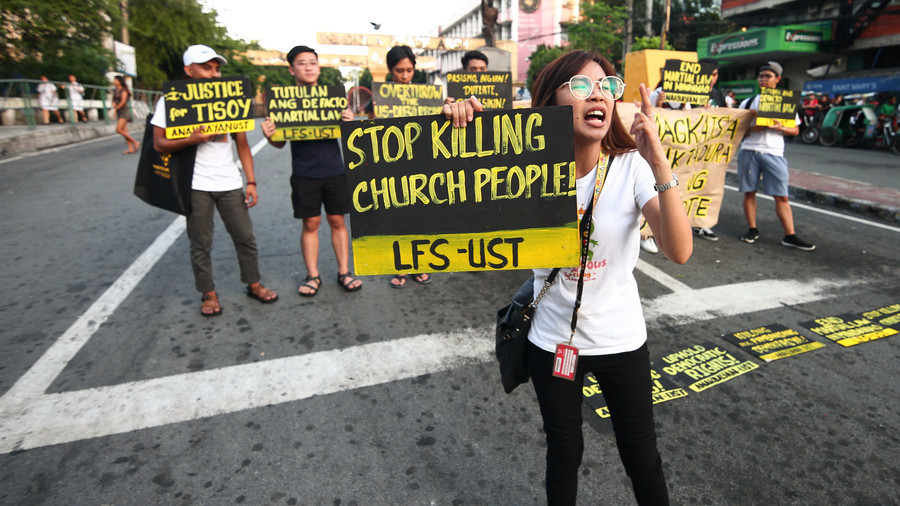 FILE PHOTO: Protest in Manila, Philippines © Global Look Press / J Gerard Seguia
Philippines President Rodrigo Duterte is letting everyone know he's had enough with the Catholic Church's opposition to his policies, deriding its leaders as "useless fools" who worship a "stupid" god.
Slamming the Catholic Church as "the most hypocritical institution" for casting doubt on his extrajudicial drug war, the outspoken leader ridiculed Catholic bishops as "useless fools," exhorting his people to "kill them" in a speech on Wednesday. He also claimed that 90 percent of priests are homosexuals lacking any standing to "postulate on my morality."
These bishops that you guys have, kill them. They are useless fools. All they do is criticize.
Catholic authorities have been among the most outspoken critics of Duterte's extrajudicial war on drugs, which opposition senator Antonio Trillanes claims has caused more than 20,000 deaths since the president took power in July 2016. Duterte's administration claims those numbers are wildly exaggerated – an official government report published in October puts the death toll at 4,999 since 2016. Human rights groups have also criticized the crackdown for targeting the poor instead of the kingpins responsible for the drug trade.
Citing their moral obligation to oppose murder, the Church has even extended assistance to some of the victims and survivors of Duterte's heavy-handed campaign against drugs and crime, inspiring him to accuse Bishop Pablo Virgilio David of corruption and dealing drugs himself, even threatening him with decapitation while mocking his religious beliefs. Also on rt.com 'My only sin is the extrajudicial killings': Duterte's strange 'confession' dismissed as 'playful'
The Catholic Church has urged Duterte to tone down the rhetoric after three Catholic priests were killed last December "because such attacks can unwittingly embolden more crimes against priests." Unrepentant, he instead called on Filipinos last week to build their own chapels instead of lining religious leaders' pockets, telling them, "You don't have to go to church to pay for these idiots."
Duterte, like 90 percent of Filipinos, was raised Catholic, and he clarified in a later speech to government officials that he is no atheist but merely believes in a different deity than the Catholics – one who "has a lot of common sense" instead of the "stupid God" who built original sin into a "perfect" creation.
Last month, Duterte mocked the International Criminal Court, dismissing its judges as "pedophiles," "drunkards," and "idiots" and threatening to slap one of its prosecutors as the Hague tribunal investigated him for crimes against humanity. Jude Sabio, an attorney who plans to run for Senate next year, filed suit against Duterte in the ICC in May 2017 on charges related to the rising death toll of his drug war. Read more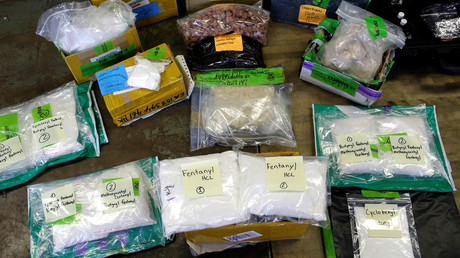 Trump: China should use death penalty for distributors of Fentanyl, 'results will be incredible'
Duterte, who presided over a wave of vigilante-style killings while serving as mayor of Davao City, rose to power on a "law and order" campaign, promising to execute drug dealers and users in an inflammatory election contest that even saw him cursing out Pope Francis and Barack Obama – for which he later apologized. He categorically dismisses the church's "moral authority" to criticize him, pointing to the numerous sexual abuse scandals involving priests and denouncing church authorities as corrupt. Last year, he claimed he had been abused by a priest while at university.
Duterte's hard-line approach has found an admirer in US President Donald Trump, who suggested in a tweet on Wednesday that Chinese authorities should impose the death penalty for trafficking fentanyl, the potent synthetic opioid that has contributed to skyrocketing overdose death rates in the US. Bangladesh has also taken a tip from the Filipino leader, enacting a law punishing the production, smuggling, sale, and use of methamphetamines with death in October, while Sri Lanka announced in July it would begin executing drug dealers after 40 years without imposing the death penalty.