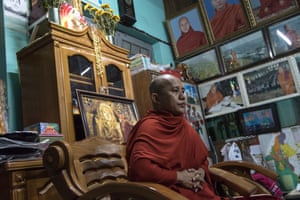 "Aung San Suu Kyii would like to help the Bengali, but I block her," says Ashin Wirathu with some pride.
Branded the "Face of Buddhist Terror" by Time magazine, Wirathu has his own compound within the Masoeyein monastery in Mandalay. Before being offered a comfortable chair, visitors are greeted by a wall of bloody and gruesome photographs.
The pictures show machete-inflicted head wounds and severed limbs, disfigured faces and slashed bodies; Wirathu claims, without the slightest evidence, that the images are of Buddhists who were attacked by Muslims.
Next to the display, under which a monk is methodically sweeping the floor, stands a long table. The newspapers spread across it confirm that, for Wirathu's followers, daily reading is a matter not just of spiritual texts but also of politics.
An orange-robed assistant adjusts a film camera on to a tripod; another brandishes a Nikon fitted with a large zoom lens. This interview will be carefully recorded by the monks in every way.
Wirathu is a man of unassuming features. His baby face belies the power he holds over nationalist activists in Myanmar as the spiritual leader of the 969 movement and head of Ma Ba Tha, the Organisation for the Protection of Race and Religion.
Wirathu perches on one of two teak armchairs; the wall to his left is covered with poster-sized photographs of him. He stands accused of inciting violence against the minority Muslim population in Myanmar, where racial and religious faultlines are increasingly exposed. In 2012, fuelled by his speeches, riots erupted in Meiktila, a city in central Myanmar, leaving a mosque burned to the ground and over a hundred dead.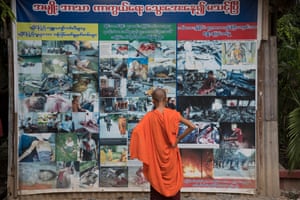 In a soft and measured voice, Wirathu claims his speeches are neither "hate" nor racist, but serve merely as a warning to protect his people. What people make of those warnings is not his doing, he says calmly.
"I am defending my loved one," he says, "like you would defend your loved one. I am only warning people about Muslims. Consider it like if you had a dog, that would bark at strangers coming to your house – it is to warn you. I am like that dog. I bark."
Wirathu speaks of protecting his flock – "his beloved" – against what he perceives as danger. His denial of responsibility for the violence that has followed his sermons contrasts with eyewitness accounts of knife-wielding monks, denim jeans visible under their robes, leaving Wirathu's monastery during the Mandalay riots of 2013.
Islam represents only 5% of Myanmar's population of 54 million, but nationalists like Wirathu are pushing the idea that the faith puts Buddhism, and the very essence of Myanmar, in jeopardy. He claims the 1 million Rohingya Muslims living in precarious conditions in his country – described by human rights agencies as the most persecuted people on Earth – "don't exist".
"It only takes one terrorist to be amongst them," he says. "Look at what has happened in the west. I do not want that to happen in my country. All I am doing is warning people to beware."
Wirathu adds that if Donald Trump or Nigel Farage need some advice he will happily share his ideas. These include infiltrating the Facebook pages of Muslim groups, getting all Islamic schools to record their lessons, and government surveillance of internet activity, including emails. Wirathu claims he has his own army of individuals screening the net in Myanmar.
On the well-documented situation of the Rohingya in Rakhine state – where people have been left without access to medicines, aid, and basic human necessities such as clean water, sanitation and food – Wirathu is dismissive. The Rohingya have been mostly couped up in camps since the 2012 violence, and the silence of Myanmar's leader Aung San Suu Kyi and her National League for Democracy on their plight has attracted growing criticism.
Wirathu rejects the stateless Rohingya as illegal immigrants, a view echoed by the government. He will only discuss them if the description "Bangladeshis" is used, and even then Wirashu says the situation is not as it is portrayed.
"If it is true what [outsiders say], then I would offer help but I have visited the camps on many occasions. The aid agencies are refused access because they are using the refugees to fill their own pockets. Bangladeshis are posing for the media. They are not starving. They have so much food that they are selling it on in their shops – stealing even from their own."
On the allegations that women have been abused and raped by the military, he laughed: "Impossible. Their bodies are too disgusting."
There have been calls outside Myanmar for Aung San Suu Kyi to return her Nobel peace prize for her failure to tackle the situation with the refugees, which has broken her own promises on human rights.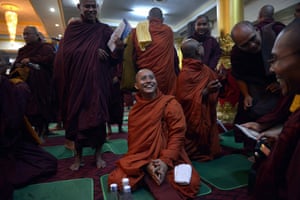 Wirathu points to four soldiers marching through the compound, joking that they are there to arrest him, again. In 2003, he was sentenced to 25 years in prison for his anti-islamic sermons, but was released nine years later. In the event, the soldiers are there simply to make donations to his cause.
Wirathu is confident that the power of Ma Ba Tha is far from dwindling; that the organisation represents Myanmar Buddhism and its influence over the government is entrenched.
As a passing mosquito wins his empathy, he switches from his anti-Muslim rhetoric to explain: "I can teach you how to be a better Buddhist and not kill the mosquito. First, you must have compassion for the mosquito, imagine it to need you as it has no family to feed it. Second, you must try to put yourself in its place."
get elephant's newsletter
In Myanmar, it is the Buddhist monks who terrorize the Muslims.
Consider some of the violence sparked earlier this summer over the demand for recognition of Myanmar's million plus Muslim minority, the Rohingya.
Among other things, a couple hundred Buddhists rampaged through a village in central Myanmar, destroying a mosque and forcing Muslim residents to flee to a local police station, where they sought refuge for the night.
Around 50 police were deployed to guard the village but residents will relocate to a nearby town. Win Shwe, the mosque's secretary asserts, "Our situation is not safe, and now we are planning to leave the village. We still feel afraid."
Such attacks have become typical in Myanmar. Rafendi Djamin, Amnesty International's Director for Southeast Asia and the Pacific has requested that Myanmar's new government condemn the attack and clarify that such violence against Muslims and other religious minorities be considered a criminal offense. He advocated an independent investigation, the perpetrators to face justice and for reparations to be made to the victims.
Djamin appealed to the new government of Aung San Suu Kyi, a Nobel Laureate who spent 15 years under house arrest for her pro-democracy activism, to unequivocally condemn all incitement to hatred, violence and discrimination "and take concrete action to protect the rights of all people in Myanmar regardless of their religion."
Such action seems unlikely to happen, however, since the government of Suu Kyi is strongly influenced by extremist Buddhist monks, whose Ma Ba Tha association regularly meets with the government minister. Their leader, Ashin Wirathu, uses social media to incite religious hatred and spread false stories, denigrating Muslims as mad dogs and rapists.
The Rohingya people have lived in Myanmar for hundreds of years but the Buddhist majority oppose all moves to grant them official minority recognition. They insist on calling the Rohingya, "Bengalis," a derogatory term intended to denote that the Rohingya are illegal migrants from Bangladesh. After extremist monks urged Myanmar's government to officially refuse the existence of Rohingya Muslims in Burma and advocated the government drive the Rohingya out, Aung San Suu Kyi affirmed that her new government would not use the term "Rohingya," because it is inflammatory, and has banned officials from using the term.
Prejudice against the Rohingya is not new but has intensified in recent years. In 1982 the Citizenship Law reduced the Rohingya to the status of "foreigners," and they have been denied access to education and employment with restrictions imposed on movement, marriage, and reproduction. Many Rohingya children cannot even have their birth registered. Violence incited by extremist monks in 2012 claimed hundreds of lives, including the lives of small children who were hacked to death with machetes. Villages were burnt and thousands of Rohingya displaced. Since that time, some 140,000 people, mainly Rohingya, have been trapped in grim displacement camps in close to the border of Bangladesh. [3]
A two day conference concerning Rohingya persecution, held in Oslo, Norway in May 2015, concluded with a call from seven Nobel Peace Laureates to describe the Rohingya's plight as genocide. Desmond Tutu's appeal to end what he has termed the slow genocide of the Rohingya was backed by six fellow Nobel Peace laureates: Mairead Maguire from Northern Ireland, Jody Williams from the U.S., Tawakkol Karman from Yeman, Shirin Ebadi from Iran, Leymah Gbowee from Liberia, and Adolfo Pérez Esquivel from Argentina. They stated that, "What Rohingyas are facing is a textbook case of genocide in which an entire indigenous community is being systematically wiped out by the Burmese government."
Hopes that the situation would improve for the Rohingya, after military rule was replaced by a semi-civilian government, have been disappointed. Since Suu Kyi's party won a landslide victory in November she has yet to address the ongoing persecution and Buddhist terrorism. She has even refused to accept the Rohingya Muslim as an ethnic people of Myanmar and requested that foreign dignitaries refrain from using the term. According to a government minister, this includes a request that the American ambassador refrain from using the term during high-level talks, following pressure from Buddhist nationalists. "We told them that the use of the term by the U.S. embassy is not supportive of national reconciliation in Myanmar."
The ambassador, Scot Marciel, has affirmed, however, that in accordance with international practice, it is for the Rohingya to decide. "Communities anywhere in the world have the right to choose what they should be called." His response led hundreds of enraged nationalists, organized by Buddhist monks, to protest outside the U.S. embassy in the capital, demanding the ambassador stop using the term. "It is already clear that there is no such ethnicity as Rohingya in our country," Win Zaw Zaw Latt, from the Yangon-based Myanmar National Network claimed. "We demand the U.S., as well as Western countries and the EU, stop using the term Rohingya."
This month the UN warned the Nobel Peace Prize winner to end government violations against the Rohingya, including torture and executions, since they may amount to crimes against humanity. It is ironic that Suu Kyi who spent 15 years under house arrest and was regarded as a major voice for human rights and freedom in Myanmar is today responsible for human rights abuses. And it is incredible how little American Buddhists talk about it.
The Rohingya Muslims have often been referred to as "the world's most forgotten people." Hence, any effort to inform yourself about their plight can go a long way. Writing about them anywhere, on Facebook, blogs, or letters to the editor, can wake people up. American Buddhists traveling to Myanmar can challenge the monks there to abide by their precepts. And if your sangha is based in Burma, you can challenge teachers in your tradition to take a stand. American Buddhists have not been completely silent concerning the Rohingya, but like most of the rest of the world, we have largely ignored them.
˜
Author: Kyaw Kyaw Win (Gchit Salam) 
Image: Flickr/Burma Democratic Conservation
Editor: Travis May
Over 420,000 Rohingya refugees have been forced to flee to Bangladesh since August 2017.
They are arriving exhausted, hungry and sick, having walked for days to cross the border into Bangladesh. Most of them are women and children.
With thousands of desperate people arriving every day, joining the 350,000 who had already sought protection across Bangladesh, UNHCR's two refugee camps in Bangladesh are now completely overcrowded. Families are spilling out into makeshift sites along roadsides, and an unknown number could still be stranded at the border.
UNHCR is gravely concerned about the continuing conflict in Myanmar and by reports that civilians have died trying to seek safety.
UNHCR is on the ground distributing vital aid items including:
plastic tarpaulins for emergency shelter
clothing
mosquito nets
jerry cans
sleeping mats
solar lamps
New arrivals 

scramble off a fishing boat

 as it nears the beach at 

Dakhinpara, Bangladesh.

 © UNHCR / Adam Dean