The desperate assault on Bitcoin is getting not only uglier, funnier, but more stupid than ever. The demonizing game has never amazed me, but the stupidity of the people at large. They believe and swallow whatever shit out from "our gov" and our mainstream journalism  no matter how many times they have been lied into disasters.
When THEY setup scheme to frame Silk Road connection with the Bitcoin and crimes, THEY jailed  Ross William Ulbricht after a kangaroo court with fake evidences to set him as a warning example! Bitcoin went up and and more widely. The news that those "criminals"  and enemies of  our "beloved government" such as  Wikileaks Julian Assange, Edward Snowden also used Bitcoin to  get away from government's financial blockage did not help either. Bitcoin got stronger and has been used even more widely.
So THEY hire a bunch of so-called experts such as "Zerohedgians, Bitcoin Desk" to flushing out confusing and misleading information such as "private blockchain", "government blockchain", "digital currencies" as a introduction to a "future, safe crypto-currency" created and controlled by "our government". Bitcoin keeps going stronger and more widely accepted as the most preferred universal currency!
Now the news that most demonized asian clown by the West "Kim Fat Boy" has used Bitcoin to get away from all sanctions and financial crippling measures imposed by our powerful financial institutions. Oh my shit! This is wonderful, so wonderful.  From the very horse mouth, THEY admit and confirm that true crypto currency – not DIGITAL CURRENCY, particularly the Bitcoin actually and truly works universally and successfully , effectively, efficiently, as a medium of exchange:  A true currency of liberty without borders, that truly liberates its users from the chain of governments, corporations control and abuse. The supposed terrifying "news" inadvertently confirms the superiority of Bitcoin over every other currency even gold. And that is all fact!
They have tried every trick to demonize the "Coin" including their unlimited fiat printing power to manipulate and fluctuate the "coin". They have failed, and will fail!
Bitcoin a deflationary currency will stay as the universal currency no matter what governments and banksters will do trying to destroy it.
Only people have the power to send the Bitcoin down to grave, by just stop using it. That's exactly the reason why governments and their pressitutes have been trying to scare the people away from Bitcoin.
The other trick is trying to "LEGALIZE" Bitcoin! Dumshit people are jumping up and down for this.
What does "legalize" means? It means THEY will control the way in which Bitcoin is used within "legal guideline and framework". And that also means THEY want to obtain and control all detailed information of Bitcoin users!
Well for general sane people, this won't work. One doesn't  need to register or submit an application in order to use Bitcoin! Just download any kind of wallet, setup your own wallet in your own smartphone, your own PC. your own USB, or even better hardware wallet at your own time and space. You can have as many wallets as you need. For example a wallet as your Safe, and a wallet with small amount for daily use etc… and just start using it.
Bitcoin  has been neither "legalized" nor "illegal"! It's there and people just use it. Once it was "legalized" it means Bitcoin will be legal as well as illegal according to the "law".
Many economies and millions lives were destroyed by WHOM and with WHAT in 2008 crisis, which is the very reason Bitcoin was born a year later?
However, there are plenty of dumbshit around who always voluntarily give their necks out waiting to be chained by "our gov"! I have met quite a few "educated" people who happily to be OneCoin user. Remember those Bitcoin users who surrendered their private keys to MT.GOX and many so called "bitcoin exchangers"? (Web-based wallets) When it comes to greed and stupidity, there is no boundary!
Anyway, Bitcoin will hit over 5000USD by the end of this year (2017). It's not the question IF Satoshi will be the unit of account, the unit of transaction, but when. That day will come. There will  be 21 millions Bitcoin only (or less- for quite a few users have lost their passwords) and a Bitcoin has 100 millions Satoshis!
The day will come when your wage/ salary are paid in Bitcoin, and you use Bitcoin in daily transaction with other. Just with your smartphone, or a tiny USB or a tiny device called hardware wallet, you travel around the world with ALL YOUR MONEY at your own discretion without filling up declaration form, applying for permission, without any one sticking their nose on your "wallet". No one, no State, no institution, no authority has the power to "freeze" your own money. If you want your loved ones to inherit your money,  you will not have to pay the lawyer doing any usual stupid things, just give them the danm private-key-PASSWORD of a tiny file wallet.dat (or the equivalent in other type of wallet).
And you know what, whether THAT DAY will come true or not, that  is totally decided , not by Government, not  by any intuitions, but you, each of you today! Yes that's what Satoshi Nakamono vision all about, and it's designed to be that way. Individual freedom and sovereign,  total control and total responsibility of one own money and the way to use it.
It's all up to you. Be free or be  chained!
–
North Korea Is Dodging Sanctions With a Secret Bitcoin Stash
By
and
North Korean hackers target South Korea's ethereum exchanges

Crypto-currencies become tool to raise and launder money
North Korea appears to be stepping up efforts to secure bitcoin and other cryptocurrencies, which could be used to avoid trade restrictions including new sanctions approved by the United Nations Security Council.
Hackers from Kim Jong Un's regime are increasing their attacks on cryptocurrency exchanges in South Korea and related sites, according to a new report from security researcher FireEye Inc. They also breached an English-language bitcoin news website and collected bitcoin ransom payments from global victims of the malware WannaCry, according to the researcher.
Kim's apparent interest in cryptocurrencies comes amid rising prices and popularity. The same factors that have driven their success — lack of state control and secretiveness — would make them useful fund raising and money laundering tools for a man threatening to use nuclear weapons against the U.S. With tightening sanctions and usage of cryptocurrencies broadening, security experts say North Korea's embrace of digital cash will only increase.
"We definitely see sanctions being a big lever driving this sort of activity," said Luke McNamara, a researcher at FireEye and author of the new report. "They probably see it as a very low-cost solution to bring in hard cash."
The 15-member Security Council on Monday approved sanctions aimed at punishing North Korea for its latest missile and nuclear tests. U.S. officials said the new measures would cut the country's textile exports by 90 percent, restricting its ability to get hard currency.
So far this year, FireEye has confirmed attacks on at least three South Korean exchanges, including one in May that was successful. Around the same time, local media reported that Seoul-based exchange Yapizon lost more than 3,800 bitcoins (worth about $15 million at current rates) due to theft, although FireEye said there are not clear indications of North Korean involvement.
North Korea's telecommunications ministry didn't respond to an emailed request for comments. The country's diplomats and official media have denied the country played any role in cyberattacks, including the hacking of Sony Pictures Entertainment in 2014.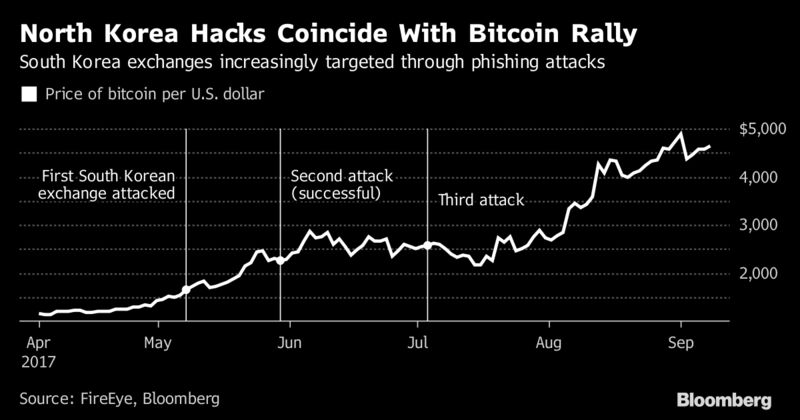 North Korea operates what South Korea believes is an army of hackers expanding its focus from military espionage to financial theft. The regime's Reconnaissance General Bureau, which directly reports to Kim Jong Un, handles peacetime cyber operations from espionage to network disruptions and employs an estimated 6,000 officers, according to a 2016 report from the International Cyber Policy Centre at the Australian Strategic Policy Institute.
In the recent round of attacks, South Korea may have become a target not just due to its proximity to Pyongyang and shared language, but because the country has become one of the busiest trading hubs for cryptocurrencies this year. Seoul-based Bithumb is the world's biggest exchange for ethereum. In June, it said hackers had stolen customer information from an employee's computer, without identifying the attackers.
"As more money goes into cryptocurrency exchanges and more people buy bitcoin and ethereum, exchanges become larger targets for this group," said McNamara. He said so far he did not have evidence that Kim Jong Un's regime has targeted cryptocurrency exchanges outside of South Korea, but did not rule out the possibility in the future.
Besides exchanges, FireEye said an English-language bitcoin news website was breached by North Korea, which would likely allow hackers to identify people visiting the site. It declined to name the website and said it believes North Korea prefers larger targets like exchanges than individual owners of cryptocurrencies.
The firm said previously it had found a connection between Pyongyang and the WannaCry attack from May and June, which affected more than 300,000 computers worldwide. McNamara said he also sees indications North Korean hackers are getting involved in cryptocurrency mining.
Attacks on the South Korean exchanges were carried out through so-called spear-phishing attacks, or emailing files laced with malware to specific targets. FireEye identified the malware, known as PEACHPIT, and provided examples of documents it was attached to, including one published by Seoul-based Hyundai Research Institute about the state of bitcoin industries. When contacted, the author of the report confirmed he wrote it in 2014, but was unaware that someone was distributing a press release about it this year.
The group behind the hacks, which FireEye identified as TEMP.Hermit, has made a name for itself out of bitcoin theft, including a 2015 attack on South Korea's nuclear industry. The hackers have also been tied by other security firms to last year's attack on Samsung Electronics Co.'s corporate messenger app and, most prominently, the breach of Sony Corp.'s film studio, which the FBI blamed on North Korea.
"They're pretty capable actors in comparison to other North Korean activity we see," said McNamara. "They've been creative in how they use their cyber-espionage capability."
The malware used in bitcoin hacks is linked to the group suspected of attacks on the payment systems of global banks last year, according to FireEye. The FBI is also examining North Korea's link to the theft of $81 million through the New York Fed last year, Bloomberg Markets reported last month.
FireEye said if the hackers wanted to convert bitcoin or ethereum into dollars or won, they'd likely first exchange them into harder-to-trace cryptocurrencies like Monero and then into fiat currency. A similar technique was used last month to empty the bitcoin wallets related to WannaCry.
Watch This Next
"They could compromise an exchange and transfer those bitcoins to other exchanges elsewhere in Asia or exchange them for a more anonymous cryptocurrency," said McNamara. "There are variety of things they could do to cash out."