September 1, 2017 8:56 pm JST
China sees new world order with oil benchmark backed by gold
Yuan-denominated contract will let exporters circumvent US dollar
DAMON EVANS, Contributing writer
DENPASAR, Indonesia — China is expected shortly to launch a crude oil futures contract priced in yuan and convertible into gold in what analysts say could be a game-changer for the industry.
The contract could become the most important Asia-based crude oil benchmark, given that China is the world's biggest oil importer. Crude oil is usually priced in relation to Brent or West Texas Intermediate futures, both denominated in U.S. dollars.
China's move will allow exporters such as Russia and Iran to circumvent U.S. sanctions by trading in yuan. To further entice trade, China says the yuan will be fully convertible into gold on exchanges in Shanghai and Hong Kong.
"The rules of the global oil game may begin to change enormously," said Luke Gromen, founder of U.S.-based macroeconomic research company FFTT.
The Shanghai International Energy Exchange has started to train potential users and is carrying out systems tests following substantial preparations in June and July. This will be China's first commodities futures contract open to foreign companies such as investment funds, trading houses and petroleum companies.
Most of China's crude imports, which averaged around 7.6 million barrels a day in 2016, are bought on long-term contracts between China's major oil companies and foreign national oil companies. Deals also take place between Chinese majors and independent Chinese refiners, and between foreign oil majors and global trading companies.
Alan Bannister, Asia director of S&P Global Platts, an energy information provider, said that the active involvement of Chinese independent refiners over the last few years "has created a more diverse marketplace of participants domestically in China, creating an environment in which a crude futures contract is more likely to succeed."
China has long wanted to reduce the dominance of the U.S. dollar in the commodities markets. Yuan-denominated gold futures have been traded on the Shanghai Gold Exchange since April 2016, and the exchange is planning to launch the product in Budapest later this year.
Yuan-denominated gold contracts were also launched in Hong Kong in July — after two unsuccessful earlier attempts — as China seeks to internationalize its currency. The contracts have been moderately successful.
The existence of yuan-backed oil and gold futures means that users will have the option of being paid in physical gold, said Alasdair Macleod, head of research at Goldmoney, a gold-based financial services company based in Toronto. "It is a mechanism which is likely to appeal to oil producers that prefer to avoid using dollars, and are not ready to accept that being paid in yuan for oil sales to China is a good idea either," Macleod said.
Yuan-denominated gold contracts have significant implications, especially for countries like Russia and Iran, Qatar and Venezuela, said Louis-Vincent Gave, chief executive of Gavekal Research, a Hong Kong-based financial research company.
These countries would be less vulnerable to Washington's use of the dollar as a "soft weapon," if they should fall foul of U.S. foreign policy, he said. "By creating a gold contract settled in renminbi [an alternative name for the yuan], Russia may now sell oil to China for renminbi, then take whatever excess currency it earns to buy gold in Hong Kong. As a result, Russia does not have to buy Chinese assets or switch the proceeds into dollars," said Gave.
Grant Williams, an adviser to Vulpes Investment Management, a Singapore-based hedge fund sponsor, said he expects most oil producers to be happy to exchange their oil reserves for gold. "It's a transfer of holding their assets in black liquid to yellow metal. It's a strategic move swapping oil for gold, rather than for U.S. Treasuries, which can be printed out of thin air," he said.
Market share
China has been indicating to producers that those happy to sell to them in yuan will benefit from more business. Producers that will not sell to China in yuan will lose market share.
Saudi Arabia, a U.S. ally, is a case in point. China proposed pricing oil in yuan to Saudi Arabia in late July, according to Chinese media. It is unclear if Saudi Arabia will yield to its biggest customer, but Beijing has been reducing Saudi Arabia's share of its total imports, which fell from 25% in 2008 to 15% in 2016.
Chinese oil imports rose 13.8% year-on-year during the first half of 2017, but supplies from Saudi Arabia inched up just 1% year-on-year. Over the same timeframe, Russian oil shipments jumped 11%, making Russia China's top supplier. Angola, which made the yuan its second legal currency in 2015, leapfrogged Saudi Arabia into second spot with an increase of 22% in oil exports to China in the same period.
If Saudi Arabia accepts yuan settlement for oil, Gave said, "this would go down like a lead balloon in Washington, where the U.S. Treasury would see this as a threat to the dollar's hegemony… and it is unlikely the U.S. would continue to approve modern weapon sales to Saudi and the embedded protection of the House of Saud [the kingdom's ruling family] that comes with them."
The alternative for Saudi Arabia is equally unappetizing. "Getting boxed out of the Chinese market will increasingly mean having to dump excess oil inventories on the global stage, thereby ensuring a sustained low price for oil," said Gave.
But the kingdom is finding other ways to get in with China. On Aug. 24, Saudi Vice Minister of Economy and Planning Mohammed al-Tuwaijri, told a conference in Jeddah that the government was looking at the possibility of issuing a yuan-denominated bond. Saudi Arabia and China have also agreed to establish a $20 billion joint investment fund.
Furthermore, the two countries could cement their relationship if China were to take a cornerstone investment in the planned initial public offering of a 5% state in Saudi Aramco, Saudi Arabia's national oil company. The IPO is expected to be the largest ever, although details on the listing venue and valuation are yet scant.
If China were to buy into Saudi Aramco the pricing of Saudi oil could shift from U.S. dollars to yuan, said Macleod. Crucially, "if China can tie in Aramco, with Russia, Iran et al, she will have a degree of influence over nearly 40% of global production, and will be able to progress her desire to exclude dollars for yuan," he said.
"What is interesting is that China's leadership originally planned to clean up the markets next year, but brought it forward to this year. One interpretation of that change is that they have brought forward the day when they pay for oil in yuan," said Simon Hunt, a strategic adviser to international investors on the Chinese economy and geopolitics.
China is also making efforts to set other commodity benchmarks, such as gas and copper, as Beijing seeks to transform the yuan into the natural trading currency for Asia and emerging markets.
Yuan oil futures are expected to attract interest from investors and funds, while state-backed oil majors, such as PetroChina and China Petroleum & Chemical (Sinopec) will provide liquidity to ensure trade. Locally registered entities of JPMorgan, a U.S. bank, and UBS, a Swiss bank, are among the first to have gained approval to trade the contract. But it is understood that the market will be also open to retail investors.
=
The demise of the dollar
In a graphic illustration of the new world order, Arab states have launched secret moves with China, Russia and France to stop using the US currency for oil trading
Monday 5 October 2009 23:00 BST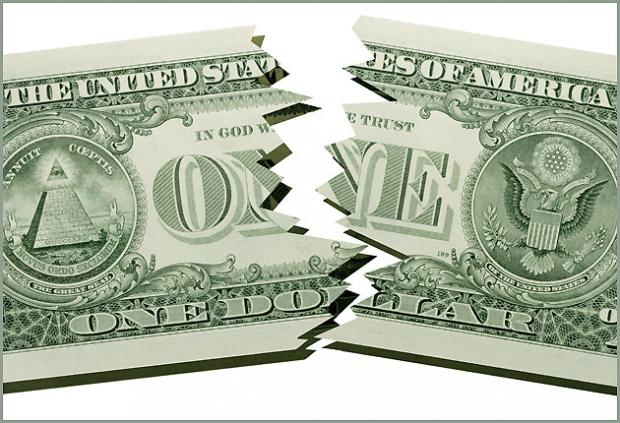 In the most profound financial change in recent Middle East history, Gulf Arabs are planning – along with China, Russia, Japan and France – to end dollar dealings for oil, moving instead to a basket of currencies including the Japanese yen and Chinese yuan, the euro, gold and a new, unified currency planned for nations in the Gulf Co-operation Council, including Saudi Arabia, Abu Dhabi, Kuwait and Qatar.
Secret meetings have already been held by finance ministers and central bank governors in Russia, China, Japan and Brazil to work on the scheme, which will mean that oil will no longer be priced in dollars.
The plans, confirmed to The Independent by both Gulf Arab and Chinese banking sources in Hong Kong, may help to explain the sudden rise in gold prices, but it also augurs an extraordinary transition from dollar markets within nine years.
The Americans, who are aware the meetings have taken place – although they have not discovered the details – are sure to fight this international cabal which will include hitherto loyal allies Japan and the Gulf Arabs. Against the background to these currency meetings, Sun Bigan, China's former special envoy to the Middle East, has warned there is a risk of deepening divisions between China and the US over influence and oil in the Middle East. "Bilateral quarrels and clashes are unavoidable," he told the Asia and Africa Review. "We cannot lower vigilance against hostility in the Middle East over energy interests and security."
This sounds like a dangerous prediction of a future economic war between the US and China over Middle East oil – yet again turning the region's conflicts into a battle for great power supremacy. China uses more oil incrementally than the US because its growth is less energy efficient. The transitional currency in the move away from dollars, according to Chinese banking sources, may well be gold. An indication of the huge amounts involved can be gained from the wealth of Abu Dhabi, Saudi Arabia, Kuwait and Qatar who together hold an estimated $2.1 trillion in dollar reserves.
The decline of American economic power linked to the current global recession was implicitly acknowledged by the World Bank president Robert Zoellick. "One of the legacies of this crisis may be a recognition of changed economic power relations," he said in Istanbul ahead of meetings this week of the IMF and World Bank. But it is China's extraordinary new financial power – along with past anger among oil-producing and oil-consuming nations at America's power to interfere in the international financial system – which has prompted the latest discussions involving the Gulf states.
Brazil has shown interest in collaborating in non-dollar oil payments, along with India. Indeed, China appears to be the most enthusiastic of all the financial powers involved, not least because of its enormous trade with the Middle East.
China imports 60 per cent of its oil, much of it from the Middle East and Russia. The Chinese have oil production concessions in Iraq – blocked by the US until this year – and since 2008 have held an $8bn agreement with Iran to develop refining capacity and gas resources. China has oil deals in Sudan (where it has substituted for US interests) and has been negotiating for oil concessions with Libya, where all such contracts are joint ventures.
Furthermore, Chinese exports to the region now account for no fewer than 10 per cent of the imports of every country in the Middle East, including a huge range of products from cars to weapon systems, food, clothes, even dolls. In a clear sign of China's growing financial muscle, the president of the European Central Bank, Jean-Claude Trichet, yesterday pleaded with Beijing to let the yuan appreciate against a sliding dollar and, by extension, loosen China's reliance on US monetary policy, to help rebalance the world economy and ease upward pressure on the euro.
Ever since the Bretton Woods agreements – the accords after the Second World War which bequeathed the architecture for the modern international financial system – America's trading partners have been left to cope with the impact of Washington's control and, in more recent years, the hegemony of the dollar as the dominant global reserve currency.
The Chinese believe, for example, that the Americans persuaded Britain to stay out of the euro in order to prevent an earlier move away from the dollar. But Chinese banking sources say their discussions have gone too far to be blocked now. "The Russians will eventually bring in the rouble to the basket of currencies," a prominent Hong Kong broker told The Independent. "The Brits are stuck in the middle and will come into the euro. They have no choice because they won't be able to use the US dollar."
Chinese financial sources believe President Barack Obama is too busy fixing the US economy to concentrate on the extraordinary implications of the transition from the dollar in nine years' time. The current deadline for the currency transition is 2018.
The US discussed the trend briefly at the G20 summit in Pittsburgh; the Chinese Central Bank governor and other officials have been worrying aloud about the dollar for years. Their problem is that much of their national wealth is tied up in dollar assets.
"These plans will change the face of international financial transactions," one Chinese banker said. "America and Britain must be very worried. You will know how worried by the thunder of denials this news will generate."
Iran announced late last month that its foreign currency reserves would henceforth be held in euros rather than dollars. Bankers remember, of course, what happened to the last Middle East oil producer to sell its oil in euros rather than dollars. A few months after Saddam Hussein trumpeted his decision, the Americans and British invaded Iraq.
=
Leading article: The end of the dollar spells the rise of a new order
This radical proposal is a reflection of a changing economic world
Last autumn's global financial crisis set off an economic earthquake. And we are still feeling the tremors. The latest sign of the ground shifting beneath our feet is our report today of plans by Gulf states, China, Russia, France and Japan to end their practice of conducting oil deals in US dollars, switching instead to a diverse basket of currencies.
It is not hard to see the motivation for oil exporters to move away from the dollar. The value of the US currency has fallen sharply since last year's meltdown. And fears are growing, in the light of a spiralling US government deficit, that a further depreciation is likely. They do not want to sell their wares in return for a currency with an uncertain future.
It is also easy to see why China would like a world trading system that is underpinned by other currencies as well as the dollar. For the past decade Beijing has been recycling the proceeds of its giant national trade surplus into purchases of US government bonds and other dollar-denominated assets. China too stands to make a significant loss if the value of the dollar falls. For China, however, the timing is much more sensitive. Beijing needs to reduce its dollar holdings, but if it does so too quickly it will bring about the very devaluation it fears. This explains why Chinese officials appear to want this transition to take place gradually over the next decade.
But the significance of this development goes much further. Since the end of the Second World War the dollar has been the bedrock of world trade. The pre-eminence of the American currency flowed naturally from the economic dominance of the US. Virtually everyone traded with America so it made sense to use their currency.
But the US is not the dominant power that it once was. The financial crisis has left it hobbled with significant government and household debts and sharply reduced prospects for growth. Developing nations such as China, Brazil and India, on the other hand, have weathered the economic storm significantly better. So while this latest proposal is born of financial calculation, it is also a reflection of a new economic world order.
We should not be sentimental for the dollar. It makes economic sense for world trade to be conducted in a variety of currencies. Relying on one only has the advantage of clarity, but it also creates instability if the economy that underpins it faces uncertain prospects.
Yet we need to understand that exchange rate volatility is a symptom, rather than a cause, of what truly ails the world economy. The biggest driver of global economic instability in recent years has been the determination of China to boost its export sector at all costs. Beijing's persistently large trade surpluses and manipulation to prevent its own currency from appreciating have effectively forced Western nations into running persistently large trade deficits. It was this pressure that blew up various asset bubbles that burst with such disastrous effect last year.
A gradual move away from the dollar makes sense. But without a commitment from world governments – both in the rich and developing world – to reduce these destabilising global trade imbalances we will enter an uncertain new era; and one that could yet make us pine for the days of the dominant greenback.
=
Sean O'Grady: China will overtake America, the only question is when
Few things would be more powerfully symbolic of the shift in the balance of global economic power than to have oil traded in the Chinese renminbi rather than the American dollar.
True, no one is going to price a barrel of West Texas Intermediate Crude in renminbi tomorrow. But you can see how that could change. Oil is traded in dollars for economic reasons – not sentimental ones. The oil business pretty much started in the US (vividly portrayed in the film There Will be Blood), the giant oil companies are still mostly American, and the US has long been the world's largest consumer, importer and one of the largest producers of oil. The presidency of George W Bush offered ample evidence of the intimate connections between politics and oil. And the dollar is easily the most traded currency in the world. As such, it makes sense to trade oil in dollars.
Yet the financial tectonic plates are shifting – fast. Yesterday the president of the World Bank, Robert Zoellick, articulated what must be weighing on the minds of many Western policy-makers. A legacy of the current crisis "may be a recognition of changed economic power relations". In other words, the recession has accelerated the rise of China. The brutal truth is that for most of the next decade China's economy will grow by more than 10 per cent a year; America's by less than 2 per cent. China will soon be the world's largest economy, and largest creditor nation, a position enjoyed by a pre-eminent America in the 1950s. China will also be the largest consumer of oil, which will help push trading in it and other commodities towards a "basket" of currencies.
Now America is the world's greatest debtor, she can no longer sustain her role as protector of the world's only reserve currency in the long term. The humbling of Wall Street was proof that the American system was not invincible. Suddenly, a G20 embracing China, India and the other emerging powers is the only forum that matters. China has helped bail out our banks. Spats with the Americans and Europeans are set to grow more bitter. Yesterday the head of the IMF, Dominique Strauss-Kahn and the president of the European Central Bank, Jean-Claude Trichet, resumed their attack on the value of the yuan. Next will come an increasing US resentment at the vast debts built up with China, and, in turn, Chinese nervousness about their long-term worth.
And that is the paradox. China holds approaching $3 trillion in dollar assets, so she cannot afford to see the dollar collapse. Longer term, China does want to become less reliant on the dollar as a place to keep its savings. America needs China to buy her Treasury bills; and China needs America to buy her exports. They are like two drunken giants leaning on each other. Yet a sobering reckoning of some sorts seems inevitable; and it is difficult to see how both can be winners.