Highway Wars: The Future of Warfare?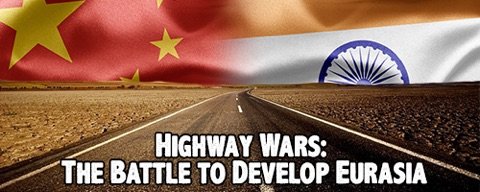 by James Corbett
corbettreport.com
August 19, 2017
If we can only envision guns and bombs when we think about war, then it indicates merely a failure of our own imagination. Make no mistake: There are wars for geopolitical dominance taking place between various players around the globe right now, and it's all happening without a shot being fired or a soldier on the battlefield.
For an example of this we need look no further than Asia, where there is a strange game of one-upsmanship taking place between bitter frenemies China and India, clear rivals for regional economic dominance who happen to also be buddy-buddy in the BRICS and the Shanghai Cooperation Organization and other multi-lateral bodies.
No, I'm not talking about the dramatic border skirmishes currently taking place between Indian and Chinese troops. That's the old, guns-and-bombs type of conflict that gets all the press. I'm talking about something much more subtle, much less headline-grabbing and, potentially, much more important for the future of the region, and, ultimately, the world.
Exhibit A: "Chinese-built mega railway begins construction in Malaysia"
Exhibit B: "India Builds Highway to Thailand to Counter China's Silk Road"
Taken at face value, these are hardly the "stop the presses" headlines that set the public's imagination on fire. But let's look a little closer.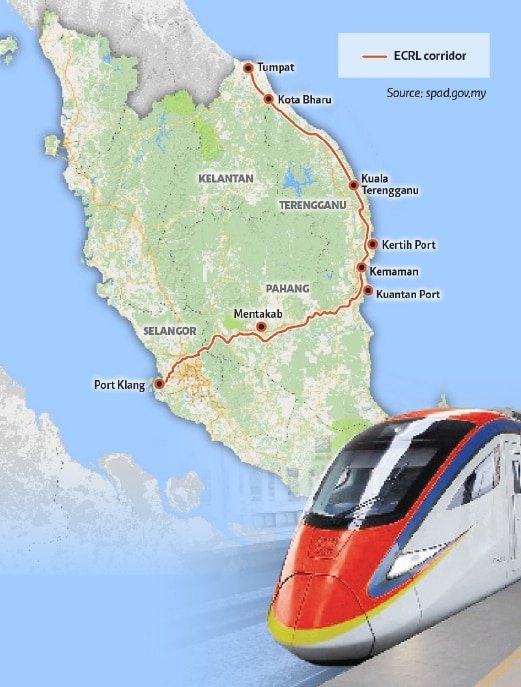 Regarding the Malaysian railway story, this is no ordinary train track. Dubbed the "East Coast Rail Link" (ECRL), the project will span 688 kilometers and act as the first railway artery connecting the country's east and west coasts. It will cut the travel time from the suburbs of Kuala Lumpur to the northeastern state of Kelantan almost in half. Chinese state firms will be both building the railway and footing the bill (a cool $13 billion).
So why is China constructing a railway in Malaysia, anyway? What's in it for the Chinese? Well, as China Daily explains, quoting Chinese State Councillor Wang Yong who attended the project's official launch: "China is willing to work closely with the Malaysian side and build the rail link into another landmark project so as to benefit the Malaysian people as soon as possible and help realize regional development and prosperity." Wishy-washy feel-good political propaganda? Undoubtedly. But nonetheless true, as far as such official statements go.
You see, the ECRL is being touted as a "flagship project" of China's much-ballyhooed Belt and Road Initiative (BRI). As we've discussed before in these pages, the BRI is China's ambitious trillion dollar quest to regain its status as the "middle kingdom" by reviving and updating the ancient Silk Road trading route for the 21st century. Involving a "Silk Road Economic Belt" and a "Maritime Silk Road," the initiative is starting to throw significant money into development projects throughout China's entire sphere of influence, including Southeast Asia and Eurasia. And as we've also discussed before, the BRI is becoming an increasingly important flashpoint for a new form of globalization ("Globalization 2.0" in the Chinese Communist Party's own formulation) that will be driven and led by China itself.
This may be great for Malaysia and the other beneficiaries of China's largess, but it's obviously a worrying development for China's various regional rivals, most notably India. First, India refused an offer to attend China's first-ever "Belt and Road Forum" in Beijing this year, citing concerns over the $62 billion China-Pakistan Economic Corridor that is part of the BRI and that will include disputed territory in the highly contentious Kashmir region. And now, India is fighting back against China's BRI by…building a highway to Thailand? Welcome to 21st century warfare.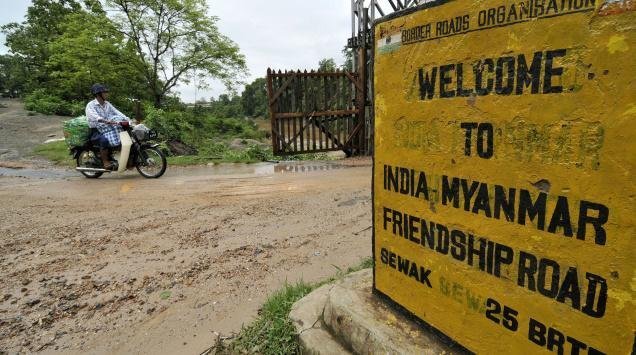 Yes, the highway project, part of a broader $4.7 billion border road development initiative that India launched two years ago, is, like China's Malaysian railway project, ambitious. The plan is to connect Manipur in Northeast India with Mae-Sot in western Thailand via Tamu in Myanmar. The "upgrade and widening" work on the highway link will come at a price of $256 million and will be financed with loan assistance from the Asia Development Bank, the (faux) "rival" to China's Asia Infrastructure Investment Bank.
As Rajiv Biswas, Singapore-based chief economist at IHS Markit, tells Bloomberg: "If India wants to be part of growth dynamic of Asia it needs to develop infrastructure links and that is why this project is a very important first step."
The idea of development and infrastructure projects as an integral part of diplomacy and even regional dominance is hardly a new one, but China's moves in this direction are nonetheless highly significant and are causing India and other regional players to take notice. As Moammar Gaddafi pointed out to a gathering of students at Oxford shortly before he was murdered by NATO-backed goons, the world is now facing a choice between two models of diplomatic dominance and political influence: the American model–which he described as "a harsh, rough approach" involving "soldiers, weapons and military bases"–and the Chinese approach.
"China does not lecture African countries about their system of government, human rights, freedom of expression, good governance or such like," Gaddafi explained. "China never interferes in the internal affairs of other states. It does not bring in soldiers, military bases or military command. More than 600 Chinese corporations are penetrating deep into Africa. Some Chinese communities have started to settle in Africa. This is China's soft approach.

"Because of that soft approach, Africans are welcoming China warmly. This will no doubt be to China's benefit. Africans are wary of the US because of its harsh approach. This is proof of the folly of American policy."
Now, my regular audience will knows my position: that this is a rigged game with loaded dice. The international "superclass" that pays no allegiance to any particular country is preparing to abandon the American Empire as the engine of global dominance for a multilateral BRICS-fronted IMF-administered globalist slave state. But nevertheless, there's something to be said about an era in which the top geopolitical disputes involve competing development and infrastructure projects rather than threats of all-out thermonuclear war, isn't there? Let's hope this is a trend that persists.
==
Chinese-built mega railway begins construction in Malaysia
KUANTAN, Malaysia – A mega railway to be built by China was officially launched on Wednesday in the Malaysian city of Kuantan, a milestone for China-Malaysia ties as China pushed forward the Belt and Road Initiative.
At a cost of 55 billion ringgit ($12.83 billion), the 688-km East Coast Rail Link (ECRL) will help upgrade public transportation infrastructure in the east coast, said Malaysian Prime Minister Najib Razak when inaugurating a ground-breaking ceremony of the project.
The ECRL is the first artery railway built in the east coast, which has been connected to the west coast only "via a network of roads and highways, and small rail lines that were woefully inadequate."
Describing the project as a game-changer for Malaysia, Najib said it will significantly cut travel time from Gombak in suburban Kuala Lumpur to Kota Baru in the northeastern state of Kelantan from seven to four hours.
The railway will be built by China Communications Construction Company Ltd, a leading transportation infrastructure group that also built a landmark bridge in the northwestern state of Penang.
Chinese State Councillor Wang Yong also attended the ceremony.
When meeting with Najib prior to the ceremony, Wang praised the ECRL as a "flagship project" jointly built by the two countries under the Belt and Road Initiative, which will boost economic transformation and balanced development of different regions in Malaysia.
He expressed his hope that both China and Malaysia could seize the historic opportunity brought by the Belt and Road Initiative to achieve win-win results and joint development.
China is willing to work closely with the Malaysian side and build the rail link into another landmark project so as to benefit the Malaysian people as soon as possible and help realize regional development and prosperity, Wang added.
The ECRL will be an electric railway line crossing Kelantan, Terengganu, Pahang and Selangor states. It will accommodate passenger trains at a maximum speed of 160 km per hour and goods trains at a maximum speed of 80 km per hour. Construction of the rail link is expected to be completed by 2024.
The project will benefit the 4.4 million population along its route, said Liow Tiong Lai, Malaysia's minister of transport in a statement on Wednesday. He estimated that the ECRL will serve 5.4 million passengers annually by 2030.
The Export-Import Bank of China financed 85 percent of the railway with soft loans, while the Malaysian government provided the remaining 15 percent via issuing bonds, according to Najib.
=
India Builds Highway to Thailand to Counter China's Silk Road
By
and
August 9, 2017, 9:00 AM GMT+10 August 9, 2017, 5:53 PM GMT+10
When Prime Minister Narendra Modi's government approved $256 million to upgrade a section of a remote border road last month, few took notice.
Yet India's decision to revive plans for the trilateral highway, part of an ambitious 1,360-kilometer (845 mile) crossing to link northeastern India with markets in Thailand and beyond, marks the next phase in the jostle between New Delhi and Beijing for economic and strategic influence in the region.
In the last two years alone, India has assigned more than $4.7 billion in contracts for the development of its border roads, according to government figures, including the highway which will run from Moreh in Manipur through Tamu in Myanmar to Mae-Sot in Thailand.
The construction has taken on new urgency as China pushes ahead with its own vast 'One Belt, One Road' infrastructure initiative, expected to involve investments worth more than half a trillion dollars across 62 nations. The intercontinental web of road, rail and trade links has raised concerns among strategic rivals India, Russia, the U.S. and Japan. Among the biggest showcases of the plan — an economic corridor that runs through the Pakistan-administered part of disputed Kashmir, which both India and Pakistan claim — has unsettled equations in the South Asian neighborhood, where border tensions often simmer.
"With China's growing interest in the region, as its wealth grows, its influence is growing beyond its borders,'' said K. Yhome, New Delhi-based senior fellow at the Observer Research Foundation. So while China is pushing for a north-south economic corridor under the 'One Belt, One Road' initiative, India is aiming to build links with its eastern neighbors, he said.
Neglected Infrastructure
Under the Modi government's 'Act East' policy, India is investing in road and rail links on its north-east borders, where it rubs shoulders with Nepal, Bhutan, Bangladesh, China, and Myanmar.
But the plan for the India-Myanmar-Thailand highway is not a new one. It's been on the drawing board since 2001 when it was called the India-Myanmar Friendship Road, according to Vijay Chhibber, India's former roads secretary.
New Delhi has now proposed to further extend the Myanmar-Thailand link to Cambodia, Laos and Vietnam, shortening travel from Mekong River to India using water transport, in its bid to bind it closer to the Association of South East Asian Nations and the Bay of Bengal Initiative for Multi-Sectoral Technical and Economic Cooperation, according to Chhibber.
The road link will be funded by the Asian Development Bank under the South Asian Subregional Economic Cooperation program. Involving India, Bangladesh, Bhutan, Maldives, Myanmar, Nepal and Sri Lanka, the program doubled investments on infrastructure to $6 billion since 2011 compared to $3.5 billion in previous decade, said Ronald Antonio Q. Butiong, Manila-based director at ADB's Regional Cooperation and Operations Coordination Division. The SASEC nations, not including Myanmar which joined only this February, plan to invest a further $4 billion on infrastructure projects over the next three years, Butiong said.
New projects include the Kaladan multimodal transit transport project connecting India's Mizoram state with ports in Kolkata and Myanmar's Sittwe. India has financed the $120 million Sittwe port construction, according to SASEC.
"Regional cooperation is a slow process and you have to have a lot of patience," said Butiong by phone from Manila. "You couldn't imagine this happening a few years ago. But now it looks like it's becoming a reality."
Weak Link
India chose not to attend President Xi Jinping's two-day One Belt One Road summit in May.  Three months later, the two nuclear-armed powers are managing a tense military standoff over junction between Bhutan, China's Tibet and India's Sikkim.
Read more: What's the China-India Border Stand-Off All About? QuickTake Q&A
The Chinese government has repeatedly said its Belt and Road initiative aims to enhance regional connectivity, bringing economic benefits for China's neighbors. It urged New Delhi to shed "misgivings and doubts" about the project.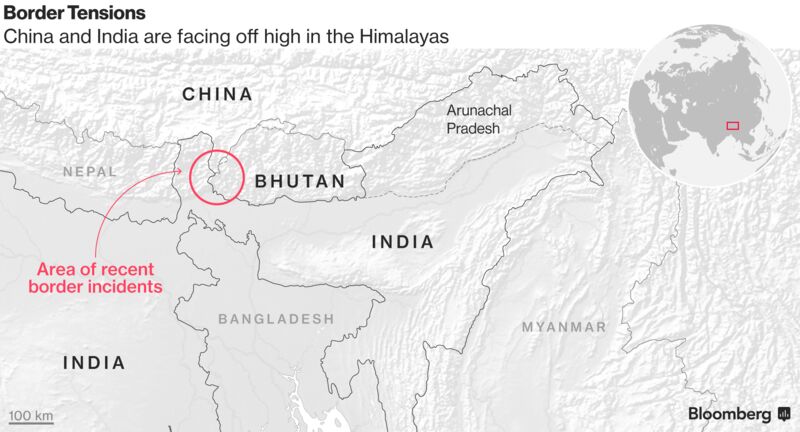 Roads, bridges and railways have been a weak link in India's infrastructure in the north eastern states. In part, it was left underdeveloped as strategy to make the region inaccessible to Chinese troops if Beijing ever tried to repeat the four-week 1962 border war and encroach into the territory India sees as its own.
This has also meant poor access for Indian businesses to markets of south-east Asia. Modi fast-tracked decades-old infrastructure plans such as opening the nation's longest bridge spanning 9.2 km across the Brahmaputra river to ensure the smooth movement of troops to the northeastern state of Arunachal Pradesh, one of India's most remote regions that is claimed in full by China.
"For India to improve its influence, it needs to take some action otherwise it will be left behind," said Rajiv Biswas, Singapore-based chief economist at IHS Markit. "If India wants
to be part of growth dynamic of Asia it needs to develop infrastructure links and that is why this project is a very important first step."
'Sovereign Assets'
In a brand new office in the heart of India's capital New Delhi, Sanjay Jaju is meeting contractors responsible for building roads in the country's north eastern states for the National Highways & Infrastructure Development Corp.
The three-year-old state-owned company, where Jaju is finance director, is an unusual entity in the south Asian nation's notoriously slow bureaucratic labyrinth. The highway through Myanmar and Thailand is among the $4.7-billion in contracts the company has assigned.
In the meantime, the corporation is busy acquiring land for its projects. "We're creating sovereign assets," said Jaju. "Our international projects will take off this year."
— With assistance by Ting Shi