Notes: Statist system is itself a highest organized crime in the truest sense of the word. All governments, regardless of being small or big, West or East, dictatorship or democracy,  are criminal organizations in highest form. The Trumps and the Kushners are just an open case in in daylight and in public records.
[ Editor's Note: It took us about two seconds to understand that the main reason Trump shoe-horned his family into top "advisor" slots, so they could enjoy influence peddling from the top with some presidential immunity screening. The Kushners bet the farm on their mega Manhattan RE tower acquisition, but where 25% vacancies have left them in the red.
Trying to get funding for a sinking ship is usually next to impossible without taking a huge haircut, unless those offering the needed financing can be compensated in other ways. We have never had conflict-of-interest like this, with a president's kid's spouse thrown into the deep end of the pool without a single swimming lesson.
How do we describe a president that sent an untrained son-in-law to Israel to knock Bibi's and Abbas' heads together to get the peace process going? While we heard some press of his going, "fake media" tread carefully on what a failure his trip was. Neither side participated in the charade, even for show.
Earlier, the family was in China trying to pedal investor visas, where a million-dollar investment would buy a family visa for creating ten jobs. The Kushners were looking for investors in their New Jersey port development, via the Daddy Trump tactic of using other people's money, where they have all the risk.
High-rolling Arabs are not fools, but they can be shaken down by the US, if needed. But sending the Trump children out to do it, to give them street cred as big time deal makers, rubs the Chinese the wrong way. Daddy Kushner, an ex-convict for obstruction of justice, gets lighter coverage on his criminal background than the Pope does for providing sanctuary to child molesters at the Vatican.
When he finished his two-year stretch, he brought two other convicted swindlers that he met in jail into the family real estate business, his way of saying "screw you" to the justice system. Outside of the New York City press, the vast majority of Americans know nothing about this.
Bringing Trump's daughter to the G20 and arranging for her to take his seat in meetings was nepotism on steroids, but US media has stopped even commenting on that aspect of the first family, preferring to cover how hot she looked in her dress of the day. It's a pitiful situation, and a reflection on all those who contributed to it… Jim W. Dean ]
Jim's Editor's Notes are solely crowdfunded via PayPal – JimWDean@aol.com
This includes research, needed field trips, Heritage TV Legacy archiving, and more – Thanks for helping out
*
– First published … July 12, 2017 –
US President Donald Trump's son-in-law and senior adviser, Jared Kushner, has "tried and failed" to get a $500 million loan from a key member of the Qatari royal family before pushing the president to toe hard line against the Persian Gulf nation, reports say.
Kushner – a real-estate developer like his father-in-law – purchased a tower at 666 Fifth Avenue in New York for $1.8 billion some years ago, but the building failed to generate enough money to cover its debts, according to The New York Times. More than a quarter of the office space in the building has remained vacant for several years, causing huge losses to Kushner Companies.
In 2015, when Trump was launching his presidential campaign, Kushner and his father targeted Qatari billionaire Sheikh Hamad bin Abdullah Al-Thani (HBJ) as a potential investor to save the property.
Al-Thani, who was the prime minister of Qatar from 2007 to 2013, finally agreed to invest $500 million in the property, according to The Intercept*, on the condition that Kushner Companies generate the rest of the money for the project on its own.
Qatari billionaire sheikh Hamad bin Abdullah Al-Thani
In March this year, Kushner Companies reached out to Chinese insurance company Anbang for help. The company agreed to provide a $4 billion loan to develop the property. But weeks later, the company pulled out. Al-Thani killed the deal as Kushner Companies could not secure the rest of the money.
Shortly after that, America's regional allies, including Saudi Arabia, the United Arab Emirates, Bahrain, and Egypt, severed ties with Qatar, accusing it of supporting terrorism.
Trump, who earlier visited Saudi Arabia, suggested he was behind the punishing moves against Qatar. Kushner also negotiated a massive weapons deal between Saudi Arabia and American weapons manufacture Lockheed Martin which was signed during Trump's visit to the kingdom in May.
The $110 billion arms deal signed by Saudi King Salman and US President Donald Trump was a component of $350 billion in economic and military investments between the two countries over the next 10 years, according to US Secretary of State Rex Tillerson.
American analysts have blamed Kushner and his father-in-law for promoting America's armament industry by fueling conflicts in the Middle East region.
*
Trump's Criminal History Should Be Front and Center
What gets lost amidst all the outrageous things Donald Trump says is his record of criminal activity and alleged criminal activity. It is as if the media and public assume that Trump cannot be both an outrageous buffoon and a criminal. Here is a summary of the most notable allegations against Donald Trump, conveniently all in one place.
-Trump and his father were sued by the federal government for housing discrimination in the 1970's for refusing to rent to blacks after an uncover investigation. They lost, signed a consent decree, and were forced to desegregate their properties, which they later violated.
-He is being charged with fraud in connection with Trump University. Eric Schneiderman, the Attorney General of New York, who is prosecuting Trump, told CNN, "If you look at the facts of this case, this shows someone who was absolutely shameless in his willingness to lie to people, to say whatever it took to induce them into his phony seminars. Telling people who are in hard economic times — we're talking about 2008, 2009 — people desperate to hold onto their homes, to make some money, convincing them that he will teach them his entrepreneurial secrets."
– Trump Tower was built using undocumented Polish laborers to demolish the building that previously stood on the site. At trial, the workers testified they worked without basic safety equipment like hardhats and gloves and they were supposed to earn $5 an hour from Trump's low-bid contractor. But court documents show that for weeks, they were paid nothing. An NBC News story in which numerous witnesses were interviewed showed that Trump knew about the undocumented, unpaid workers. Yet under oath, Trump testified that he knew nothing, thus adding perjury allegations to the labor law violations.
-Trump is alleged to have violated immigration laws in hiring foreign models for Trump Model Management. These models worked illegally, and he failed to pay them fairly. Two of the former Trump models said Trump's agency encouraged them to deceive customs officials about why they were visiting the United States and told them to lie on customs forms about where they intended to live. "It's like modern-day slavery," one model told Mother Jones. Senator Barbara Boxer has called for the Department of Homeland Security to investigate Trump for human trafficking in relation to Trump Model Management.
– Trump's charitable foundation appears to have repeatedly broken IRS rules, according to the Washington Post. In five cases, the Trump Foundation told the IRS that it had given a gift to a charity whose leaders told The Post that they had never received it. In two other cases, companies listed as donors to the Trump Foundation told The Post that those listings were incorrect.
-His charitable foundation violated tax laws by giving a $25,000 political contribution to a campaign group connected to Florida's attorney general, Pam Bondi, in 2013. As a registered nonprofit, the Trump Foundation was not allowed to make political donations. He paid a $2,500 fine.
-Trump is accused of bribing the Attorney General of Florida, Pam Bondi to drop her investigation of Trump University. She successfully solicited a donation from him before the fraud case, and afterward, he held a fundraiser for her at his Mar-a-Lago resort in Palm Beach.
-In 2007 and in 2012, Trump and his wife bought two gifts for themselves at charity events for his foundation, totaling $32,000, breaking IRS rules. One gift was a $20,000 painting of himself.
-A deposition describes him raping his first wife Ivana, pulling out fistfuls of her hair in a fit of rage, stripping off her clothes, then penetrating her forcefully without her consent, after which she hid in a locked room and cried all night, as revealed in the 1993 book Lost Tycoon: The Many Lives of Donald J. Trump, and described in a Daily Beast article. The divorce was granted on grounds of Donald's "cruel and inhuman treatment" of Ivana.
-He is currently being charged with child rape in a case for which there is an eyewitness and credible information to support the claim. The woman filing suit in April 2016 claims that as a 13-year-old in 1994, she was enticed to attend parties with the promise of money and modeling jobs at the home of Jeffrey Epstein, a Level 3 registered sex offender (the most dangerous kind), after Epstein was convicted of misconduct with another underage girl.
The woman alleges Trump initiated sexual contact with her on four separate occasions, with the fourth being a "savage sexual attack" in which he tied her to a bed and forcibly raped her while she pleaded with him to stop. He threatened that she and her family would be "physically harmed if not killed" if she ever revealed what was done. The eyewitness, Epstein's party planner wrote, "I am coming forward to swear to the truthfulness of the physical and sexual abuse that I personally witnessed of minor females at the hands of Mr. Trump and Mr. Epstein . . . I swear to these facts under the penalty for perjury even though I fully understand that the life of myself and my family is now in grave danger." Trump told a reporter a few years ago: "I've known Jeff for 15 years. Terrific guy. He's a lot of fun to be with. It is even said that he likes beautiful women as much as I do, and many of them are on the younger side . . ."
In sum, this history and these allegations alone would disqualify someone from a job as a camp counselor, bank teller, or any position of trust. Imagine what Human Resources would say to this record. Perhaps Trump could get a job pumping gas. But President of the United States? I don't think so. Many have served prison time for doing a lot less.
=
Kushner's Felon Father Back at Helm of New York Empire With Two Fellow Inmates
"It can't hurt to be doing business with Jared Kushner's family. It's a road to the administration."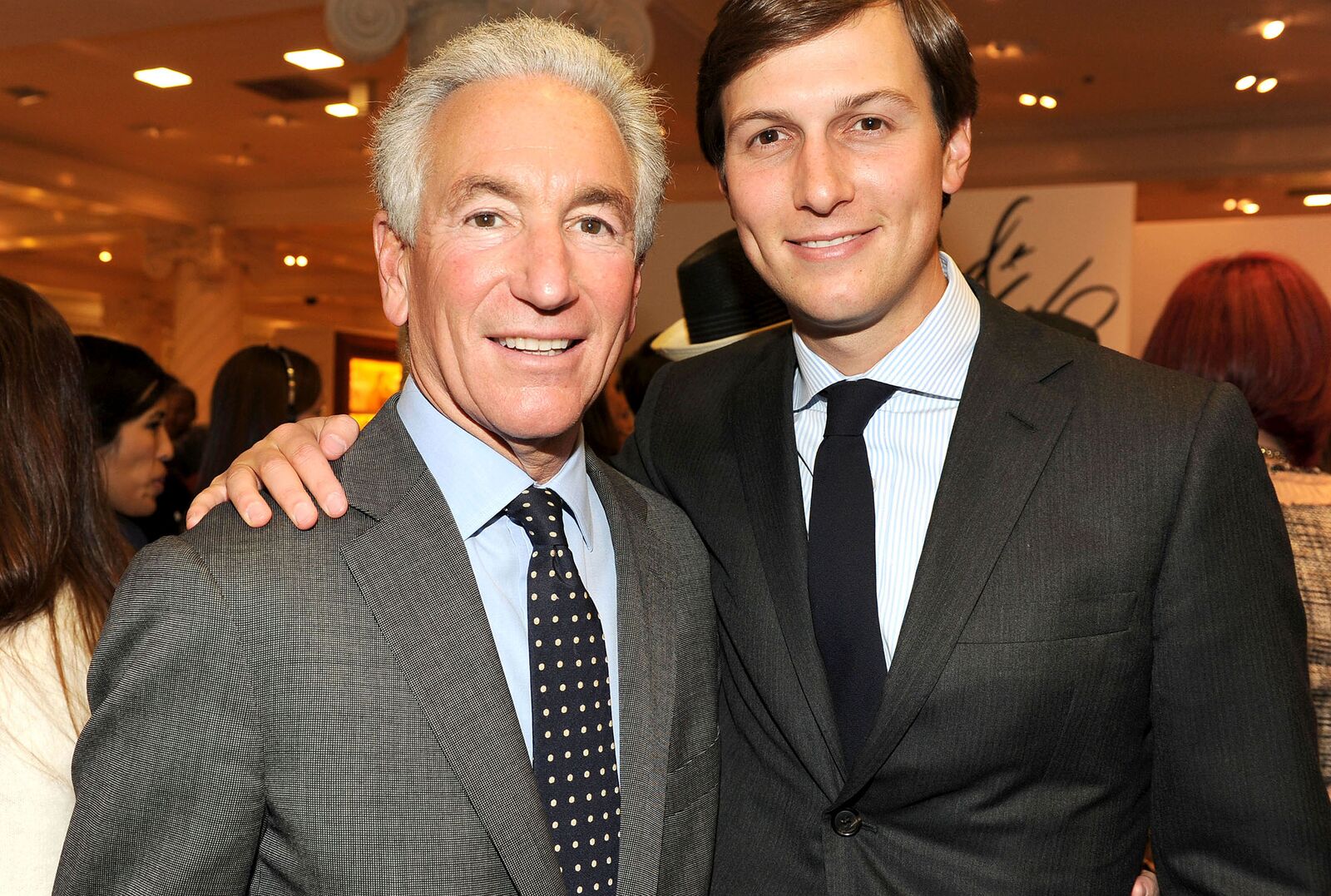 It's hard to find work right out of prison. But Avram Lebor and Richard Goettlich walked from their Alabama penitentiary into top jobs at the real estate company then run by Jared Kushner, now President Donald Trump's son-in-law and senior adviser. The two men, convicted in separate sprawling fraud schemes, were hired several years ago by his father, Charles Kushner, who had been locked up in the same federal prison with them.
As 36-year-old Jared Kushner settles into a White House role that includes personnel decisions and Middle East peace, the most extensive organizational experience he has to draw from is his lifetime at the closely held family real estate company, where his father is once again deeply involved. It's a business where, like Trump's, family and loyalty loom large. Management at Kushner Cos. has been mercurial, its feuds bruising and its political influence considerable. Recent joint ventures and investments expanded by Jared could lead to opportunities for unseen influence. Given the company's history, ethics lawyers say, such opportunities merit close watching.
"It can't hurt to be doing business with Jared Kushner's family," said Larry Noble, general counsel for the Campaign Legal Center, a nonpartisan organization focused on election laws. "It's a road to the administration. At the very least they're going to have an inside track."
In theory, both Kushner and Trump have dealt with the risk of conflicts of interest. Trump is turning over control of his business to his sons. Kushner has gone further, selling his share in many family assets. His lawyer, Blake Roberts, noted that the sale follows federal law and has been approved by the Office of Government Ethics.
Still, the purchasers are his brother and mother, and some ethicists say the potential for conflict remains; Kushner seems likely to know where the money is invested. His father, convicted in 2005 of witness tampering, illegal campaign contributions and tax evasion, remains central to the company.
Charles, 62, built Kushner Cos. as a simple business: buying and refurbishing suburban garden apartments on the East Coast. Since 2007 his son has transformed it into a flashier, more complex entity, controlling $7.5 billion of assets, according to Real Capital Analytics. It got there by trading $1.8 billion worth of the apartments for office and retail properties in Manhattan and Brooklyn, a leap that's brought in Chinese investors, a slate of equity partners and almost $4 billion of debt, much owed to international banks. Also of Jared's invention: an expanded credit arm announced after the election that will invest $1 billion into the debt structures of other people's deals over the next five years. The fund has few regulatory or public disclosure obligations.
Charles completed his two-year prison sentence in 2006 for making illegal campaign contributions and hiring a prostitute to entrap his brother-in-law. Company officials say that while it has a president, Laurent Morali, Charles has been helping shape the company's redevelopment plans, arranging deals and negotiating with officials.
"I talk to Charlie a lot. He's working harder than he's worked in a long time," said Alan Hammer, a lawyer who has known Kushner for more than 35 years, represents the company and served as its chairman while Kushner was behind bars.
Working alongside him as the firm's director of acquisitions is Lebor, 68, Kushner's fellow inmate who joined the company in 2009. Lebor and Goettlich, 61, were both in the prison when Charles arrived in April 2005. Lebor was serving a seven-year sentence after he fraudulently promoted himself as a lender and mortgage broker and collected $9 million in advance fees while promising to obtain $2.5 billion in loans for dozens of projects that were never funded. Goettlich got 10 years after pleading guilty to securities fraud, money laundering and tax evasion in 1998. At his family's firm, he'd defrauded thousands of investors in a Ponzi scheme involving office equipment leases. An initial order in 1999 to repay $271 million in fines and refunds was at the time the third-largest penalty ever imposed in a securities fraud case.
Goettlich's son started a four-and-a-half-year stint at Kushner Cos. in May 2008, first as an intern, later as an associate in its hotel subsidiary, according to his LinkedIn profile. Goettlich, whose sentence ended in December 2008, joined the firm in early 2011 and is a leasing consultant.
Lebor was released from prison in August 2009 and joined Kushner Cos., which he frequently represents at events hosted by the International Council of Shopping Centers, a trade group.
A Kushner spokesman said the company is proud to have hired Lebor and Goettlich, along with other ex-convicts, as part of its second-chance program. Charles is also a board member of Getting Out & Staying Out, which mentors young inmates at Rikers Island.
Jared is joining a Republican White House, whereas Charles, the son of Holocaust survivors, built his business partly by becoming a big donor to Democrats. In 2000 he bundled $1 million in contributions for the Democratic National Committee, and the following year he became the largest fundraiser for Jim McGreevey's campaign to become New Jersey governor. McGreevey named Kushner to the Port Authority of New York and New Jersey and later nominated him to become its chairman—a position rife with real estate business opportunities.
Before he was approved as chairman, however, the U.S. Attorney's Office, then led by Chris Christie, charged Kushner with disguising campaign donations as business expenses, tax evasion and hiring a prostitute to seduce his brother-in-law. He sent a videotape of their encounter to his own sister.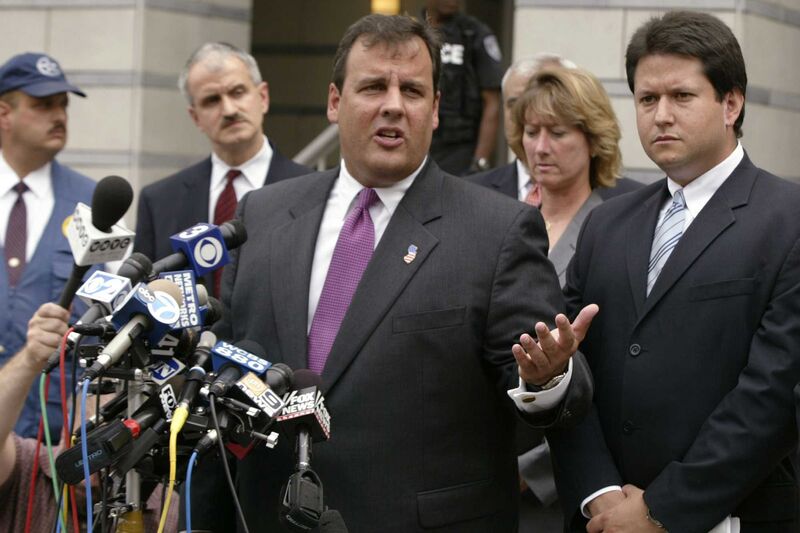 His father's imprisonment in 2005 thrust Jared into a principal role at the company at the age of 24, and strengthened his intense family loyalty. He frequently flew to Alabama for weekend visits and spoke out in the press to defend his father. When Jared completed his biggest deal in 2007, purchasing 666 Fifth Avenue, a Manhattan office tower, for a then-record $1.8 billion, his newly released father was at his side for the announcement. For years, Jared carried a wallet Charles had made for him in prison.
Some describe Jared as like his father in ambition and drive, but softer—Charlie on decaf, in the words of a friend. As publisher of the New York Observer, Jared repeatedly ordered an editor to do a story critical of a real estate developer who had crossed him. The editor, Elizabeth Spiers, wrote in a blog post that she twice assigned reporters to the story, but when neither found evidence to back up Kushner's accusations, he backed down.
Under Jared, the company has sought to wield political influence in a more nuanced way than under his father. In Jersey City, where Kushner Cos. has invested in five major projects in recent years, both Jared and his father have a close relationship with Mayor Steve Fulop. Fulop has received glowing coverage in the New York Observer, and as the Kushners were developing Trump Tower in Jersey City in 2014, they hired one of Fulop's closest political strategists to work as an expediter on the project.
The Kushners and their partners in Jersey City, the KABR Group, also quietly became major financial backers of Progressive New Jersey Inc., a nonprofit that Fulop's allies helped set up in 2014 to promote worker safety and other issues. Although the group does not disclose its donors, two people involved with the organization said that members of the Kushner-KABR partnership made a $100,000 donation. (A Kushner spokesman declined to comment on the donation.) Last year, when the mayor was publicly mulling entering the New Jersey governor's race, Progressive New Jersey made a $400,000 contribution to a pro-Fulop political action committee. After a public outcry, that donation was returned.
Those moves came as the Fulop administration has been negotiating possible subsidies for the Kushner projects. Although Fulop has been critical of using taxpayer funds to underwrite developers, Jersey City has been in discussions with the Kushners and KABR to provide $10 million in redevelopment area bonds to help finance the project, according to documents filed with the New Jersey Economic Development Authority.
Mayor Fulop's office said he was unaware that the Kushners had employed his chief strategist to work on development projects in the city or donated to Progressive New Jersey Inc. Jennifer Morrilli, his press secretary, said Fulop had never received financial support from the Kushners. Any requests the Kushner companies make for tax abatements or bond subsidies will be decided strictly according to city policy, Morrilli said. KABR didn't respond to a request for comment.
Now that Trump and Kushner have taken office, the potential for conflicts has grown.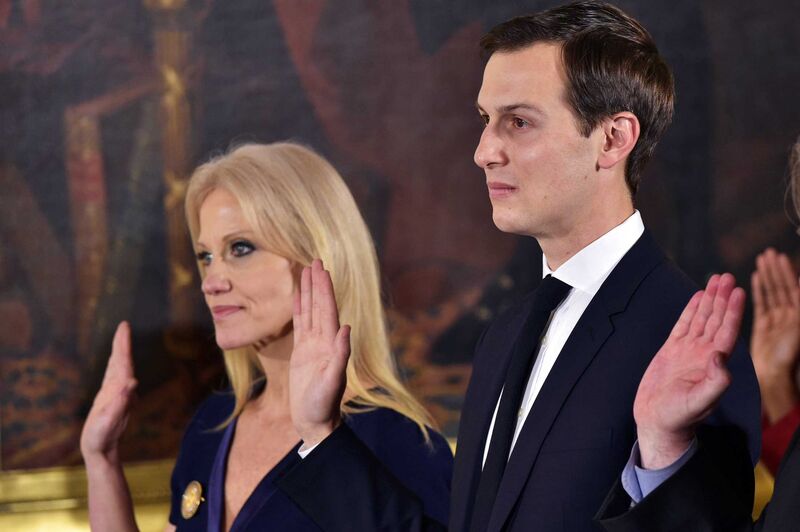 In the weeks before the election, Kushner refinanced $370 million of debt on stores in Midtown Manhattan, with Deutsche Bank taking on $285 million, documents show. This mirrors a relationship with the president, whose companies owe more than $300 million to Deutsche Bank, his biggest lender. Unrelated to those loans, the Justice Department, which is now overseen by a Trump appointee, has been investigating Deutsche Bank.
Days after Trump announced he was stepping down from his corporate functions, he met with Steve Roth, the head of Vornado Realty Trust, a company with deep financial ties to both the Trump and Kushner companies. Roth had been on an economic advisory council for Trump's campaign. When the candidate raised funds for veterans, Roth contributed $50,000. And when Trump won the New York Republican primary, Roth was at the victory party.
President Trump asked him to join a committee that will oversee the doling out of more than $100 billion in tax breaks to encourage $1 trillion in infrastructure spending—just the kind of public works spending that could bring vast benefits to real estate developers.
Vornado has bailed both family firms out of tough situations. In 2007, when Trump was in an unhappy partnership involving two buildings, Vornado bought his Chinese partners out; today, Trump's stake in the two buildings is his most valuable asset.
Four years later, when Kushner's investment in 666 Fifth Avenue was teetering near insolvency, Vornado salvaged the deal for him and now owns nearly half of the building's office space. Jared Kushner has met with executives from state-controlled Chinese financial powerhouse Anbang Insurance Group Co. to discuss a possible redevelopment of the tower, the New York Times reported earlier this month.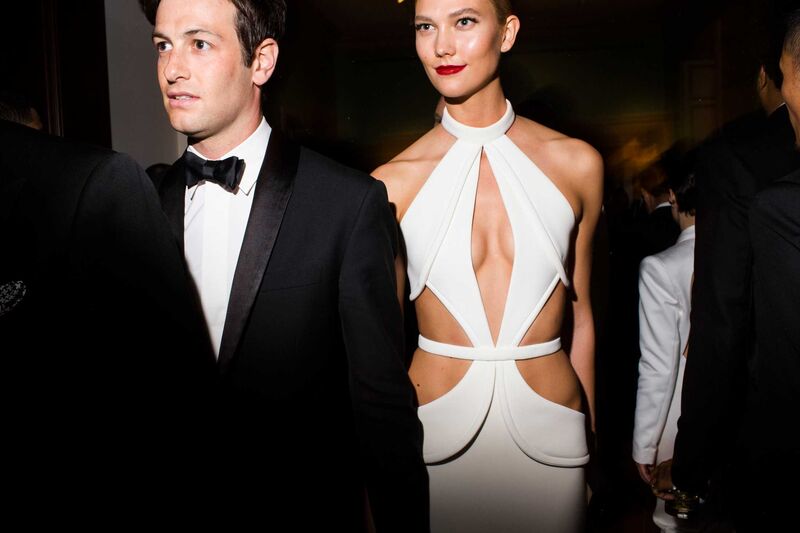 The CEO of Vornado at the time, Michael Fascitelli, donated the maximum to Trump's campaign and now heads the investment committee of Cadre, a real estate investing startup co-founded by Jared and his brother, Joshua. Cadre plans to invest $1 billion from 2,000 undisclosed donors into real estate in 2017. An unidentified family office has provided $250 million to the firm to help it ensure deals. Spokesmen for Vornado and Cadre didn't provide comment.
Cadre's financial ties mirror those of another of its investors: Thrive Capital, Josh Kushner's venture firm, which had raised $1.5 billion from investors through July, to place into investments such as messaging app Slack, online-payments company Stripe, and Oscar, which sells insurance under the Affordable Care Act. Billionaire Peter Thiel, Trump's most vocal supporter in Silicon Valley, was an early investor. Thrive, from which Jared is divesting, declined to comment.
All of which leads ethics specialists to feel that the potential for conflicts is deep. Charles Kushner has already made at least one visit to the White House—he was in the front row at Jared's swearing-in ceremony, flanked by his wife and Josh.
"The perception is, if you're interacting with his family, you're also interacting with Jared, even if it's indirectly," said Andrew D. Herman, a lawyer who's represented many members of Congress on ethics issues. "It will be impossible to know when a decision is made for policy reasons or because it benefits his family in some way."
—With assistance from Max Abelson and David Voreacos
Get in touch with us about this story. Send an email to tips@bloomberg.net.
=
The Many Scandals of Donald Trump: A Cheat Sheet
One of the women who accused Trump of sexual misconduct has sued him for defamation after he labeled her claims false.