Aung San Suu Kyi Cuối cùng cũng lòi ra chỉ là một kẻ làm chính trị trong vai "Nhà Ái Quốc Phật Giáo và Dân Tộc"
—-
Nền Dân Chủ  Thật Sự đúng nghĩa không thể hiện hữu khi Nhân Quyền Tự Do không được tôn trọng và bảo vệ từ QUẦN CHÚNG. Nền NHÂN QUYỀN và TỰ DO chỉ thật sự  hiện hữu  khi  nền Dân Trí đã được xây dựng trong đa số quần chúng mà thôi. PQC
Tự Do không thể tồn tại khi quảng đại quần chúng không có dân trí

-Liberty cannot be preserved without general knowledge among the people. POTUS

John Adams
==================
Bản chất hủy diệt của chủ nghĩa quốc gia dân tộc và tôn giáo nó hủy diệt từ NHÂN TRÍ, nền tảng của nền DÂN TRÍ đến toàn diện XÃ HỘI, sự hủy hoại này nó quá  hiển nhiên với chứng cớ đầy dẫy trải dài từ ngàn xưa đến nay, và đang xảy ra trước mặt mọi người ở ngay thế kỷ 21 này, trong mọi kích thước và hình dạng, tại tất cả các xã hội từ Đông qua Tây, từ các xã hội còn bán khai cho đến những nơi tiến bộ. Tại sao vậy? Chính vì bản chất chủ đích ngu dân và mù quáng của  tôn giáo, và đặc biệt, chủ nghĩa quốc gia dân tộc là một tôn giáo mê tín bạo ngược hữu hiệu và ăn khách nhất của bọn quyền chính.
Miến điện đang là một điển hình rõ rệt của căn bệnh này. Miến Điện đã bị hai con đại vi khuẩn hoại nhân tính này thao túng từ xưa cho đến hiện nay. Điều mỉa mai là Nạn nhân mới của hai con vi trùng tôn giáo và dân tộc lại ngay chính là thụ nhân giải Nobel Hòa Bình và Nhân Quyền tăm tiếng:  Aung San Suu Kyi.
Aung San Suu Kyi, (theo tiếng Miến có nghĩa là con gái của Aung San).  Aung San là "quốc phụ" của nước Miến Điện, theo chủ nghĩa quốc gia trong cao trào đòi độc lập từ đế quốc Anh (1947).(***Có lẽ đây là "văn hóa truyền thống" bán khai phụ hệ tại khu vực này- vì tại Nam dương, vị nữ tổng thống đầu tiên là Megawati Sukarnoputri con gái của quốc phụ Sukarno, cũng với cái tên Sukarnoputri, con gái của Sukarno (putri nghĩa là con gái)
Aung San Suu Kyi, dù không chính thức trong ngôi vị tổng thống, lên cầm quyền sau một cuộc bầu cử ngày 8 tháng 11 năm 2015 với kết quả thắng phiếu 77% –
Final Myanmar results show Aung San Suu Kyi's party won 77%
– Theo "hiến-pháp" do bọn quân phiệt chủ nghĩa quốc gia dân tộc đặt ra, Điều 59F- người Miến có quốc tịch nước ngoài hoặc/và là vợ chồng, con cái của công dân nước ngoài – không được làm tổng thống- ("legitimate children… owes allegiance to a foreign power"-
Myanmar's 2015 landmark elections explained.
Hiến Pháp Quân Phiệt Miến Điện:

Article 59F reads:

'(f) shall he himself [the President], one of the parents, the spouse, one of the legitimate children or their spouses not owe allegiance to a foreign power, not be subject of foreign power or citizen of a foreign country. They shall not be persons entitled to enjoy the rights and privileges of a subject of a foreign government or citizen of a foreign country.'

-Article 59D. -the President:

'(d) shall be well acquainted with the affairs of the Union such as political, administrative, economic and military.'
Nhưng Aung San Suu Kyi thật sự nắm quyền điều khiển đảng Liên Đoàn Quốc Gia Dân Chủ (lại dân chủ)
National League for Democracy
mà bà ta là Chủ tịch- ngoài ra còn là Cố Vấn Quốc Gia đầu tiên và đang tại chức của chính phủ Miến-
First and incumbent State Counsellor
. Tuy vậy Aung San Suu Kyi không nắm được bọn quân đội, vì cũng theo "hiến pháp" bọn quân đội được quyền đương nhiên nắm 25% số ghế, không cần ứng cử- trong "
quốc hội- gọi là Hluttaw"- không những vậy 25% này còn có quyền phủ quyết bất cứ tu chính hiến pháp nào!!! Điều mà bọn quân phiệt gọi là "nền dân chủ kỷ luật" ("disciplined democracy"), bài bản giống như lũ thổ phỉ Hồ Chí Minh gọi cơ chế của chúng là "nền dân chủ tập trung trong cái hòm"(chữ của phỉ Hồ đặt ra- xin đọc Hồi Ký Viết Cho Mẹ và Quốc  Hội của đảng viên Bảy Trấn).
"Nếu một điều luật bất công, thì một người không chỉ có quyền bất tuân mà bổn phận phải bất tuân như vậy"– If a law is unjust, a man is not only right to disobey it, he is obligated to do so."Thomas Jefferson

"Người ta có một ttrách nhiệm đạo lý phải bất tuân luật pháp không chính đáng" One has a moral responsibility to disobey unjust laws."

"

Một cá nhân vi phạm chống  luật mà lương tâm cho thấy bất công, và sẵn sàng chấp nhận hình phạt tù tội để đánh thức lương tâm quần chúng về tính bất công đó, thì thực tế họ đã biểu hiện tôn trọng pháp luật ở mức cao nhất

"- (An individual who breaks a law that conscience tells him is unjust, and who willingly accepts the penalty of imprisonment in order to arouse the conscience of the community over its injustice, is in reality expressing the highest respect for the law"

―

Martin Luther King Jr.

"Phản kháng vượt khỏi ngoài pháp luật không phải là từ bỏ dân chủ, mà chính là tuyệt đối cần thiết cho dân chủ:"

( Protest beyond the law is not a departure from democracy; it is absolutely essential to it."

―

Howard Zinn
"

Một điều luật không chính đáng công lý tự nó là một loại bạo lực. Bắt bớ những ai vi phạm luật này lại càng bạo ngược hơn. Giờ đây nguyên lý luật bất bạo động kêu gọi sự bạo ngược đó phải bị chống lại không phải bằng bạo động mà bằng bất bạo động. Vì vậy Tôi vi phạm luật này bằng cách đưa thân bị bắt và bị tù một cách ôn hòa

– (Un unjust law is itself a species of violence. Arrest for its breach is more so. Now the law of nonviolence says that violence should be resisted not by counter-violence but by nonviolence. This I do by breaking the law and by peacefully submitting to arrest and imprisonment."

―

Mahatma Gandhi

,

Non-violence in Peace and War 1942-49
Miến Điện hiện nay đúng là cuộc tương tranh quyền lực bên cạnh kế hoạch chủ đạo chính sách chống hồi giáo toàn cầu từ Âu Mỹ Do Thái. Đây là chỉ dấu cho thấy Miến (phật giáo) và Phi Luật Tân (Ky Tô giáo)  đang được dùng như những mô đắp và mũi dùi kềm hãm và gây căng thẳng đối trọng với khối Hồi giáo tại khu vực này là Nam Dương và Mã Lai- hai quốc gia Hồi giáo lớn tại khu vực.  Nó cho thấy rõ ràng bọn nhà nước Âu Mỹ Do Thái không hề lên án chính sách diệt chủng người thiểu số Hồi giáo, trừ các tổ chức Nhân Quyền thực thụ- Chúng vẫn đón tiếp o bế Aung San Suu Kyi, dù bà ta công khai chối bỏ bằng chứng tội ác diệt chủng đang diễn ra tại Miến Điện và do dự không chính thức lên tiếng và lên án hành động này của QUÂN ĐỘI, giáo hội PHẬT GIÁO Miến, và DÂN CHÚNG Miến!
=
Chúng ta chưa thể nắm rõ hết tình hình bên trong để biết rõ Aung San Suu Kyi đã thay đổi mầu sắc chủ trương ra sao, điều này rất khó- Tuy nhiên cho đến nay Aung San Suu Kyi đã cho thấy rất yếu kém trong tiêu chí KHAI TRIỂN DÂN CHỦ và NHÂN QUYỀN, mà hầu như tỏ ra
ngụy biện chống chế bao che sự kiện diệt chủng
, chìều theo hướng chủ nghĩa quốc gia dân tộc (
xem phần phỏng vấn mới nhất của BBC- và ra lệnh cấm không được dùng tên Rohingya để nói về nhóm người hồi giáo Miến này
), một vũ khí bị bọn quân phiệt nắm đằng cán rất chặt chẽ. Aung San Suu Kyi chỉ là nhà dân chủ nhân quyền thật sự khi tận dụng vị trí đặc biệt của mình để  không chỉ điều hành quốc gia mà còn chính là VẬN ĐỘNG DÂN TRÍ để thay đổi toàn diện nền tư duy dân Miến. Thực hiện được nền tảng then chốt không thể thiếu này. Aung San Suu Kyi mới có khả năng tháo gỡ binh quyền bạo ngược của bọn quân đội để kéo xã hội Miến đi lên về hướng dân chủ thật sự, và thực hiện trưng cầu dân ý một bản Hiến pháp mới thực sự dân chủ. Bằng không Aung San Suu Kyi cũng chỉ lòi ra là một kẻ làm chính trị theo chủ nghĩa bán khai quốc gia dân tộc khoác áo dân chủ đang bắt đầu tơi tả mà thôi.
Là một người  du học từ nhỏ và sinh sống rồi tốt nghiệp tại Anh, trở thành công dân Anh quốc, lập gia đình với một khoa bảng người Anh; Có quá trình làm việc cho nhiều cơ quan Âu Mỹ và Liên Hiệp Quốc… tuy không nhất thiết kinh nghiệm này đưa đến sự "hiểu biết và trân trọng giá trị tự thân" nơi xã hội Âu Mỹ, bà Aung San Suu Kyi hẳn phải nắm rõ những điều căn bản này khi dùng những giá trị đó trong chính trị bối cảnh toàn cầu với cái giải Nobel Hòa Bình trong tay.
Uy tín "nhân quyền dân chủ" của bà ta đang xuống dốc trầm trọng trong dư luận thế giới. Vấn đề diệt chủng người Miến gốc Hồi giáo
Rohingya Muslims
– là một thử thách đầu tiên và rất lớn rất quan trọng trong toàn bộ thử thách DÂN TRÍ trong TIẾN TRÌNH DÂN CHỦ HÓA nếu là thật sự của bà  Aung San Suu Kyi.
Thời gian tới sẽ cho biết bản lãnh của Aung San Suu Kyi là của một nhà dân chủ nhân quyền thật sự hay chi là một kẻ quyền chính chủ nghĩa quốc gia dân tộc với cái giảo danh Nobel Hòa Bình thổ tả như Obama.
==
PQCNKPTC
===
Burma's Aung San Suu Kyi rejects UN Rohingya probe
Aung San Suu Kyi on Tuesday rejected a decision by the UN's rights council to investigate allegations of crimes by Burma's security forces against minority Rohingya Muslims.
The UN body agreed in March to dispatch a fact-finding mission to the Southeast Asian country over claims of murder, rape and torture in Rakhine state.
"We do not agree with it," Ms Suu Kyi, Burma's de facto leader, told a press conference with EU diplomatic chief Federica Mogherini during a visit to Brussels, when asked about the probe.
"We have disassociated ourselves from the resolution because we do not think that the resolution is in keeping with what is actually happening on the ground."
Nobel laureate Suu Kyi said that Burma, also known as Myanmar, would be "happy to accept" recommendations that were "in keeping with the real needs of the region.
"But those recommendations which will divide further the two communities in Rakhine we will not accept, because it will not help to resolve the problems that are arising all the time."
Ms Suu Kyi has seen her international star as a rights defender wane over failing to speak out about the treatment of the Rohingya or to condemn the crackdown.
"I am not sure quite what you mean by saying that we have not been concerned at all with regards to the allegations of atrocities that have taken place in the Rakhine," she said.
"We have been investigating them and have been taking action."
Ms Mogherini called on Burma to support the UN inquiry.
"The establishment of the fact-finding mission is one of the very few issues of disagreement between us," she said alongside Ms Suu Kyi.
"This can contribute in establishing the facts for the past, provided that we fully agree on the need to work together on the way forward," she said.
UN investigators say the crackdown likely amounts to crimes against humanity and ethnic cleansing.
But Ms Suu Kyi told the BBC earlier this month: "I don't think there is ethnic cleansing going on."
==
Aung San Suu Kyi: No ethnic cleansing of Myanmar Muslim minority
Aung San Suu Kyi has denied there is ethnic cleansing of the Rohingya Muslim minority in Myanmar, despite widespread reports of abuses.
In an exclusive interview with the BBC, the Nobel peace prize winner acknowledged problems in Rakhine state, where most Rohingya people live.
But she said ethnic cleansing was "too strong" a term to use.
Instead, Myanmar's de-facto leader said the country would welcome any returning Rohingya with open arms.
"I don't think there is ethnic cleansing going on. I think ethnic cleansing is too strong an expression to use for what is happening," she told the BBC's special correspondent Fergal Keane.
Ms Suu Kyi added: "I think there is a lot of hostility there – it is Muslims killing Muslims as well, if they think they are co-operating with the authorities.
"It is not just a matter of ethnic cleansing as you put it – it is a matter of people on different sides of the divide, and this divide we are trying to close up."
The Rohingya are denied citizenship in Myanmar, also known as Burma, which views them as illegal immigrants from Bangladesh. They face routine official and public discrimination.
Tens of thousands of Rohingya live in make-shift refugee camps after being displaced by communal violence in 2012.
In recent months, some 70,000 have fled to Bangladesh to escape a government military operation in Rakhine, launched after nine policemen were killed in an attack.
The United Nations announced last month it was to conduct an investigation into allegations the military has been indiscriminately targeting the Rohingya during the operation, subjecting them to rape, murder and torture. The government has denied this.
For many, Ms Suu Kyi's perceived silence on the Rohingya has damaged the reputation she earned as a beacon for human rights, thanks to her decades-long battle against the military junta, during much of which she was under house arrest.
She has come under increasing pressure internationally on the issue.
But speaking in a face-to-face interview for the first time this year, Ms Suu Kyi said she had answered questions on the issue previously.
"This question has been asked since 2013, when the last round of troubles broke out in Rakhine.
"And they [the journalists] would ask me questions and I would answer them and people would say I said nothing.
"Simply because I did not make the statements people wanted, which people wanted me to make, simply to condemn one community or the other."
Ms Suu Kyi said she had no idea why the October attacks were carried out, but speculated it may have been an effort to derail attempts to negotiate peace between the Myanmar state and the country's various armed ethnic insurgent groups.
She also denied the army had free rein to do whatever it liked.
"They are not free to rape, pillage and torture," she said. "They are free to go in and fight. That is in the constitution. Military matters are to be left to the army."
However, she did acknowledge that regaining control of the military was something the government still hoped to do. Under the current constitution, the military operates independently of the governing party.
---
AUNG SAN SUU KYI IS ONE of the most celebrated human rights icons of our age: Nobel Peace Laureate, winner of the Sakharov Prize, recipient of the Presidential Medal of Freedom, an Amnesty International-recognized prisoner of conscience for 15 long years.
These days, however, she is also an apologist for genocide, ethnic cleansing and mass rape.
For the past year, Aung San Suu Kyi has been State Counselor, or de facto head of government, in Myanmar, where members of the Rohingya Muslim minority in the northern Rakhine state have been shot, stabbed, starved, robbed, raped and driven from their homes in the hundreds of thousands. In December, while the world focused on the fall of Aleppo, more than a dozen Nobel Laureates published an open letter warning of a tragedy in Rakhine "amounting to ethnic cleansing and crimes against humanity."
In February, a report by the United Nations documented how the Burmese army's attacks on the Rohingya were "widespread as well as systematic" thus "indicating the very likely commission of crimes against humanity." More than half of the 101 Rohingya women interviewed by UN investigators across the border in Bangladesh said they had suffered rape or other forms of sexual violence at the hands of security forces. "They beat and killed my husband with a knife," one survivor recalled. "Five of them took off my clothes and raped me. My eight-month old son was crying of hunger when they were in my house because he wanted to breastfeed, so to silence him they killed him too with a knife."
And the response of Aung San Suu Kyi? This once-proud campaigner against wartime rape and human rights abuses by the Burmese military has opted to borrow from the Donald Trump playbook of denial and deflection. Her office accused Rohingya women of fabricating stories of sexual violence and put the words "fake rape" — in the form of a banner headline, no less — on its official website. A spokesperson for the Foreign Ministry — also controlled directly by Aung San Suu Kyi — dismissed "made-up stories, blown out of proportion." In February, the State Counselor herself reportedly told the Archbishop of Yangon, Charles Bo, that the international community is exaggerating the Rohingya issue.
This is Trumpism 101: Deny. Discredit. Smear.
It was all supposed to be so different. In November 2015, Myanmar held its first contested national elections after five decades of military rule. An overwhelming victory for Aung San Suu Kyi, leader of the opposition National League for Democracy (NLD) and former political prisoner, was going to usher in a new era of democracy, human rights and respect for minorities. That, at least, was the hope.
The reality has been very different. Less than a year after taking office, Burmese security forces launched a brutal crackdown on the Rohingya after an attack on a border outpost in Rakhine killed nine police officers in October. The northern portion of the state was sealed off by the military and humanitarian aid was blocked, as was access to foreign journalists and human rights groups. Hundreds of Rohingya Muslims are believed to have been slaughtered and tens of thousands driven across the border into Bangladesh.
This is only the latest chapter in the anti-Rohingya saga. The Muslim residents of Rakhine have been subjected to violent attacks by the military since 2012 and were stripped of citizenship, and rendered stateless, as long ago as 1982. The 1-million odd Rohingya Muslims live in apartheid-like conditions: denied access to employment, education and healthcare, forced to obtain permission to marry and subjected to a discriminatory "two-child" policy. "About 10 percent are held in internment camps," according to Patrick Winn, Asia correspondent for Public Radio International. "The rest are quarantined in militarized districts and forbidden to travel."
The standard Western media narrative is to accuse The Lady, as she is known by her admirers, of silence and of a grotesque failure to speak out against these human rights abuses. In an editorial last May, the New York Times denounced Suu Kyi's "cowardly stance on the Rohingya."
Yet hers is not merely a crime of omission, a refusal to denounce or condemn. Hers are much worse crimes of commission. She took a deliberate decision to try and discredit the Rohingya victims of rape. She went out of her way to accuse human rights groups and foreign journalists of exaggerations and fabrications. She demanded that the U.S. government stop using the name "Rohingya" — thereby perpetuating the pernicious myth that the Muslims of Rakhine are "Bengali" interlopers (rather than a Burmese community with a centuries-long presence inside Myanmar.) She also appointed a former army general to investigate the recent attacks on the Rohingya and he produced a report in January that, not surprisingly, whitewashed the well-documented crimes of his former colleagues in the Burmese military.
Silence, therefore, is the least of her sins. Silence also suggests a studied neutrality. Yet there is nothing neutral about Aung San Suu Kyi's stance. She has picked her side and it is the side of Buddhist nationalism and crude Islamophobia.
In 2013, after an interview with the BBC's Mishal Husain, Aung San Suu Kyi complained, "No one told me I was going to be interviewed by a Muslim." In 2015, ahead of historic parliamentary elections, the NLD leader purged her party of all Muslim candidates, resulting in the country's first legislature without any Muslim representation whatsoever. Like a Burmese Steve Bannon, she paranoiacally speaks of "global Muslim power" being "very great" — only 4 percent of the Burmese population, incidentally, is Muslim — while conspiratorially dismissing reports of Buddhist-orchestrated massacres in Rakhine as "Muslims killing Muslims."
This is a form of genocide denial, delivered in a soft tone and posh voice by a telegenic Nobel Peace Prize winner. Genocide, though, sounds like an exaggeration, doesn't it? Pro-Rohingya propaganda, perhaps? Yet independent study after independent study has come to the same stark and depressing conclusion: genocide is being carried out against the Rohingya. For example, an October 2015 legal analysis by the Allard K. Lowenstein International Human Rights Clinic at Yale Law School, found "strong evidence… that genocidal acts have been committed against Rohingya" and "that such acts have been committed with the intent to destroy the Rohingya, in whole or in part."
Another report published in the same month, by the International State Crime Initiative at Queen Mary University of London, concluded that "the Rohingya face the final stages of genocide" and noted how "state-sponsored stigmatisation, discrimination, violence and segregation … make precarious the very existence of the Rohingya."
Aung San Suu Kyi, argues Maung Zarni, a Burmese scholar and founder of the Free Burma Coalition, holds "genocidal views towards the Rohingya" because "she denies Rohingya identity and history." Genocide, he tells me, "begins with an attack on identity and history. The victims never existed and … will never exist."
The State Counselor, from this perspective, is not simply standing by as genocide occurs; she is legitimizing, encouraging and enabling it. When a legendary champion of human rights is in charge of a government that undertakes military operations against "terrorists," smearing and discrediting the victims of gang rape and loudly denying the burning down of villages and forced expulsion of families, it makes it much harder for the international community to highlight those crimes, let alone intervene to halt them. In recent years, in fact, Western governments have been rolling back political and economic sanctions on Myanmar, citing the country's "progress"on democracy and pointing to the election victory of Aung San Suu Kyi and her NLD.
Politicians and pundits in the West, observes Zarni, long ago adopted Aung San Suu Kyi as "their liberal darling — petite, attractive, Oxford-educated 'Oriental' woman with the most prestigious pedigree, married to a white man, an Oxford don, connected with the British Establishment." Belatedly, the West's journalists, diplomats and human rights groups "are waking up to the ugly realities that she is neither principled nor liberal," he adds.
It may be too little and too late, however. Around 1,000 Rohinga are believed to have been killed since October and more than 70,000 have been forced to flee the country. Yet Aung San Suu Kyi continues to shamelessly tell interviewers, such as the BBC's Fergal Keane last week, that there is no ethnic cleansing going on and that the Burmese military are "not free to rape, pillage and torture" in Rakhine. Is this the behavior of a Mandela… or a Mugabe?
"Saints should always be judged guilty," wrote George Orwell, in his famous 1949 essay on Mahatma Gandhi, "until they are proved innocent." There is no evidence of innocence when it comes to Aung San Suu Kyi and her treatment of the Rohingya — only complicity and collusion in unspeakable crimes. This supposed saint is now an open sinner. The former political prisoner and democracy activist has turned into a genocide-denying, rape-excusing, Muslim-bashing Buddhist nationalist. Forget the house arrest and the Nobel Prize. This is how history will remember The Lady of Myanmar.
From icon to politician: Fergal Keane, BBC News in Myanmar
I meet her in Nay Pyi Daw, a relic of the absurdity and paranoia of military rule, a capital marooned far from the people, designed to keep the generals safe but where the new democratic government is now trying to consolidate a hold on power.
I first interviewed Aung San Suu Kyi more than two decades ago on her release from the first period of house arrest in July 1995. Since then I have followed her progress through renewed house arrest, military crackdowns and then the triumph of democratic elections last year.
The atmosphere when we met was friendly. She discussed her government's achievements but refused absolutely to accept that the Rohingya Muslims in Rakhine state were the victims of ethnic cleansing.
These days she is wary of the international media, disdainful of her international critics, far more the steely politician than the global icon feted from capital to capital when she was released seven years ago.
---
Ms Suu Kyi also defended the progress her government had made since sweeping to power in March last year.
The number one priority – creating jobs – had been helped by investment into roads, bridges and bringing electricity to communities. Healthcare has also improved, and more free elections have been held.
Other priorities included creating a peace in a country which has almost continuously been in a state of civil war.
And then there was discussion of giving citizenship to those who had been denied it under the military junta – like the Rohingya.
As for those Rohingya who have fled Myanmar to neighbouring countries, Ms Suu Kyi said: "If they come back they will be safe. It is up for them to decide, some have come back.
"We welcome them and we will welcome them back."
Why the Guild is right to change the name of the Aung San Suu Kyi Room
The Liverpool Guild of Students is currently in the process of choosing a new name for what was formerly known as the Aung San Suu Kyi Room. This is due to a recent Change It petition which requested that the name of the room be changed because of Suu Kyi's inaction over the persecution of the Rohingya in her native Burma.
The Rohingya people of Burma are often said to be the world's most persecuted minority. Living in Arakan, also known as the Rakhine state in west Burma, the Rohingya have suffered severe human rights injustices. Being a Muslim minority in a Buddhist majority country, the Rohingya are subjected to fierce discrimination and brutal acts of violence. However, somehow the world remains silent and their plight goes largely unreported.
Making up over one million of Burma's total 50 million population, they are somehow still not regarded as one of the country's staggering number of 135 official ethnic groups. They cannot vote, and if somehow they manage to navigate institutionally enforced barriers to citizenship, they then have to identify as "naturalised" (as opposed to being Rohingya) and limits are placed on them entering certain professions such as medicine, law or running for political office. The Rohingya differ from the majority of Burmese people. For instance, they are darker in appearance and follow the Islam. The view propagated in the vast majority of Burma is that the Rohingya are a people who migrated from Bangladesh after 1826.
In recent years, Arakan has seen a spike in brutality and violence against the Rohingya with homes and entire villages set on fire by anti-Muslim mobs. Just last month alone, it was reported that over 1000 Rohingya were killed in a so-called 'army crackdown' in Rakhine State. Over a 135,000 Rohingya are now displaced in refugee camps, with another 80,000 fleeing to Bangladesh in the last 3 months, thus  20% of its population have been displaced.
The deafening silence from the Burmese State Counsellor and Nobel Peace Prize winner, Aung San Suu Kyi on the atrocities against the Rohingya in Arakan is troublesome. Despite her popularity during the 1988 uprisings and becoming a prominent political prisoner under house arrest, Aung San Suu Kyi's has dodged the media's pressurising questions on the conflict. The silence from the so-called "example of power of the powerless" in the face of the media has led to speculations into the legitimacy of Aung San Suu Kyi's leadership which has rightfully been condemned by global leaders. The Nobel Peace prize winner, Suu Kyi, has been criticised and condemned by almost a dozen Nobel Laureates for "not taking enough initiative to ensure full and equal citizenship rights of the Rohingya". In a damning open letter to the UN, the Laureates stated that "the violence in the country's Rakhine state is to have the hallmarks of Rwanda's 1994 genocide, as well as ethnic cleansing in Sudan's western Darfur region, Bosnia and Kosovo."
The woman who once gave profound speeches on human rights stood on rickety tables, looking over the gate of her house whilst under house arrest, has been long forgotten by the international community. The UN has condemned her silence and called for her to "listen to her inner voice and halt the violence". All the while in the face of the media, Suu Kyi has expressed her anger about being interviewed by a Muslim reporter from the BBC who asked her to condemn the anti-Islamic sentiment and massacre. It has even gone as far as Suu Kyi asking the United States government to not call them "Rohingya", implying she has the stance that they are illegal immigrants.
Aung San Suu Kyi has repeatedly dismissed the countless documentation of Myanmar's military committing human rights abuses. The word "fabrication" and phrases like "fake rape" have been plastered on Suu Kyi's official Facebook account to dismiss the claims. Meanwhile, a United Nations report detailed "devastating cruelty against the Rohingya" condemning the actions of the Burmese forces. A UN official even stated that the Rohingya in Burma are being ethnically cleansed and a UN report cited a "pattern of gross human rights violations" against the Rohingya. In another report, a UN official also stated that Burma looks to expel all the Rohingya from the Rakhine state.
The Guild has a long history of standing up against injustices. For example, it started protests from as early as the 1960's against issues such as apartheid, nuclear testing and US policy in Vietnam. For the Guild keep a room named after Aung San Suu Kyi after her inaction, with its rich progressive history, was a stain on the Guild's pro-human rights reputation. A room is named after Nelson Mandala, for example, because he is the type of individual that we as students respect and aspire to be. These are people who have led great lives in the face of adversity and took a stand against injustices of all kinds. Aung San Suu Kyi is not one of those individuals. From being criticised by other Nobel laureates to being condemned by the UN, Aung San Suu Kyi's silence on the ethnic cleansing of the Rohingya is something that could no longer be dismissed by the Guild. Following the Change It idea that was put forward to the Guild Student Officers, it was clear as to why the name of the room should be changed. The Guild should choose a replacement which is more appropriate; someone who is respected and celebrated by the student population, someone who have a made a positive contribution to the world.
If you would like to contribute to relief efforts in support of the Rohingya people, please visit:  www.justgiving.com/Rohingya2017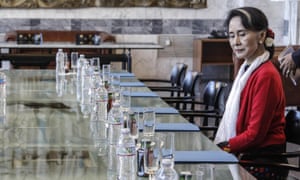 When Aung San Suu Kyi was finally able to collect her Nobel peace prize in 2012, the committee's chairman described how her "firmness of principle" in the struggle for human rights and democracy had made her "a moral leader for the whole world". Since taking power in Myanmar, the former political prisoner's moral credibility has been vastly diminished if not demolished by her failure to even acknowledge the brutal persecution of the Rohingya minority in Rakhine state. A dozen fellow Nobel peace laureates have lamented her inaction faced with "a human tragedy amounting to ethnic cleansing and crimes against humanity".
On Tuesday, the increasing gulf between her and her long-time international supporters was exposed again when she appeared alongside the European Union's foreign policy chief Federica Mogherini. The EU rightly backs the United Nations human rights council's decision to dispatch a fact-finding mission over allegations of murder, rape and torture by military and security forces. She insisted the decision was "not in keeping with what is really happening on the ground" and would make matters worse.
The stateless Rohingya population, who are Muslim, have been abused and suppressed for decades. In 2012, massacres killed more than 200 people and displaced around 140,000 to what are effectively detention camps. In 2015, the International State Crime Initiative at Queen Mary University of London concluded that Myanmar was coordinating with ethnic Rakhine ultra-nationalists, racist Buddhist monks and its own security forces in a campaign of genocide. It fears that process may be escalating. In October, military "clearance operations" in northern Rakhine state following attacks on border police posts by Rohingya militants forced tens of thousands to flee; a UN report details allegations of atrocities including gang rape and child murder.
Before Aung San Suu Kyi came to power, defenders said she was biding her time and would tackle the troubles of Myanmar's ethnic minorities – of which the Rohingya are by far the most serious – in due course. Now they say her hands are tied. The military still calls the shots, particularly in border areas. This is in part down to the constitution, which awards the army the most important cabinet posts, but also because the generals control large tracts of industry. She also faces a tide of anti-Muslim nationalism. But her own office plastered the words "fake rape" across its website to discredit reports of sexual abuse by troops. The rights of some humans seem more important than others.
The UN mission should, of course, be able to investigate unimpeded. Myanmar's record of obstructing journalists, NGOs, academics and other researchers is unacceptable. But the evidence of crimes against humanity is already compelling. So in the meantime the limited avenues for exerting pressure on Myanmar must be used. Working with civil society groups to challenge racial and religious hatred is extremely difficult – given such widespread hostility – but activists say it is vital. Foreign governments can play their part by making trade and other deals with Myanmar conditional on civil and human rights being tangibly upheld. Firms doing business in Myanmar should be likewise pressed to face their moral responsibilities. The Rohingya cannot wait for Aung San Suu Kyi or yet more reports.
Burma warns 'false news' being spread to discredit Aung San Suu Kyi government
Police pledge to prosecute those responsible for dissemination of what they deem to be misinformation about country's political stability and plight of Rohingya Muslims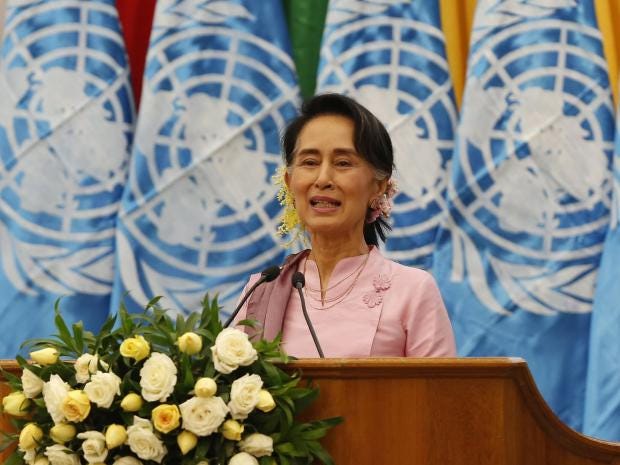 Burma's government has warned the public that false news and rumours are being spread by unidentified people wishing to cause "political instability" during the tenure of leader Aung San Suu Kyi, state-run media said on Friday.
Nobel laureate Suu Kyi took power in April 2016 as part of a transition from military rule.
Her first year in power has been beset by bureaucratic inertia, ethnic and religious tensions, and conflicts that have displaced tens of thousands, including an estimated 75,000 Rohingya Muslims who fled to Bangladesh amid a military crackdown late last year.
Rumours emerged in recent days that President Htin Kyaw – who Suu Kyi picked for head of state – would step down. Suu Kyi directs the civilian administration in the specially created role of state counsellor because the constitution – drafted by the still-powerful military – bars her from the presidency.
Police said they would prosecute those responsible for the information, which has spread quickly on online social networks that have grown in popularity amid expanding freedoms and internet access in Burma.
"False news regarding the president and the state counsellor have been spread on purpose by using accounts with false names," Suu Kyi's office carried in the government's Global New Light of Myanmar newspaper on Friday.
It named two Facebook accounts that it said had published "fabricated news".
"It has been found that these acts are being done intentionally to cause political instability during the tenure of the incumbent government," Suu Kyi's office said, adding that the perpetrators wished to "create a situation among the people to live in fear and anxiety due to the spread of rumours".
Police Colonel Myo Thu Soe, national police spokesman, told Reuters an investigation was being launched and anyone intentionally spreading false news would be brought to court.
"We will conduct a focused and intensive search for those responsible for this," Myo Thu Soe said.
Copyright Reuters
Firebrand Monk Wirathu Travels to Myanmar's Troubled Rakhine State
| May 3, 2017, at 8:42 a.m.
YANGON (Reuters) – A Myanmar Buddhist monk renowned for his anti-Muslim sermons traveled to Rakhine State on Wednesday, an official said, sparking concern over religious tension in the region, where more than one million Rohingya Muslims live.
Wirathu – who once called himself the "Burmese bin Laden" – would visit the Muslim-majority northern part of the western state, said Police Colonel Nyan Win Oo of Maungdaw district police.
Police would provide security for the monk, Nyan Win Oo said, adding he was unaware of the reason for Wirathu's visit.
"He will go to ethnic villages and will be here for two or three days," he said, referring to settlements where non-Muslims live.
The Rohingya are not considered one of Myanmar's indigenous ethnic groups and are denied citizenship. They are instead regarded as illegal immigrants from neighboring Bangladesh.
An estimated 75,000 Rohingya fled across the border to Bangladesh from the Maungdaw area during a recent crackdown by Myanmar security forces in response to militant attacks on border posts.
The insurgents – who say they are fighting for Rohingya rights – killed nine policemen on Oct. 9, igniting the biggest crisis of national leader Aung San Suu Kyi's first year in power.
Soldiers and police stand accused of killings and gang rapes during the counterinsurgency operation that followed.
Several thousand non-Muslims, including members of the Buddhist Rakhine ethnic group, were also displaced by the unrest.
Wirathu, once jailed by Myanmar's former military regime, rose to prominence after the country began a transition to democracy in 2011, uncorking long-suppressed ethnic and religious tensions.
Clashes between Rohingya and Rakhine Buddhists in 2012 displaced about 140,000 people, mostly from the Muslim minority.
As violence and hate speech against Muslims spread to other parts of the country – where Muslims who are not Rohingya live among the Buddhist majority – Wirathu delivered sermons and preached on Facebook, urging Buddhists to boycott Muslim business and shun interfaith marriages.
He has continued to travel around the country despite Myanmar's highest religious authority in March barring him from preaching. Wirathu reacted to his silencing by posting online photographs of himself with his mouth taped over.
Although the recent conflict in northern Rakhine has abated in recent weeks, tensions remain high and Rohingya residents told Reuters late last month they feared traveling beyond their villages in case they encounter military patrols.
A Muslim community leader in northern Rakhine told Reuters that after hearing of Wirathu's visit, elders met and decided to issue a warning through religious networks.
"We are concerned about his trip because he always spreads hate of Muslims," said the leader, who declined to be identified for fear of reprisals.
"We informed our people to avoid any confrontation in their communication with non-Muslim people, and to be aware and not to panic."
(Writing by Simon Lewis; Editing by Robert Birsel)
Copyright 2017 Thomson Reuters.
=
Myanmar's Aung San Suu Kyi: The dark side of the hero
This is the story of the Nobel Peace Prize winner and crimes against humanity.
Soon the world will witness a remarkable sight: a beloved Nobel Peace Prize winner presiding over 21st-century concentration camps. Aung San Suu Kyi, one of the world's genuine heroes, won democracy for her country, culminating in historic elections in November that her party won in a landslide. As winner, Suu Kyi is also inheriting the worst ethnic cleansing you've never heard of, Myanmar's destruction of a Muslim minority called the Rohingya.
A recent Yale study suggested that the abuse of the more than 1 million Rohingya may amount to genocide; at the least, a confidential UN report to the Security Council says it may constitute "crimes against humanity under international criminal law".
Yet Suu Kyi seems to plan to continue this Myanmar version of apartheid. She is now a politician and oppressing a minority such as the Rohingya is popular with mostly Buddhist voters.
What all this means in practical terms is that Muhammad Karim is dead at 14.
Aung San Suu Kyi: One of the world's genuine heroes. Photo: APMuhammad lived in a giant concentration camp with tens of thousands of Rohingya. The government has taken away citizenship and statehood from the Rohingya over the years, and they are deprived of free movement. Muhammad wanted to sneak away by boat, paying human traffickers to join a tide of desperate Rohingya boat-people seeking passage to Malaysia. "We wouldn't let him because it was too dangerous," said his mother, Sara Hatu.
Then Muhammad suffered a scratch on his heel. Nobody thought much about it, but soon he had trouble opening his jaw. He apparently had caught tetanus. Like most of the children in the concentration camp, he wasn't able to get vaccinations, including a simple tetanus shot.
After he got sick, the local medical assistants and the on-and-off clinic couldn't help him. Finally his mother got special permission for him to leave the camp to be hospitalised but by then it was too late. "After two days, he came back as a corpse," she said.
Thirty metres from his hut, another family is also mourning. Bildar Begum, a 20-year-old woman, contracted hepatitis A, according to neighbours. Hepatitis A is normally not life-threatening, but she, too, couldn't get the medical help she needed, and so she died late last year, leaving a two-year-old son, Hirol.
Rohingya refugees inside a temporary shelter in Aceh, Indonesia, in October. Photo: Getty Images"If she was not Rohingya, she would surely still be alive, I can say that 100 per cent," said Enus Monir, a community leader.
And now Hirol is starving: At 28 months, he weighs just 19 pounds. On the World Health Organisation weight-to-age sheets, he is off the charts.
Nobel laureates: Barack Obama and Aung San Suu Kyi. Photo: APSome of the families in the camp have substantial savings in the banks in Sittwe a few kilometres away. But because they have been locked up since 2012, they can't access their own bank accounts to feed their families.
The global response has been pathetic. Partly that's because Myanmar makes it difficult for aid groups and journalists to see the Rohingya, so that they are largely invisible.
For those of us who have deeply admired her for years, her willingness to sacrifice principle for political expedience is wrenching to watch.
The United Nations has been dysfunctional in Myanmar. Another internal UN document shared with me (both provided by a critic of UN passivity on the issue) warns that UN staff members in Myanmar are feuding with one another and it raises "the question of possible complicity of the UN in potential crimes against humanity".
Bravo to advocacy groups such as Human Rights Watch, Fortify Rights and United to End Genocide that have spotlighted the continuing brutality against the Rohingya. Kudos to humanitarian groups that ease the suffering where the government allows them to: On one large island that I reached by boat, Doctors Without Borders and Save the Children are providing lifelines of health care and education.
Yet aid groups have been barred from many areas, and the systematic destruction of the Rohingya remains one of the 21st century's most neglected human rights catastrophes.
The Myanmar government is not only oppressing individuals; it is also trying to eradicate the Rohingya people as an ethnic group, by claiming that it does not exist. Authorities don't use the word Rohingya and claim that these are just illegal immigrants from Bangladesh (this is preposterous; historical documents refer to the Rohingya). In November, the government arrested five men simply for printing a 2016 calendar making references to the Rohingya as an ethnic group.
Suu Kyi avoids even saying "Rohingya". The US Embassy in Myanmar likewise seems to sidestep the word in its official statements, a cringeworthy capitulation.
"The Obama administration definitely could be doing a lot more," said Matthew Smith of Fortify Rights, a human rights group focused on Myanmar. That includes backing an international investigation and pushing Myanmar publicly and privately to take steps to restore citizenship and free movement to the Rohingya, as well as ensuring that aid groups are allowed to help them.
An enormous amount has gone right in Myanmar in recent years, especially the rise of democracy. But that same rise of democracy has also empowered racist and xenophobic demagoguery, making the problems of the Rohingya harder to solve. In the recent Myanmar elections, Suu Kyi's party refused to nominate a single Muslim candidate.
Suu Kyi is regarded by many Burmese as too conciliatory towards the Rohingya, because she remains silent rather than denouncing them at every turn. But for those of us who have deeply admired her for years, her willingness to sacrifice principle for political expedience is wrenching to watch.
Defenders of Myanmar and of Suu Kyi note that the country has many problems; they see the Rohingya as one misfortune in a nation with a vast swath of misfortunes. The priorities, as they see them, are economic development, democracy and an end to the country's many local conflicts, and they protest that it's myopic to focus on the problems of one ethnic group in a nation so full of challenges.
Yet to me, there is something particularly horrifying about a government deliberately targeting an ethnic group for destruction, locking its members in concentration camps and denying them livelihood, education and health care.
When kids are dying in concentration camps, after being confined there because of their ethnicity, that's not just one more problem of global poverty. It's a crime against humanity, and tackling it is the responsibility of all humanity.
Nicholas Kristof is a columnist with The New York Times.
Burma faces ethnic violence. Has Aung San Suu Kyi ignored the plight of her people?
NEW DELHI — Burmese leader Aung San Suu Kyi said this week that it will "take time" to address her country's ongoing humanitarian crisis and deflected charges that she has not done enough to speak out on behalf of Burma's persecuted Rohingya Muslim community.Suu Kyi spoke to The Washington Post as her administration marks six months in office, and as fresh violence threatens to derail the country's peace process.The Nobel Peace Prize laureate and dedicated critic of the former military government came to power at a time when she must deal with a worsening humanitarian crisis that has displaced hundreds of thousands of people.The crisis deepened this month when assailants thought to be part of the Rohingya community attacked three police posts in the western part of the country, killing nine police officers. Scores of people were killed and villages torched in a military crackdown that followed.Suu Kyi said Tuesday that video of the alleged attackers shows "clearly" that their intentions were to wage jihad and that they had exhorted their brothers from the Muslim world to join them.

"We are of course determined to contain the situation and to make sure that we restore peace and harmony as soon as possible," Suu Kyi said. "We are not going to allow either the security or stability or the integrity of our country to be threatened."

Suu Kyi's government came to power in March after the country's first election following decades of military rule. She said continuing the peace process with ethnic militias fighting in the country's north and east was her top priority.

But her civilian government must find ways to work with the still-powerful military and take steps to rejuvenate an economy that faltered during decades of brutal military rule. Burma, also known as Myanmar, remains one of the poorest countries in Asia.

In August, Suu Kyi appointed former U.N. secretary general Kofi Annan to look into the situation with the Rohingya. More than 1 million Rohingya Muslims live in Burma, but they are considered stateless and have long been denied basic rights.

More than 120,000 are still living in fetid camps in Rakhine state after violent clashes with their Buddhist neighbors in 2012. They have little access to health care and 30,000 of their children do not have proper schools, according to a U.N. report in June.

The report cited a "pattern of gross human rights violations" against the Rohingya, acts that it said could rise to the level of "crimes against humanity" in a court of law.

The government restarted a process of citizenship verification for the Rohingya in June, but many of the Rohingya refused to participate, Suu Kyi said. Human rights activists say they were suspicious that some kind of new card would mean a further erosion of their rights.

"Things take time," she said. "The situation in the Rakhine is a legacy of many, many decades of problems. It is not something that happened overnight. We're not going to be able to resolve it overnight. It goes back even to the last century."

Suu Kyi told the U.N. investigator that the government would avoid using the term "Rohingya," which many Burmese consider incendiary. Many Burmese call the Rohingya "Bengali," a reference to the fact that some migrated from Bangladesh years earlier.

"This is inflammatory," Suu Kyi said. "We simply say Muslims of ­Rakhine state. Because this is just a factual description which nobody should object to. But of course, everybody objects because they want their old emotive terms to be used."

Suu Kyi brushed aside the frequent criticism that, as a Nobel Peace Prize laureate, she has not done enough to speak out about the Rohingyas' plight. She did not go near the camps on a campaign swing through the state last fall and spoke of the conflict only in the vaguest terms.

"Well, I have spoken about it, but people don't like the way I talk about it because I don't take sides," she said. "Nobody takes any account of that because that is not what they want to hear. They want me to make, you know, incendiary remarks, which I am not going to do. I've made it very clear that our work is not to condemn but to achieve reconciliation."

Richard Horsey, a longtime Burma analyst and adviser to the International Crisis Group, said that Suu Kyi had made strides in addressing the issue after her government took over, including the appointment of Annan. But the spate of violence may change that, he said.

"These recent attacks have completely changed the landscape here and what's possible to do right now," Horsey said. "It has a huge potential to make the situation much, much worse and much harder to fix."

Suu Kyi, whose official title is state counselor, spoke at Burma's embassy while on a trip to India this week. The country is familiar terrain for her, as she spent part of her high school and college years living in New Delhi while her mother was ambassador here.

Suu Kyi, now 71, spent decades campaigning against the military dictatorship in her country, including a total of more than 15 years under house arrest. For her efforts, she was awarded the Nobel Peace Prize in 1991.

She was freed in 2010 shortly before the military generals began economic reforms that were supported by then-Secretary of State Hillary Clinton and the Obama administration.

Despite the resounding victory of her National League for Democracy in last November's elections, Burma's generals retain a tight grip on power, reserving 25 percent of the seats in the country's parliament, which gives them veto power over any constitutional amendment. The military also appoints the key ministers in home affairs, border affairs and defense.
"Tacitly neither will challenge the other much," Horsey said. "She's not challenging the military on security issues and not pushing for changes in the constitution, and they're not showing signs of actively undermining her civilian government."
When Suu Kyi visited Washington and met with President Obama last month, he announced that he would remove remaining economic sanctions on the country.
They include a longtime ban on imports of gems from the country's jade and ruby mines and a list of individuals and companies barred from doing business with U.S. entities. This final move should spur foreign investment from the United States, which remains a fraction of the estimated $9 billion in foreign investment in the country this year, experts said.
"We've depended on sanctions long enough," Suu Kyi said. "Sanctions were put into place at a time we most needed a little leverage. I think it's time that we moved on to a different phase."
=