Bốn tên người Đức hành hung đánh đập một người tị nạn Iraq đang bị bệnh tâm thần, rồi treo nạn nhân trên cây đã được tòa án Đức tha bổng!
-Thế giới phương Tây sau nửa thế kỷ văn minh lại đang tụt dốc vì chủ nghĩa quốc gia dân tộc đang được dấy lên, Từ cái đít của thế giới là Úc Thòi Lòi (arse end of the world) qua đến Mỹ, Gia Nã Đại, rồi gần như toàn bộ Âu Châu đang bước theo con đường của chủ nghĩa đại Do Thái- The Jewish State- đất Do Thái chỉ dành cho người giống dòi Do Thái! Và căm thù triệt hạ người Hồ trung đông bằng mọi giá!
Tất cả đang đi ngược về cái  kỷ nguyên bán khai với lý lẽ "chúng ta phải bênh "người nhà" dù đúng hay sai (my people right or wrong!).  Tại Pháp nhà cửa khu tạm trú của người tị nạn bị đốt v.v
Vấn đề không phải ở chỗ đánh người tàn nhẫn hay đốt nhà dã man, vì ở đâu thời nào xã hội nào cũng có một số bọn bán khai đầu đất vi phạm tội ác. Vấn đề là tội ác, tội phạm được cổ võ chính đáng hóa TRỰC TIẾP cũng như GIÁN TIẾP không chỉ từ hệ thống chính trị, báo chí, công lý mà ngay não trạng quần chúng đa số cũng đồng tình biện minh chống đỡ và im lặng trước những tội ác và tội phạm này! Đây mới chính là điều băng hoại toàn diện!
Khi NHÂN TRÍ xuống dốc, DÂN TRÍ sẽ bị hủy hoại. DÂN TRÍ bị hủy hoại,  thì NHÂN TÍNH không còn nữa!
PQC
=
*GHI CHÚ: Mà khi hỏi giống dòi "do thái" hay bất cứ giống dòi là gì? Ở đâu ra? DNA ra sao v.v. chằng ai trưng bày minh chứng được ngoài một mớ tín lý "kinh sách" từ thời tiền sử! Một loại "sử bí lối" nguyên thủy khi cả vũ trụ chỉ có hai thằng đực ADAM và CAIN với một cón mái EVE- vì ABEL đã bị giết-  thì làm sao sinh con đẻ cháu đây? Nếu không buộc phải loạn luân a tầu phù! Nó giống như đám đậu phọng đỏ có nguồn tổ tiên từ một con mụ đàn bà thuộc loại "quái vật" – không thèm đẻ con theo loài động vật có vú- mà đẻ luôn 100 cái trứng- không biết phải ấp bao lâu và ra sao- nhưng nở  ra 100 đứa -hình như toàn là đực rựa, nối nhau làm "DZUA" xứ khoai lang đậu phọng đỏ- Chẳng hiểu 50 thằng theo bố và 50 thằng  theo mẹ làm sao mà giữ được giống dòi thuần chủng đây?
German 'vigilantes' escape conviction after beating & tying refugee to tree
Published time: 25 Apr, 2017 11:27Edited time: 25 Apr, 2017 11:38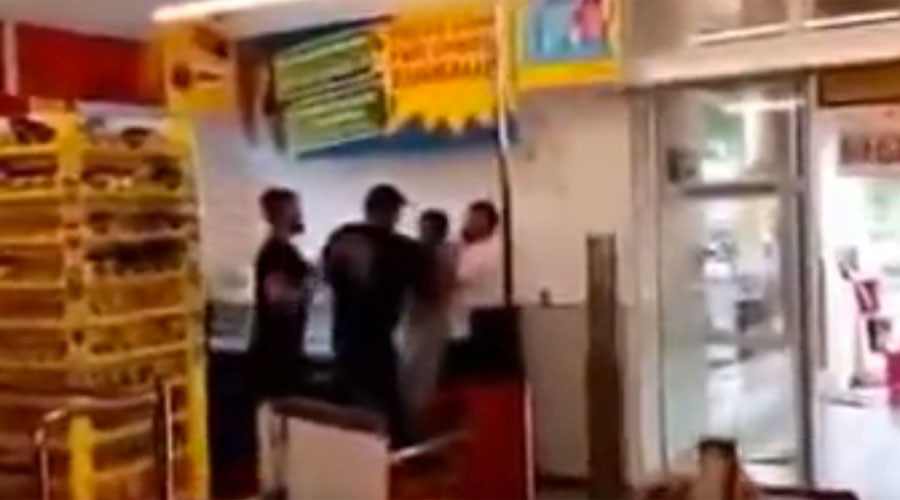 Four men who punched and tied a mentally ill Iraqi refugee to a tree in Germany last year walked free from court after a judge found them not guilty of any significant offense. Critics fear the case will send a "dangerous signal" to vigilante groups.
The four men were acquitted of any charges on Monday. While the investigation of the incident lasted almost a year, the hearings were concluded in just one day.
The defendants punched the victim, an Iraqi man who had refugee status, before kicking him out of a store and then tying him to a tree in the eastern German town of Arnsdorf in May 2016.
The Iraqi refugee was due to testify in court as a witness but his dead body was found last week in central Saxony. Police say the man had frozen to death in January.
While the prosecution filed charges of unlawful detention, the group claimed their actions were in "self-defense."
The migrant, who had been receiving treatment at a local mental health institution, went to the supermarket to complain about a phone card he had purchased earlier.
The man had already been to the store twice before the incident, when store employees had explained to him that the funds on the card had been depleted. Local media reported at the time that the migrant had insisted that the card was faulty.
However, the language barrier apparently made communication difficult.
It was during his third visit that the situation escalated.
The moment of the attack on the migrant was captured on video and later emerged online. The footage shows the Iraqi man arguing with the cashier and brandishing a bottle of wine angrily. A security guard blocked the man's way out of the store and tried to reach for the bottle, but the refugee refused to hand it over.
The footage then shows that instead of the police arriving, the group of four 'vigilantes' appear. They promptly tackle the man without discussion, taking away the bottle of wine and then beating him up.
"What do you want here? You pig!" the men yelled.
The footage ends with the men being dragged out of the store, while the woman filming the incident says, "it's such a pity that we need a self-defense group."
The refugee was subsequently tied to a tree with cables, where he remained until police arrived.
The investigation, however, did not find any evidence proving that the group was organized or that the action was premeditated.
Supporters of the group of men gathered in front of the court building while the ruling was being announced.
"The people [defendants] have not acted inappropriately. After what emerged in the aftermath, the man was dangerous, which has been denied in the media," a protester told RT's Ruptly news agency.
"The people have reacted to a dangerous situation, spontaneously. They were not part of a civil defense or whatsoever," another protester added.
While some praised the decision for not punishing citizens for "moral courage," others expressed fears that the ruling might send a "dangerous signal" to vigilante groups across country.
"The judge made a good decision," Thomas Israel, the executive secretary of the district chapter of Chancellor Angela Merkel's Christian Democrats (CDU) in Saxony's Bautzen region, told DW. "It shows that citizens can still display moral courage without having to be afraid that it could land them in court."
The head of the Greens in the state of Saxony, Jürgen Kasek, disagreed, however, saying that the four men had resorted to unnecessary violence instead of just calling the police, adding that the migrant hadn't even tried to flee the scene.
"The court is saying that the four men's behavior was acceptable," Kasek said. "This sends a dangerous signal to vigilante groups across the country, who now feel they have the right to enact arbitrary law. We could see a rise in violence after this."
Some people online echoed Kasek's fears.
"[With the decision] the Saxon judiciary opens the door to vigilante-justice for the Nazis. What a failure," the caption reads.