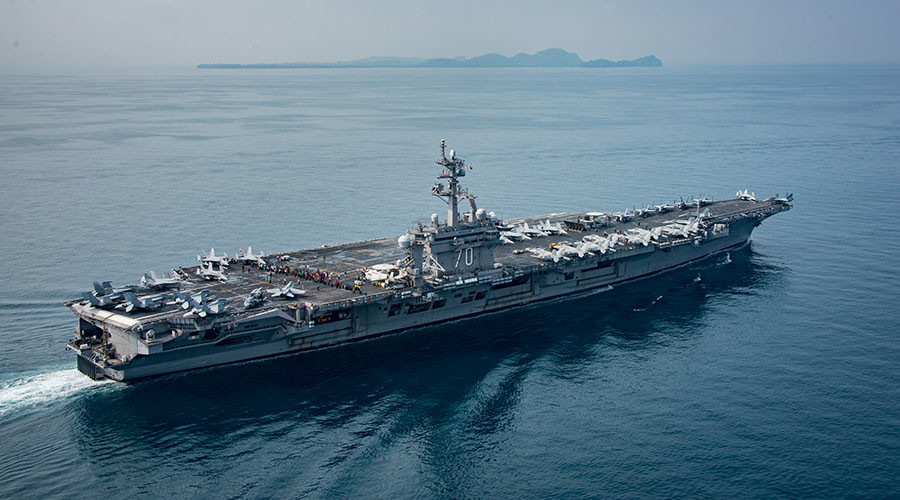 Trong tuần vừa qua, thằng hề Xì Trum tuyên bố đã gửi  "hạm đội tác chiến" USS Carl Vinson đến bán đảo Triều tiên để "răn đe" thằng bé Ủn. Tuyên bố này khiến các con giời hiếu sát thờ Mỹ khắp nơi trên thế giới nhảy tưng tưng – và riêng nhóm Hàn ngục thờ độc tài Phác Chánh Hy tại Nam Hàn tưng bừng hồ hổi đón chờ…đám Mỹ vàng ngụy ngục cùng các loại Âu Châu Úc Vàng ngục cũng tưng bừng hy vọng.. lần này Bé Ủn chết chắc! Bọn thờ quyền chính và đội Mỹ lên đầu này  Chúng còn diễn giải rằng đây là  một "cảnh cáo" mạnh với "cộng sản" nữa cơ ! (chúng nó chẳng thèm thấy thằng bạn Trung Cộng lù lù còn đó, vui vẻ buôn bán hợp tác với Âu Mỹ)
Nhưng các phómng viên độc lập họ đánh hơi được trò lừa bịp của tuyên bố này, nên đã truy tìm và dùng cả máy bay đi "tuần du"… Họ phát hiện và  đã quay phim được cái "hạm đội tác chiến" đó chẳng hề đến Bác Hàn, Nó đang ở cách xa Bắc Hàn vạn dặm, không đến Hàn mà ngược lại còn tà tà đi ngược hướng về phía Ấn Độ dương.
Sau khi bị lật tẩy, đám Xì Trum dĩ nhiên chống chế và  "rò rỉ rằng"  là … Hạm đội tác chiến USS Carl Vinson  sẽ đến Hàn quốc vào … tuấn tới ngày 25-4-2017, trùng với ngày kỷ niệm 85 năm thành lập quân đội của Bắc Hàn:
"The Vinson is currently expected to arrive at the Korean Peninsula on April 25, the same day as the 85th anniversary of the foundation of the North Korean army"
Quà thật, chúng ta đang sống trong một kỷ nguyên khoa học kỹ thuật dân dụng đày trò giải trí tào lao đã làm tê liệt bộ óc tư duy phân tích  của quần chúng. Đại đa số chỉ nuốt chửng bất cứ điều gì từ nhà nước đĩ điếm báo chí chính qui.
May mắn cũng vẫn còn một lượng người đáng kể luôn chất vấn và truy xét không ngừng ngỉ bất cứ một bản tin hay sự việc nào để thông báo đến khối quần chúng ngu ngơ với mong mỏi rằng họ tỉnh thức để tự vệ và bảo vệ ngay chính quyền lợi an nguy của bản thân họ và gia đình xã hội họ.
Riêng đám ngụy ngục và Hàn ngục chắc không còn cơ hội "nhớn thành người"- vì theo "ngâm cúu" của Phi Quyền Chính, não bộ bọn này đã biến thành Hamburger hết rồi. Bọn này tin rằng những ai dám chui ra khỏi đũng quần bố Mỹ của chúng sẽ bị ánh sáng mặt trời đốt cháy! Khổ thật!
PQC
=
Trump's 'armada' turns toward North Korea as White House defends misleading remarks
Published time: 20 Apr, 2017 03:17
The White House stood by President Donald Trump's recent talk of a Navy strike force on its way to the Korean peninsula, after the USS Carl Vinson was spotted thousands of miles away, headed in the opposite direction. The fleet has since turned around.
On Wednesday, White House press secretary Sean Spicer denied that Trump misled the public about the location of the USS Carl Vinson strike force, which he said was heading to North Korea during an interview with Fox News earlier this month.
"We have submarines. Very powerful, far more powerful than the aircraft carrier, that I can tell you," Trump told Maria Bartiromo in a pre-taped interview that aired April 12.
Several tweets from Trump at the time also signaled that rising tensions were leading to the US taking action against North Korea over the country's nuclear program.
On April 11, Spicer confirmed that the Vinson strike force was "steaming out toward the Sea of Japan" to give the president "options in the region."
"I think when you see a carrier group steaming into an area like that, the forward presence of that is clearly, through almost every instance, a huge deterrence. So I think it serves multiple capabilities," Spicer said, according to the White House.
'Sword stands ready': Pence vows 'overwhelming & effective' response to N. Korean attacks
That same day, Defense Secretary James Mattis added to the confusion when he told reporters that the strike group was on its way to the Sea of Japan, but added, "There's not a specific demand signal or specific reason why we're sending her up there," according to the Department of Defense website.
On April 15, the Navy posted a photograph to Flickr with a description that said the USS Carl Vinson was heading through the Sunda Strait, putting it several hundred miles south of Singapore, around 3,500 miles from the Korean Peninsula.
On Wednesday, Spicer denied that the Trump administration misled or failed to correct the reports that the Vinson strike force was en route to North Korea.
"The president said that we have an armada going toward the peninsula. That's a fact. It happened. It is happening, rather," Spicer said during a press briefing.
Pressed by reporters as to why the White House did not clarify the conflicting information, Spicer said that his statements were not false.
"I think we were asked very clearly about the use of a carrier group in terms of deterrence and foreign presence and what that meant. That's what we discussed," Spicer told reporters.
Speaking on a visit to Saudi Arabia, Mattis also denied that he had said anything misleading about the Vinson.
"We're doing exactly what we said we were going to do," Mattis told reporters in a video posted to the Department of Defense website.
"She will be on her way, and I'll determine when she gets there and where she actually operates, but the Vinson is going to be part of our ensuring that we stand by our allies in the northwest Pacific," Mattis added.
The Vinson Strike Group consists of the USS Carl Vinson, a Nimitz-class nuclear-powered aircraft carrier, two destroyers and one cruiser.
On April 9, the Navy announced that Admiral Harry Harris, the commander of US Pacific Command, ordered the strike group to forgo the previously planned port visits to Australia and return to the Western Pacific Ocean.
Reports from the Korea Herald say that the strike force is now on its way to the Korean Peninsula, citing the US Pacific Fleet Command's Flickr account.
The Vinson is currently expected to arrive at the Korean Peninsula on April 25, the same day as the 85th anniversary of the foundation of the North Korean army, according to the Korea Herald.