Chiến tranh Hóa Vi Quang đã được đặt thành hệ thống từ lâu, nhưng hôm nay với sự tiến bộ của máy móc kỹ thuật, đặc biệt điện toán thông tin, đã cho phép bọn tập đoàn quyền bính gần như khả năng không giới hạn trong việc chế tạo và sản xuất vũ khí cũng như kiểm soát sinh hoạt đời sống con người một cách chặt chẽ chưa từng có trong lịch sử.
Nói một cách khác tiến trình cấu trúc xã hội và hành xử con người của thế lực quyền chính nhà nước không bao giờ ngưng nghỉ từ bao ngàn năm qua và cho đến nay đã đạt mức tàn bạo và tế vi nhất.
"Các nhà khoa học" thay vì phục vụ hạnh phúc con người như Pasteur, hôm nay đã tận hiến "trí khôn" của họ cho quyền lực hủy hoại nhân bản. Đám "khoa bảng chuyên gia"này, đã không chỉ giúp nhà nước chính phủ tạo vũ kí toàn diệt như nguyên tử mà còn biến ngay thực phẩm thành vũ khí độc hại như Monsanto và các loại "cải di tính"; và tàn độc hơn, y khoa, y học không còn là y đạo nữa, cũng đã bị quyền lực và quyền lợi biến thành vũ khí giết người hàng loạt nhân danh và với lý cớ đi tìm "giải pháp y tế" cho nhân loại!
Khi bọn chính phủ nhà nước hành xử tội ác, chúng luôn nhân danh những điều đẹp đẽ bằng ngôn ngữ phù thủy! Hãy nhìn xem hành xử  và kết quả của tiến trình "đem dân chủ" đến cho thế giới của Âu Mỹ. Hay gần với dân Tầu và dân Ta hơn thì nhìn xem kết quả của "giải phóng thực dân", đem "độc lập tự do hạnh phúc" đến cho "dân tộc"…. Hệ quả  của cuộc cách mạng "dân chủ xã hội cộng sản" của "cải cách ruộng đất vì nông dân" vì "hạnh phúc ấm no" v.v và v.v … Kể không thể hết được!
Nhưng ôi trí não con người! Chỉ vì ích kỷ, yên thân riêng cho mình, tai họa "chỉ đến với người ta thôi" sẽ không xảy ra với mình –  và người ta vẫn tin vào nhà nước chính phủ tận thiện, và "tư bản đem lại lợi ích hạnh phúc cho con người", bất chấp những khủng hoảng và thực tại ngay trước mắt họ, trên bản thân của những người chung quanh và chính họ từng ngày!
Phi Quyền Chính
====
THAM KHẢO THÊM
4-Engineered Viruses Created in Government Labs Validate …
5-Deadly Airborne Flu Virus Created in Lab – Not as Bad as It …
6-USA created Ebola virus as biological weapon

7-Proof That The Swine Flu Epidemic Was Man Made and …
8-Liberian Scientist and Professor: Ebola Virus Manufactured …
9- The Man-Made Origin of AIDS
10-aids and ebola viruses were man made
11-Scientists Disclose Plans To Make Superflu In Labs : Shots …
13-The New West Nile Virus Epidemic: Bioterrorism? .
Scientists condemn 'crazy, dangerous' creation of deadly airborne flu virus
Researchers say recreation of Spanish flu strain highlights risk of pandemic, but critics say work puts global population at risk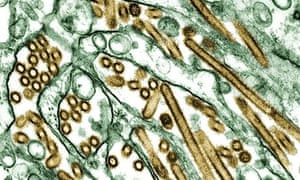 Scientists have created a life-threatening virus that closely resembles the 1918 Spanish flu strain that killed an estimated 50m people in an experiment labelled as "crazy" by opponents.
US researchers said the experiments were crucial for understanding the public health risk posed by viruses currently circulating in wild birds, but critics condemned the studies as dangerous and called on funders to stop the work.
Scientists at the University of Wisconsin-Madison used a technique called reverse genetics to build the virus from fragments of wild bird flu strains. They then mutated the virus to make it airborne to spread more easily from one animal to another.
"The work they are doing is absolutely crazy. The whole thing is exceedingly dangerous," said Lord May, the former president of the Royal Society and one time chief science adviser to the UK government. "Yes, there is a danger, but it's not arising form the viruses out there in the animals, it's arising from the labs of grossly ambitious people."
Influenza viruses circulate freely in wild bird populations. Most remain in chickens, ducks and other birds, but occasionally strains mutate into a form that can infect humans. The H5N1 bird flu strain has killed at least 386 people since 2003, according to WHO figures. The Spanish 1918 flu is thought to have come from birds too.
Writing in the journal Cell Host and Microbe Yoshihiro Kawaoka describes how his team analysed various bird flu viruses and found genes from several strains that were very similar to those that made up the 1918 human flu virus. They combined the bird flu genes into a single new virus, making a new pathogen that was only about 3% different from the 1918 human virus.
The freshly made virus – the first of several the team created – was more harmful to mice and ferrets than normal bird flu viruses, but not as dangerous as the 1918 strain. It did not spread between ferrets and none of the animals died. But the scientists went on to mutate the virus, to see what changes could make it spread. Seven mutations later, they had a more dangerous version that spread easily from animal to animal in tiny water droplets, the same way flu spreads in humans.
Kawaoka, who led the research in a high-security lab at the University of Wisconsin-Madison, said the work highlighted how flu viruses found in wild bird populations had the potential to adapt to humans and cause a pandemic.
Follow-up experiments showed that the 2009 swine flu vaccine and the anti-viral drug tamiflu should be effective against the virus. "This is important information for those making decisions about surveillance and pandemic preparedness," Kawaoka told the Guardian.
The work is the latest in a series of controversial studies that have split the scientific community. On the one side are researchers who create dangerous viruses in secure labs in the hope of learning how existing strains could mutate to make them a potential threat to humans. On the other are scientists who argue the work does little or nothing to help protect people, but instead puts the global population in more danger.
Marc Lipsitch, professor of epidemiology at Harvard School of Public Health, said: "I am worried that this signals a growing trend to make transmissible novel viruses willy-nilly, without strong public health rationale. This is a risky activity, even in the safest labs. Scientists should not take such risks without strong evidence that the work could save lives, which this paper does not provide," he added.
In an article published last month, Lipsitch argued that experiments like Kawaoka's could unleash a catastrophic pandemic if a virus escaped or was intentionally released from a high-security laboratory.
But Kawaoka defended the work, saying that critics failed to appreciate the impact of his and others' work on dangerous viruses. "There were discussions on the usefulness of stockpiling H5N1 [bird flu] vaccines until our H5N1 papers were published. Similarly, this paper strongly supports stockpiling anti-influenza drugs. If this is not a 'lifesaving benefit', what is?" he said.
Many of the groups that create dangerous viruses to understand their workings are funded by the US National Institutes of Health (NIH). Lord May said he suspected the NIH supported the work because officials there were "incompetent" and believed the justifications that scientists told them. "This is work that shouldn't be done. It's as simple as that," he said.
The experiments show that a 1918-like flu virus could emerge in the wild as bird viruses swap genes and mutate. "Influenza viruses readily swap genes to generate new viruses, so something like this could happen, especially since many of these viruses have circulated in recent years," Kawaoka said. The viruses "have the potential to become adapted to mammals and possibly cause a human pandemic," he added.
The study identifies particular mutations that made the virus spread so easily. But that is not much use for surveillance, said Lipsitch, because there are scores of other mutations that could have the same effect. "The chance that a virus very similar to the one they study will appear in nature is extremely remote," he said. Kawaoka argues that his team is fully aware of this, and that the underlying mechanisms that make the virus so dangerous are more important for preventing future pandemics.
Simon Wain-Hobson, a virologist at the Pasteur Institute in Paris, said he feared that governments and funding bodies would only take the risks seriously once an accident had happened. "It's madness, folly. It shows profound lack of respect for the collective decision-making process we've always shown in fighting infections. If society, the intelligent layperson, understood what was going on, they would say 'What the F are you doing?'"
Carole Heilman, director of microbiology and infectious diseases at the National Institute of Allergy and Infectious Diseases (Niaid) in the US, said: "This study was conducted as part of a research project on understanding the molecular mechanisms of virulence of the 1918 influenza virus. NIH peer review determined that the research was scientifically meritorious. It was also determined that the information gained had the potential to help public health agencies in their assessment of circulating and newly emerging strains. In addition, NIH determined that all the research was being done under appropriate biosafety conditions and with appropriate risk mitigation measures."
Scientists Are Creating New, Incurable Diseases in Labs
Is that reasonable?
Swine flu, or H1N1, had been dead for 20 years when it suddenly re-emerged in 1977 with a curious twist. The new strain was genetically similar to one from the 1950s, almost as though it had been sitting frozen in a lab since then. Indeed, it eventually became clear that the late-70s flu outbreak was likely the result of a lowly lab worker's snafu.
Lab accidents like that are extremely rare. Still, two scientists are now arguing that it's not worth continuing to create new, transmissible versions of deadly viruses in labs because the risk that the diseases will escape and infect the public is too great.

The H5N1 avian flu killed two dozen people in Hong Kong in 1997. It has only killed about 400 people worldwide since then, though, because it doesn't pass easily from human to human.

In recent years, scientists have found a way to make H5N1 jump between ferrets, the best animal model for flu viruses in humans. They say they need to create a transmissible version in order to better understand the disease and to prepare potential vaccines.

That worries people like Marc Lipsitch and Alison P. Galvani, two epidemiologists who write in a PLoS Medicine editorial today that creating these types of new infectious agents puts human life at risk. They estimate that if 10 American laboratories ran these types of experiments for a decade, there would be a 20 percent chance that a lab worker would become infected with one of these new super-flus and potentially pass it on to others.

"The concern is that you're making something that doesn't exist in nature and combines high virulence for people with the ability to transmit efficiently," Lipsitch told me.
Accidents involving lab-grown pathogens aren't just the stuff of sci-fi movies. A Singaporean lab worker was inadvertently infected with SARS in 2003. In 2004, a Russian scientist died after accidentally sticking herself with a needle contaminated with Ebola at a Siberian lab. In April, Paris' Pasteur Institute lost 2,000 vials containing the SARS virus. And in March, the Galveston National Laboratory in Texas lost a vial containing Guanarito virus, which causes "bleeding under the skin, in internal organs or from body orifices like the mouth, eyes, or ears."The medical world seems perpetually torn between the desire to eliminate horrific diseases entirely and the need to preserve them for future study. Thanks to vaccination, smallpox was eradicated in 1980, but there are still two samples of it living in labs—one in the U.S. and one in Russia. Some scientists argue that those vials should be destroyed because there's a chance they could be used in bioterrorism. There is no cure for smallpox, and it kills a third of its victims. The rest suffer permanent scarring from the thousands of "pox," or fluid-filled cysts.

"The hazard is, could it ever by accident or by evil design leave those two containments and actually be introduced into the population again and spread?" William Schaffner, chair of preventive medicine at Vanderbilt University Medical Center in Nashville told ABC News. The World Health Assembly is deciding this week whether to destroy the vials.

Most labs have near-bulletproof safety standards, with workers wearing plastic hoods and working behind heavy steel doors. Still, leaks can happen because of failures in respiratory equipment, Lipsitch said, or if a worker accidentally touches their eyes or nose with a contaminated glove.

"We have data from past experience in various labs that human infection in those labs are not a common event, but with enough labs working for enough years, it's been observed over and over again," Lipsitch said. "Marburg and Ebola viruses have both infected lab workers at a higher level of containment than these [H5N1] experiments."

He added that past lab accidents haven't resulted in worldwide spread partly because the viruses weren't as contagious in those cases.

"In the case of Ebola and Marburg—they aren't that readily transmissible," he said. "In the case of SARS, which has been involved in at least three separate lab accidents, there was onward transmission in one case, but it was contained, so we got lucky."

Lipsitch suggests that, rather than breed the new mammal-transmissible viruses, scientists just use pieces of the H5N1 strain for their research or work on ancestors of the virus.

The scientists conducting the ferret-based H5N1 experiments went through a year-long voluntary moratorium after a controversy over the studies' safety flared in 2011. In January 2013, they declared that the experiments would resume because the lab conditions for the experiments met the necessary safety checks. "Because H5N1 virus transmission studies are essential for pandemic preparedness and understanding the adaptation of influenza viruses to mammals," they wrote in Science, "researchers who have approval from their governments … have a public health responsibility to resume this important work."

===