George Ratzinger, anh trai của "cựu giáo hoàng" Benedict, cũng là một "linh mục" công giáo người Đức bị điều tra và truy tố tội hiếp dâm lạm dụng tình dục trẻ em và tổ chức bao che tội phạm này của giáo hội Công giáo.
Chúng ta đều biết, không chỉ Vatican bao che dung túng cho hệ thống hiếp dâm lạm dụng trẻ em này, mà nó phối hợp nhịp nhàng với quyền chính nhà nước chính phủ và tập đoàn quyền lực. Bằng chứng đầy đủ về một hệ thống mua bán trẻ em để hưởng thụ bạo dục (Paedophiles rings) liên quốc Âu Mỹ Úc Do Thái đã được thu thập nhưng bị bao che từ bao năm nay, hệ thống bạo dục trẻ em này xuyên quốc gia và nằm ở thượng tầng quyền lực từ viện đại học, quốc hội, các giáo hội thiên chúa giáo, nơi các chức sắc cao cấp với những mặt nạ nhân đức và đạo hạnh của Giáo Sư, Dân Biểu, Chánh Án, Tu Sĩ, Bộ Trưởng, Sĩ quan tướng lãnh v.v
Dưới đây chỉ là  một vài điển hình :
VATICAN là cái ổ dâm loạn bạo ngược không chỉ từ thời trung cổ với triều đại nổi tiếng của Giáo hoàng Alexandre VI Borgia, nó kéo dài xuyên suốt được che dấu và tiếp diễn cho đến hiện nay chưa chấm dứt.. Với Nhân Chủ, chẳng có gì là lạ lùng hết cả. Bởi thần quyền hay thế quyền chính trị hay giáo dục hay kinh tế tài chính, hay gia đình cha mẹ chú bác v.v khi đã có quyền lực là có lạm dụng có băng hoại.. nạn nhân luôn là những người không chỉ quyển lực mà chính là tôn trọng quyền lực như trẻ em, con cháu, học sinh, và dân "lành ", "công dân gương mẫu thượng tôn pháp luật ngu ngơ"… Tại Việt Nam, các cháu ngoan bác Hồ như Nông Thị Xuân, các nhân viên nữ, học sinh phục vụ dưới thời Lê Đức Thọ trong ban bảo vệ chăm sóc lãnh đạo. Thời Diệm, các thiếu nữ trong "hội phũ nữ" được dùng như những "quà" cho quí quan khách quyền lực v.v  Quí vị, tạm gác niềm tin, cứ đi truy cứu lại các tài liệu, các "hồi ký" …và nhiều khi chính quí vị, gia đình quí vị là nạn nhân … nhưng vì "danh dự hão tổ quốc giống nòi, danh dự gia đình" ngậm miệng đem theo điều phi nhân xuống mồ, như Trần Kim Tuyến, và những kẻ chung quanh tên Hồ Chí Minh!
Cứ nhìn cái cách viết về "ngài Diệm" "Tinh Thần VNCH" v.v  hiện nay của cộng đồng ngụy ngục công giáo, và nhất là một "nhà văn có tiếng" như Dương Thu Hương bao che tháo gỡ cho Hồ Chính Minh trong tác phẩm để nhục đời "Đỉnh Cao Chói Lọi" thì biết cái "tâm thức" của giống dòi đậu phọng đỏ nó như thế nào!
Với "văn bút" giống dòi-đậu phọng đỏ", thì chỉ có kẻ khác, xã hội đối nghịch là bất ổn sai trái, băng hoại, còn xã hội Việt của họ hầu như tốt đẹp gần như toàn diện chỉ trừ những tệ nạn xã hội lặt vặt như xe cán chó v.v ngoài ra "thập phần ổn định phát triển hạnh phúc và dân chủ" từ thời ngụy phỉ phân tranh  cho đến hôm nay thời kéo dài "trong ngoài gấu ó",  nền văn học báo chí của cả hai đám Việt chỉ đầy những tố cáo nhau và ca ngợi phe mình!  Không lấy một ngòi bút lương tâm đúng nghĩa dám đâm toạc tắm nhiễu điều "chính sử" để vạch trần sự thật! À, có chứ . Đôi khi họ có "dám nói thật" một cách xầm xì trong góc tối riêng tư với nhau thôi! Cái "can đản công chính" nếu có của  giống dòi đậu phọng đỏ là như vậy!
Ngay hiện nay, nền "văn học báo chí" của đám Việt cộng đầy dẫy những bài tố cáo " Âu Mỹ "cầm chừng theo lệnh, cắt xén gia giảm lấy từ chính những trang độc lập của Âu Mỹ…không hề thấy những bài "điều tra phóng sự" về nền tảng băng hoại của hệ thống Việt Nam dù nó chình ình ngay trước mặt họ, cả thế giới đều biết! Với cái đám "văn bút" dòi này, Việt Nam "không có vấn đề gì" ngoài những vụ tai nạn xã hội thường tình! Cả một "dân tộc hiếu học, nhân bản, công chính, thông kinh can đảm v.v" không có lấy một kẻ sánh vai như Ai WeiWei, chứ chưa nói đến Chelsea Manning, hay Edwards Snowden!
Một trường hợp bao che hàng chục năm tại Mỹ được dựng thành phim SPOTLIGHT
http://vodlocker.com/embed-of36sua1vzdl-640×360.html
Quí vị cần tham khảo thêm những vụ "hiện đại" vừa qua đang được bao che, rồi tự kết luận về bản chất quyền lực băng hoại tận cùng này.
Nhân Chủ
===
At least 231 children abused at Catholic boys' choir run by Pope Benedict's brother
George Ratzinger, Benedict's older brother, ran the famous Regensburg choir from 1964 to 1994.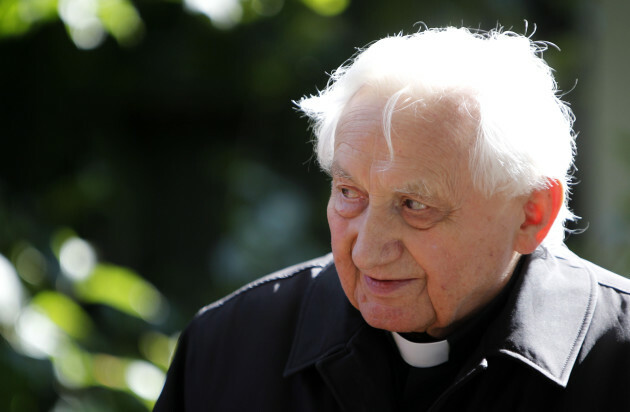 Georg Ratzinger, brother of Pope Benedict Source: Matthias Schrader/PA
AT LEAST 231 children at a famous Catholic boys' choir in Germany were victims of physical abuse, a lawyer commissioned to investigate the scandal said today.
The Domspatzen, a 1,000-year-old choir in Regensburg, Bavaria, was dragged into the massive sexual abuse scandal plaguing the Catholic Church in 2010, when allegations of assaults that took place several decades ago went public.
The choir was run by Pope Benedict's elder brother, Georg Ratzinger, from 1964 to 1994 when most of the claimed abuses took place.
Ratzinger has said that the alleged sexual abuse was "never discussed" in the time that he ran the choir attached to the boarding school.
Lawyer Ulrich Weber, who had been commissioned by the diocese to look into the cases, said at a press conference today that his research, which included 70 interviews with victims, uncovered abuse that took place from 1945 to the early 1990s.
"I have here 231 reports of physical abuse," he said, announcing a figure far higher than had previously been assumed.
These ranged from sexual assault to rape, severe beatings and food deprivation, said Weber.

The reported cases of sexual abuse in Regensburg were mostly concentrated in the period of the mid to end 1970s.
Weber added that "50 victims spoke of ten perpetrators".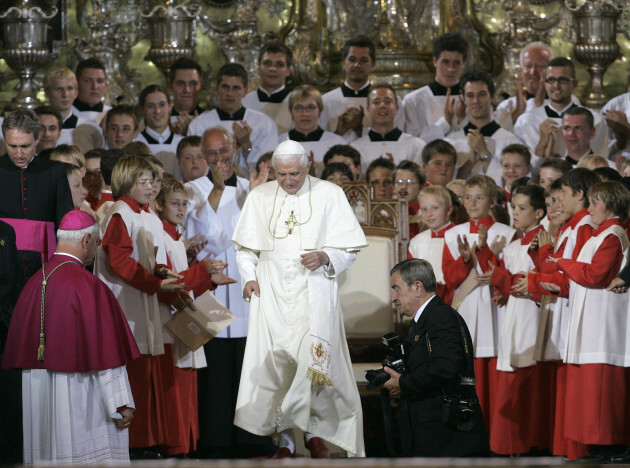 Pope Benedict is applauded by members of the Regensburger Domspatzen choir, now the subject of a wide-ranging abuse scandal, in 2006. Source: Associated Press
The director and composer Franz Wittenbrink, a former pupil of the boarding school, had told Der Spiegel magazine in 2010 that there was a "system of sadistic punishments connected to sexual pleasure".
Several other German institutions have also been engulfed by the ongoing clerical abuse scandal, including an elite Jesuit school in Berlin which had admitted to systematic sexual abuse of pupils by two priests in the 1970s and 1980s.
Most of the priests concerned are not expected to face criminal charges however, because the alleged crimes took place too long ago.
However, there had been calls for a change in the law and for the church to pay compensation to victims.
In February last year, the Regensburg diocese had said there were 72 victims of abuse, and had offered  compensation of €2,500 each.

Get breaking